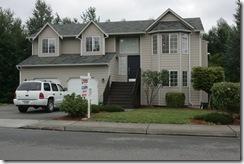 Three months ago, we started looking for a new home. Two months ago, we made an offer that was accepted by the buyers. Today we are still waiting for their bank to approve the loan so we can schedule a closing date.
The previous home owners are selling the home for less than they owe (a short sale). It avoids the hassle and expense of a foreclosure and because the housing market has tanked, there are a lot out there. We could have closed within three days, our loan was ready to go, yet it has been over two months and we are still waiting. Why?
When you make an offer on a short sale, the owner has to approve it, then it goes to their bank for approval, then it goes to the banks bank (Fannie Mae). Don't expect to hear much during this process which can take months. To me, it doesn't make sense. You'd think the banks would be eager to move property once they have a willing buyer…but we've all recently seen the destructive effects of bank management so I guess it shouldn't come as a surprise.
If the house you find has the words "subject to short sale approval," buckle down for a long wild ride. First, make sure it's a great deal. You need to realize a benefit for the patience, unsurity, and turmoil you are going to endure. Don't expect to get closing costs. In our case, we asked for them and they rejected it half-way through without giving us a chance to modify the contract unless we started the whole process again. I'd suggest you just offer the price you want and make the contract simple.
The irony about the bank dragging out the process like a boring speaker at church is that if they do decide to accept your offer, they want you to be able to close immediately. If you are selling a home, you can't really give an availability date unless you want to move into a temporary rental. If you are renting, you can't give your notice. Unless you are like me, and did, and are now sweating bullets waiting for it to be finalized. Either way, you'll end up paying for two homes for a period of time, which essentially increases the cost of the home you are purchasing. Just something to consider.
In addition, you have the waiting. In my case, an anxious family that already loves the house and was ready to move two months ago…all asking me every day "have you heard anything new…when we gonna move…should I start packing…I'm tired of this…now I don't even want to move…have you heard anything new…can we start packing?" We knew going into this it could take up to three months but what we didn't anticipate was how stressful the waiting has turned out to be for us. We might be moving this weekend but I can't schedule a U-Haul, I can't arrange for help, I can't call the city and make sure we have the power turned on. Because it might be the next weekend…or it might be never. How do you plan for that?
Plus, in a down market you take all the risks during the wait. If house prices drop further, you are still paying the higher price. If the market gets better, the bank can up the offer. And if you have deadlines or events (my son and I are leaving for South Africa in four weeks), it makes it worse. I'd suggest you keep your calendar open for four months. We'd be scrambling enough without that trip around the corner.
One mistake in our contract was that we gave the seller 60 days to accept (and figured we may have to extend it if they went over) but our contract closing date was only 3 business days after. We should have given more padding. If our seller accepted on the very last day possible and we couldn't close by the closing date we might lose our earnest money. I'm confident we can close in time, but still, that one slipped through. We should have given ourselves ten days just to be safe.
The pros about buying a short sale are that it's possible to get a great deal on a home. We are buying this for $65,000 less than it sold for one year ago…not bad in the Seattle market which has weathered the housing storm better than most parts of the country. It appraised for more than we are paying so we would have some instant equity, which is nice. It's a nice home and once it's all said and done, we'll be very happy if it works out. But at this point, if it doesn't go through, I'll be happy it's over. I told the kids I'd give them a wad of cash and we'd go shopping to make up for the disappointment…I think at least one of them is now rooting for that option.
If you make an offer on a short sale, make sure you are getting a good price and be ready to sit back and wait…and wait…and wait. If you can do that and are ready to accept that it might fall through, you'll be fine and probably get a great deal if it all goes through.