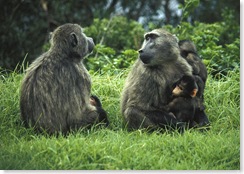 7,332 square miles of protected African bush cushion the border between South Africa and Mozambique. Known as the Kruger National Park, it is the largest game reserve in South Africa and my favorite place in the world. I spent six or so days in 1989, two weeks in 1993, but haven't been back since (unless you count a recurring dream).
Roads wind through the park, connecting the small village-like areas where you can eat lunch, rent a rondavel, and get out of your car (it's against the rules to even open your car door outside the gates, for obvious reasons). These camps keep you safe from, among other things, the "Big 5" (lions, leopards, elephants, rhinos, and buffalo). All visitors must be in one of these camps or out of the park by sundown, or face serious fines.
There are drawbacks to driving your own car through the African wild, as compared to an open land rover on a private game reserve (which I have also done). Being restricted to roads means you can't get as close to the action and you don't have a personal guide with a radio streaming the location of wandering creatures. But for me, being able to drive my own car, at my own pace, never knowing what I will find around the next corner dwarfs those benefits.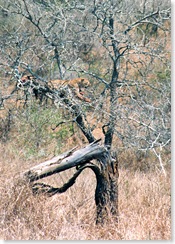 I've seen a mother cheetah with her cubs devouring an impala. I saw a leopard carry a warthog up a tree. I stared a lion in the eyes that had walked up next to my car and put it's face right up to my window. I sat in the veranda of my rondavel looking down into the valley as a heard of elephants crossed the river below. Crocodiles, snakes, monkeys, babboons, hippos, giraffe, zebra…thousands and thousands of animals. Is it any wonder that it's my favorite place in the world?
So you can probably understand when I tell you I got a bit teary eyed when I pressed submit on two tickets to Johannesburg, departing October 18, 2008. My son and I are going to spend two weeks exploring and photographing the African bush. We have excellent gear, my skills are much improved, and we both share a passion for the outdoors, wildlife, and photography. It is going to be incredible.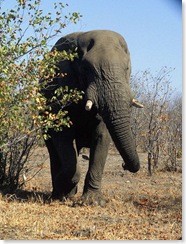 The highlight of the trip with Curtis will be a wilderness trek; 4 days, 3 nights out  in the middle of Kruger (not inside the safe camp areas) with six others, a cook, and two trackers armed with guns powerful enough to drop a charging elephant. We'll hike 50 miles through lion country, sleep in meager open aired huts, and listen to the lions and hyenas as we fall asleep. It's comforting to know nobody has ever been killed on one of these trips, but I have heard stories of charging lions and elephants. I sure hope we see lions while on foot, what a thrill!
It's still eight months away, but come November you can bet you'll see some great blogs and pictures telling about our experience. I added a new gallery to my photography section containing pictures from my 1993 trip. They are scanned from slides and a bit grainy, but you can still get an idea of how exciting it was.