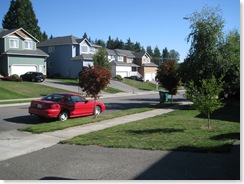 We live in a nice neighborhood in Marysville, Wa. There are lots of families, kids play soccer, and the last place you'd expect to see gang related activities. You'd never suspect it, unless you live here and are familiar with the house across the street and two doors down.
Apparently, years ago a woman moved in with several boys that grew up to be quite rough. The rumor is that they were part of a racing team or something and the loud cars and speeding up and down our street supported it. Over the past two years there have been several late night incidents involving yelling and cussing that always bordered a fight. We'd call the cops (along with the rest of the neighborhood) and sirens would sound and everyone in the street would run away before flashing red and blue lights lit up the street.
Last night it got ugly. Scary ugly. I heard yelling at about 3:30am and went to the window. Then I thought I heard gunshots and shivers ran through my body as I ducked down and looked. I kept hearing one voice yelling "Get in the fucking car…get in the fucking car….we are so fucked….get in the fucking car…" Then another gunshot and scuffles. It was almost right across the street but I couldn't see most of it because of a large tree.
Then a guy ran into our front lawn and squatted down behind our neighbor's car parked in the street. More distant sirens and a dark PT Cruiser sped away and everything was fell quiet. There were three guys left, the one in the front lawn started crying and walked across the street saying "Oh my god, oh my god…oh my god," and people started pouring out of houses.
The guy living directly across the street is a cop, and he was one of the first ones out and walked to the kid crying, who was now sitting in the driveway across the street. He didn't even come out of his house until the PT Cruiser drove off…it was not something I can imagine anyone going out alone to face. About this time I heard several sirens and moments later a squad car rolled silently down the street. A cop with a flashlight ran down the sidewalk with flashlight.
Paramedics came, I heard the injured guy telling the cops he had no idea who the people were in the PT Cruiser…he'd never seen them before. He also said they were all drunk or something.
Today I heard they caught them and all are in jail. Apparently the guys with the bats were the boys who used to live in the house. They had been evicted (foreclosure I think) several months ago and had broken back in the house and had been illegally living there. There were five of them all with baseball bats and they knocked out 8 teeth, broke his jaw, his kneecap, and left him way messed up. There were no gunshots, but they smashed up a car that belongs to a girl who is a senior in High School and lives a few houses down. She slept through it and came out in the morning to see her windows busted…my daughter was talking to her at the bus stop.
The whole time my camcorder was fully charged and ready to go just an arm's length away. I didn't even think to record it, I should have. Maybe it could have been used against them. Word is this was gang related, although nobody knows exactly why they targeted the one guy. I'm not sure if he's the new owner of the house or what. I'll have to try and find out, I like to know why things like this happen. Last night I didn't realize how bad he'd been hurt. There is still blood on our sidewalk where he hid.
We are moving in a few weeks. We were already excited about the move, but now even more so. If I was still living here…I'd be nervous. If those boys were still in that house, I don't know what I'd do. Would I buy a gun? I've never thought I needed a gun, other than my 22 that I use to shoot targets once in a while. But wow, I can almost see myself getting something after last night. Especially if it turns out the kid they attacked was an innocent bystander, although, at 3:30 am I'd wonder how he came innocently to stand by at that exact time.
When those boys lived there they came and asked me for help once, they needed a car jack to change a flat. I don't have one and told them as much, but I sure didn't like dealing with them in any form or fashion. I never thought I'd see something like this from my own home. In a nice neighborhood. What if there had been gunshots? What if a random bullet had ripped through our house? It's a crazy world.