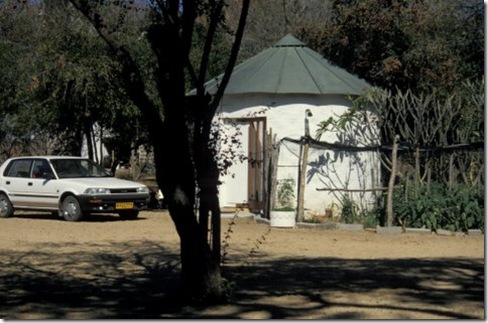 Harry Gorman not only had one of the best jobs I can imagine, he lived in the neighborhood of my dreams. Harry, Martha (his wife), and Captain (their dog) lived for many years in the African Bush. He was the caretaker on a large plot of land smack dab in the middle of Sabi Sands, one of the private game reserves in the Kruger National Park. But instead of a game reserve, this rugged landscape was the private retreat for a wealthy Australian who occasionally came and stayed in his modest home overlooking the savanna. The Gorman's lived a mile or so away in their own simple, yet cozy, home.
Harry invited me on several occasions to come and stay in his guesthouse, a small rondoval a stones throw from his front door (in the picture). Days with Harry were filled with simple African meals cooked by his wife, drives looking for game in his landrover, and long conversations under the stars as lions roared in the distance. I would say this is my favorite place in the world, but it only lives in memory. Cancer took the Australian and his kids sold the land, a commercial outfit came in and built luxury accommodations to attract tourists, and Martha passed away. The last I heard of Harry was in a letter from his daughter. He wasn't doing well and living in a rest home somewhere in Johannesburg. That was several years ago.
The best part of spending time with the Gorman's was hearing them rattle off simple day to day events. Where I might complain about the garbage man showing up late, Martha griped about the Rhino's eating her cabbage. At the breakfast table she might say something like, "make sure you look around before you go outside this morning, there was a lion out there last night." Just hearing her say that was as exciting as seeing the lion for myself.
I can only imagine what his life in the African Bush must have been like, day in and day out. In total I only spent a few weeks with them, yet even in that short time experienced some pretty amazing things. One night a Leopard killed an impala ten feet from where I was sleeping, right out my window. A gunshot one Sunday afternoon jolted me out of a nap to find a dead puff adder right outside my front door. When I imagine living a lifetime in that atmosphere I can't help but fall into a blissful daydream. I loved his stories. On my last trip I recorded him telling some of them, like the time Captain got in a fight with a leopard and when their maid spent a night in a tree surrounded by lions. Once a spitting cobra got in the house and for several days they couldn't find it.
Maybe I'll write some of them and post them, along with pictures if I can dig them up. Every time I stayed with Harry I awed that such a place even existed. The sad thing for Harry and Martha is that even in heaven, I can't imagine they could find a better place than where they spent their life together for so many years here on earth. I hope they went right back home. And I hope someday I can be right there with them again.