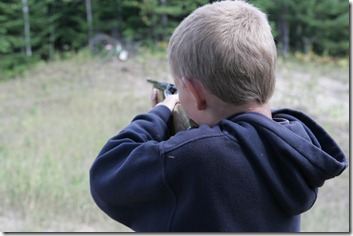 When I was younger, I borrowed a rifle from my neighbor, Bob Coulter (or as I knew him, Bishop Coulter) for the deer hunt. The hunt passed, I returned it and didn't think anything of it until sometime later when I ran into him while shopping for a coat at K-Mart. I remember the isle and the new green coat I had in my hands as I stopped to say hi to him. Horrible experiences have a way of burning small details into my memory like that.
After a friendly greeting, he told me that he was disappointed in me because a small amount of rust was on the gun when he got it back. On the surface, it is a simple situation. Any mature, responsible person would have responded with a sincere apology and asked what could be done to make it right.
Part of my problem was that I admired Bishop Coulter. He had been my neighbor for years, my Bishop, and had hired me on many occasions to work in his yard or in his business. One of my greatest fears as a teenager was disappointing the adults in my life who were important to me; teachers, parents, and clergy. His words that day sent my mind spinning and my heart racing. It was so upsetting, I even remember fighting back tears as I stood there mumbling who-knows-what back to him. It was like all of the sudden I was only five years old. Yeah, I had issues. I truly was unable to respond and therefore, irresponsible. For years afterwards, every time I saw him I remembered the rusty gun, K-Mart, and how I had let him down. I also figured every time he saw me he was remembering the same thing.
What he must have expected was an expression of remorse and an offer to make it right. I am quite certain the level of remorse I experienced far exceeded what he expected or wanted. The irony is that he saw none of it. In my panic and discomfort I probably avoided eye contact, swallowed several times, and offered what appeared to be a hollow apology before I bolted for the cash register.
The interesting thing to me, as I have looked back, is that I lacked an understanding of my feelings and the courage to face up to a difficult confrontation. It wasn't that I lacked a desire to be responsible; I lacked the skills to respond. In addition, my unrealistic fears and ridiculous goals of perfection blocked a healthy reaction. I was like a deer in the headlights and ran for the trees.
I made similar blunders with girls I dated in high school and early college. I said things that were not congruent what I wanted. I lacked an understanding of myself and the social skills to communicate. Looking back, I don't feel stress and anxiety at those situations. I forgive myself, but it took a few years. I was a teenager. Isn't that what being a teenager is all about? Making mistakes and then spending the rest of our lives learning from them?
I've tried to address this concept with my kids. I always hoped they could build stronger emotional skills at earlier ages…and I believe they have. But growth is a personal thing. They are going to struggle and make mistakes during their lives. At least my kids seem more balanced than I was as a dazed and confused teenager. They face up to difficult situations, speak their minds, and make amends when required, for the most part. I've had difficult talks with each of them. Discussions I would have rather avoided and that forced me to drum up my own courage as I bought up topics and expressed feelings. I usually feel like bumbling fool, but I push through, they push through, and the end result is generally good. The failure isn't in the attempt (although sometimes it feels like it). The real failure is in the lack of honest expression.
The correct thing to do in K-Mart would have been to look Bishop Coulter in the eyes and apologize. No beating myself up. No feelings of shame. Just a sincere expression of sorrow backed by the knowledge that everyone is entitled to mistakes. Then an attempt and a willingness to make the sacrifices required of me to make it right. It is so simple, yet was so beyond my capabilities at the time. No tricks or gimmicks, just something I'd call respondability. A combination of responsibility, honesty, and courage.
I may have failed in that moment, years ago, but the experience has helped me time and time again…which I suppose that makes the experience a success. When I encounter times in my life now where I feel like I want to run for the cash register, I try and tap into those core attributes. Am I being responsible, honest, and courageous? Although…sometimes I still feel a bit dazed and confused, it usually helps me navigate through even the toughest situations.