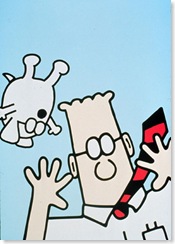 I don't try to piss people off. In fact, I'll hold my tongue more often than not in order to avoid upsetting somebody even when I should say something. But a few years ago I made a comment that really upset my manager. We were talking about my future and his plans for my career. He saw potential and wanted to help me maximize it. The problem was that I didn't want maximized.
During the course of the conversation, I made the comment that I really only needed $30,000 a year to survive and didn't care so much about money beyond that. I was more interested in a job that let me spend time with my family than one that promised promotions and big money. Apparently, my comment sparked several debates with the upper managers and they threatened to let me go. Ironically, however, they promoted me and I became one of them.
His argument was that employees who didn't feel pressured for financial reasons were a weakness. The company lacked the leverage and power to control them in a way that was best for business. Employees can't say "no" to a request to work the weekend or to attend a week-long conference, right? Well, when they aren't leveraged they can. Although I said yes most of the time, there were some no's…because they didn't have the control. I didn't feel locked into my job and I knew I'd be fine without it.
It takes some planning to be able to pull this off I have a few suggestions that can make it easier. First, a good degree and strong resume (makes finding new jobs much easier). Second, make less money than you are worth (then you never feel pressured to stay). Third, keep your financial obligations to a minimum (stay away from credit cards, drive a used car, keep expenses down, and read this book).
The big drawback is you probably won't ever drive a Ferrari, live on the lake, or have a closet full of designer clothes. In addition, a lot of people might see you as a loser. But if you're like me, the time spent with family, hiking, camping, writing, taking pictures, or playing video games (where you can drive as many Ferrari's as you want) is well worth it.
I'm not the best employee, I admit it. I honestly don't know if I'd hire myself or not. Actually, if I was hiring a photographer or writer, I'd hire myself in a heartbeat. And if you need one, you should hire me to. You'll get your money's worth. The real question is this: should a business really have the leverage my former boss wanted or is there something to be said for a free-thinking employee who has a life outside of work? On the one hand, you can't order them around like a dictator. But on the other, maybe you don't have to worry so much about them flipping out, harassing co-workers, inviting lawsuits, embarrassing clients, or going AWOL.
Years later, at that same job, I told my new boss that I was tired of working for the man. He was an awesome boss, I hope he didn't take it personally…he wasn't the man I was talking about. I didn't have another job lined up, I hadn't been looking, and I knew I was breaking a golden rule by being honest with my employer. But he asked where my passion had gone and I honestly told him it was gone forever. Given, I had just gone through a tough divorce and my life had been turned upside-down, but it felt awesome to say exactly what was on my mind.
He didn't fire me, in fact he encouraged me to stay. But I left five weeks later, took four months off, and wrote my first novel. Then I found a job that paid more, was only an hour of commuting each day (instead of three), and had double the vacation time. Oh, and was for a non-profit company (no more making the rich man richer).
My future? I don't know. But I do know I'll pay the bills one way or another…things just always work out if you structure it right. Sure, I fall way short of my potential. I know it and so do countless others who have told me as much. But that's only when you measure potential in terms of career. Just ask my kids and their friends how I measure up as a father. In that area, I'm not so shabby. And who knows, maybe someday I'll sell one of my novels or break open my photography. Until then, I'll keep plugging away as best I can.