This entry is just one long rant about Canon, so if you aren't a photo buff I'd just walk on past.  Nothing to see here…
I have 5 Canon lenses (EF 50mm 1.8, 24-70 2.8L, 28-135 IS, 75-300 IS, 100-400L IS, 70-200 2.8L IS) and 2 bodies (1D MII, and 10D). I've also had other Canon equipment, an Elan, D60, and other lenses. I've spent a lot of cash on Canon gear. In the past few years I've gone with their pro gear. For those of you who aren't camera buffs, the "L" lenses are the professional line; ultra sharp, extremely durable, and more expensive.
I had minor problems with the 100-400L shortly after I purchased it. Occasionally an "error 99" would force me to turn off the camera, remove the lens, remount it, and turn the camera back on. Initially this happened rarely (once in a full day of shooting). But by the end of the year, it happened enough that I researched the problem.
A quick Google search (try it: search 100-400 error 99) showed that I was not alone in my frustration. I posted this on the DPReview.com forum (it's not the first time it's been on it, see these other discussion lines: 1 2 3 4 5 6 7 8 9 10 11 12 13 14 15 16 ) and had quick responses from others with the same problem. Other camera forums had long threads related to the dreaded "Error 99." I called Canon and was told to try cleaning the mounts with an eraser. This helped, but in retrospect was harmful advice. By giving me advice that helped me get by, the problem was delayed long enough to put the lens out of its one year warranty.
The problem became progressively worse. A year ago while shooting my sons football games, I gave up entirely on Imagine Stabilization, the feature I paid a premium to get. I missed too many shots when it was enabled. My lens was crashing once in every twenty exposures.
Imagine my frustration when my other IS L lens, the 70-200 2.8fL IS (other than the Sigma 300-800, my most expensive lens) began showing the same symptoms, an occasional "error 99." Now both of my Pro lenses, the ones that were supposed to be superior in ever way had issues with Image stabilization. I found it ironic my older lens, a plain old non-pro 75-300 continued to plug along without problems. I just stopped using IS on the L lenses although it really upset me that a feature I paid big bucks for wouldn't work properly.
Two weeks ago while demonstrating some photography tips (and my Canon gear) to my brother-in-law (who is just breaking into photography himself), my 100-400 stopped auto-focusing completely. Tests at home on different bodies confirmed that my lens was dead. I was willing to forgo IS, but auto focus too? I called customer service again.
I sent in the lens and was told repairs would cost me $340. I realize the lens was out of warrantee but figured Canon would make an exception given the history of the problems and the widely spread problem of "Error 99" on this lens. I had no doubt Canon would stand behind their product. I may have been wrong.
I was offered a 20% discount which did little to appease my frustration. I have told my story to three different Canon reps today as this issue has been escalated. Wanda in customer service has been very helpful and is taking this issue to management. I am waiting to find out how they will address this problem.
Wanda mentioned to me that Canon would appreciate knowing the extent of the "Error 99" problem. They need customer feedback. For those of you having this issue, you can call Canon or post a comment to this article and I will forward it on to them.
Meanwhile, I'll wait and see what happens…including a follow-up posting to what happens with my current open ticket and the future resolution of my 70-200 problem (although this lens doesn't seem to have the high failure rate as the 100-400). To those of you having this problem, I feel your pain. Make sure you complain. My opinion is that the 100-400L IS has a higher failure rate than should be expected for a top end Professional quality product. Especially one from Canon.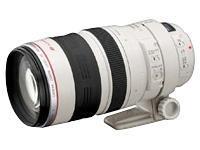 UPDATE:
Canon has reviewed this entry and wants to make sure anyone who is having this problem is taken care of. If you are having this problem don't wait (as I did). Get your service request submitted ASAP.