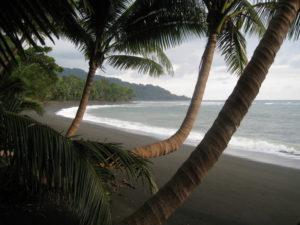 Tomorrow we leave for Costa Rica. I should be excited, but all I can think about is everything that might go wrong. Once we get there, I know it'll be awesome. Right now though? Stressed.
We don't speak Spanish, not sure how that will work out. Travel books say don't be a idiot and drive in Costa Rica because the roads are horrible, the driving insane, and you'll kill yourself. Especially at night. This didn't bother me months ago. Now I'm worried. But I can't tell Sandi I'm worried. Or she'll be 10x as worried.
This is my first foreign trip with her. It's one thing to love and live with a woman, it's something else to go on a potentially stressful trip with that same woman. Especially since she agreed to backpack for three days and twenty miles with me through the Corcovado National Park.
Or, here are links with summaries to each day: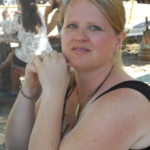 Day 1: Airport Troubles
Our travel day to Costa Rica didn't go as planned. I'd told Sandi our layover through the night at the Guatemala Airport would be fun and sold her on the Red Carpet Lounge. I really blew it.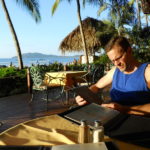 Day 2: Drive to Tamarindo
We arrive in Costa Rica and find out, the hard way, our bank cards aren't working at the ATMs. How do you survive without cash? Read on and find out…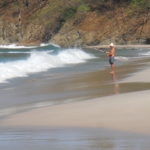 Day 3: Flamingo and Conchal
My brother and his Costa Rican wife direct us to the "two best beaches in Costa Rica." Read on to find out where. Watch out for the howler monkeys!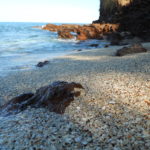 Day 4: Drive to Montezuma
I sink knee deep in seashells, find a massive iguana with the head the size of a soccer ball, and discover one of the most awesome places on the planet: Montezuma, Costa Rica. Read on for details!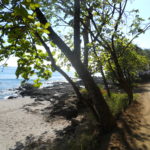 Day 5: Montezuma, Costa Rica
We hike all day. To waterfalls. Swimming holes. Deserted beaches. Through the jungle. Montezuma, Costa Rica is heaven. Read to see the the details and pictures.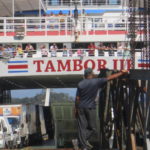 Day 6: Drive to Naranjo, Costa Rica
How do the ferries work in Costa Rica? I had no clue. After a crazy mountain drive, a local family adopts us for the night and treats us like family. Maybe 'cause we were family.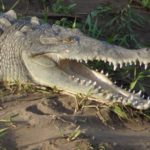 Day 7: Drive to Pureto Jimenez, Costa Rica
Four of us drive to southern Costa Rica to prepare for the Corcovado jungle. We drive over a crocodile. A member of our group is cranky. Read on for all the gory details…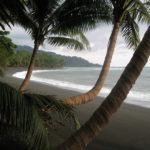 Day 8: Hiking the Corcovado, Costa Rica
Drama in the Corcovado: I almost kill my brother, Sandi projectile vomits over six feet (which I think is a world record), and I slice off the back of my foot. Despite the setbacks, we trek fourteen miles through the most bio-diverse place on the planet (according to National Geographic). Crocodiles, monkeys, parrots, wild pigs, and a rescue operation to save twelve baby turtles.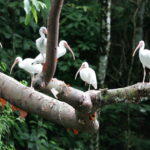 Day 9: Sirena Ranger Station, Corcovado
The Corcovado exceeds our expectations: rodents, animals, birds, insects, critters, plants, formations, trees, lizards, flowers, sharks, spider monkeys, howler monkeys, squirrel monkeys, capuchin monkeys—the day is packed with jungle life. Well, except maybe the sharks. Maybe. You decide.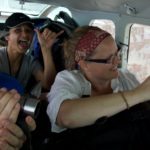 Day 10: Leaving Corcovado National Park
Nito leaves without us, and we wait for better weather so a plane can land to fly us out. There are no guarantees. Will we be stranded in the Corcovado? Another family is ahead of us in line (they were supposed to leave yesterday).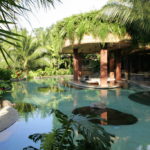 Day 11: Arenal Volcano, Costa Rica
Hot Springs surround the Arenal volcano in Costa Rica. As one of the world's most active volcanoes, it has often spouted lava and rumbled throughout the night (something I hoped to experience). Our scenic mountain drive through coffee fields and villages is a great lead-up to our stay at The Springs, a luxury hot Spring Resort in the shadow of the giant, lava-covered peak. Read on for details and pictures…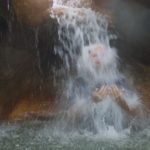 Day 12: Driving at Night in Costa Rica
On our final day in Costa Rica was spent soaking in hot springs. We learn an important lesson the hard way. Almost every travel tip says do not drive in Costa Rica at night. Read on if you'd like to know why…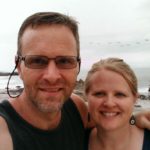 Day 13: Destination Home, hopefully…
Our journey home. Can an empty water bottle get me thrown into a Panamanian jail? Maybe. Read on to find out…
Thanks for reading about my travels. To read more of my adventures, click here to visit my travel page.