In December of 2012, Sandi and I went to Costa Rica. It has taken a few years, but I'm finally taking the time to edit my journal entries, post the blogs, and upload the pictures. Click the pictures to expand them. Click here to jump to the beginning with a link to every day.
For years, my brother had told me about a place in Costa Rica where he'd lay awake at night, eyes fixed on a large panoramic window in front of him. A dim red glow floated high in distance and once in a while, deep thunder rattled the land. But it wasn't thunder. A short mile away, the earth rose five thousand feet in a giant cone. The Arenal Volcano. One of the most active volcanoes in the world.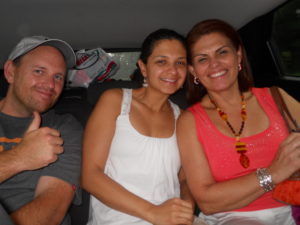 Ry had watched rocks tumble down the mountain and listened to the earth belch as magma spilled from the peak. Year after year I listened to his stories, longing to see and hear Arenal for myself. Early in the morning we loaded the car for a three-hour drive where I could finally see it. The only drawback, however, was for the past couple years, Arenal had gone back to sleep. No magma. No thunder.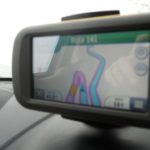 No problem. I was still excited.
Ry, Yeimy, and Yeimy's mother, Deyanira, joined us for the trip. The three of them sandwiched into the back of our rental car and we started on the snaky road, up and down the mountains.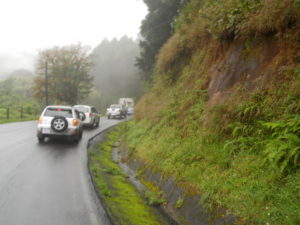 Sometimes the road passed through tall trees, twisting vines, and roadside waterfalls—mountain streams carving their way to the valley. Other times, the narrow road hug the side of a hill that had been cleared of jungle and turned into farms. Rows of coffee sprawled up and to our right and dropped down the valley to our left. Throughout hilly, green fields, were dots of color—bright clothing of the hundreds of people filling their wicker baskets with coffee beans. The hillside made walking difficult for them, so the flat road was often busy with pedestrians carrying large baskets and traffic slowed to weave through them.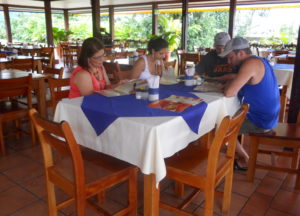 We drove through many villages. Some, just shacks and small houses hugging the mountains. Others, small towns in the valleys or on mountain tops. We stopped several times during the trip: to stretch, for lunch, for groceries, and to buy souvenirs and art from some of the many shops and art studios we passed.
"Ry, look at this." I held up a bottle that had been crafted with clay creatures.
"That is really cool." He took it from me and admired it. "Most of the things I've seen are all kind of the same. This is really unique stuff."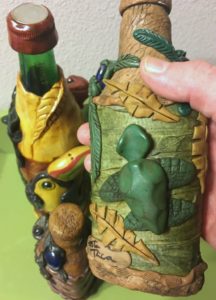 We made some purchases. Art, clothes, a hammock, jewelry. Sandi typically has to drag me into stores for shopping—unless it is for tools, electronics, or motorcycles—but we spent a couple enjoyable hours rummaging through the shops. We weren't rushed. Check-in at the resort wasn't until early afternoon, so we had plenty of time to stop and explore.
As we drove on, the green thickened and all I could see of the sky were rogue streams of sunlight that cut through openings in the jungle canopy. No chance of seeing the volcano yet.
"So for sure, Ry," Sandi said, "There is no chance of the volcano erupting?"
"Well, there's always a chance—"
"Ry," I interrupted. "That's the wrong answer for Sandi."
"Oh, right," he said. "Correct. No chance."
Arenal was now a quiet, young volcano—like an eight-year-old that has recently stopped throwing childlike tantrums. At a mere 7,000 years young, she'd been dormant throughout modern time until 1968 when she blew her top and destroyed three small villages. In 2010, she once again fell quiet.
"Is that our resort?" I asked, pointing to a sign advertising a Hot Spring.
"Nope. There are tons of them up here," Ry said. "We still have a little ways to go."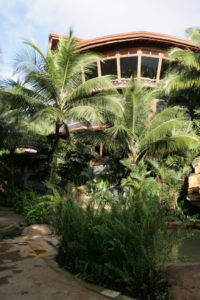 We curved through the trees, passed more resorts, and a short time later, reached The Springs.
When I travel, I look for affordable lodging in hostels, bed and breakfasts, and have even been known to sleep a night or two in the car or on the sidewalk. A lifestyle of the rich and famous is not only out of the reach of my bank account, it doesn't appeal to me. But Ry had convinced me to take one night and go all out. And, Sandi deserved a posh couple of days after everything I'd put her through. So, this was our chance to live like rock stars. At the same luxurious place where an episode of The Bachelor was filmed in 2008—although, had Ry not told me, I wouldn't have known. I prefer shows more along the lines of Man vs. Wild with Bear Grylls. Or Seahawks football.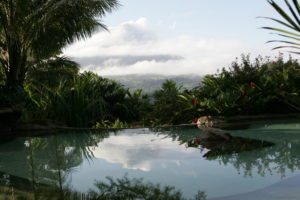 Strangely enough, Sandi wouldn't have known either. She prefers Naked and Afraid—which I am still trying to understand given her aversion to crossing rivers with sharks and crocodiles. I'd rather cross that stream than be naked and afraid. I suppose watching Naked and Afraid is very different from being naked and afraid. Sandi would not like that one bit.
I followed the road into the resort and we passed a helicopter on a pad. For some reason, that made me feel like a celebrity. Our hotel has a jungle helicopter, yeah, I'm a rockstar and need access to instant transportation 24/7.
As we crested a hill, Arenal loomed a mile away. A giant peak poking through a blanket of forest into the clouds. I stopped the car to admire it.
"Will the clouds clear so we can see the top? I asked.
"Hopefully," Ry said.
The front desk played along with the rockstar charade, treating us like the most important people in the world.
"Can I get your bags, sir?" they asked.
"No, I got them." I never know how much I'll have to tip, and I'm afraid it is too expensive. So I always carry my own bags.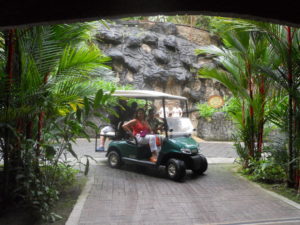 "We have to take them sir. Don't worry, they will be in your room."
"War," Ry said. "It's okay. And you don't have to tip."
Ry knows me too well.
They left with most of our bags—I didn't give up my cameras. I never let that one out of my sight. Then they loaded us up on golf carts and took us on a tour. There seemed to be hundreds of separate pools, steaming with hot mineral water, heated by the volcano. Large ones with waterfalls and swim up bars. Infinity pools that seemed to merge with the trees, birds, and monkeys. You could soak in hot water, listen to the birds, watch the volcano, laugh at the monkeys, and eat lunch without even moving your butt.
Our driver started down a steep road, and we saw private pools hidden in the trees. Stairways and walkways connected a myriad of secluded soaking spots concealed by the thick fauna.
"The higher pools will be hotter," our driver said, "Since the water cools as it works down. So you can find one with the perfect temperature."
Eventually, we parked in front of one of the many small buildings that were almost hidden by the landscape. We'd split the cost of a larger suite and had two bedrooms. Sandi and I had our own room, they'd share the other.
"You guys get the master suite," Ry said. "Happy Birthday."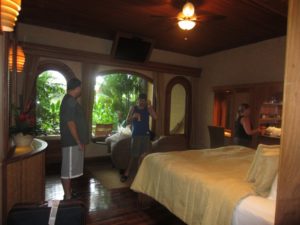 That's right, it was my birthday. "Thanks Ry, that's really nice of you."
The rooms were huge, beautiful, and luxurious. We had a private deck with our own mini hot spring and a view of the volcano. Suddenly, I wished we could stay for more than one night.
We spent the afternoon soaking in the pools, sitting under the waterfalls, and sliding down a waterslide that connected upper pools to lower ones. Although there were plenty of other guests, the pools were so numerous we felt like we were the only ones at the entire resort. The warm, mineral water felt good on my sore foot, and the entire day passed much too quickly.
We'd enjoyed a large lunch on the drive, so for dinner we took our treats and snacks onto the deck to eat and soak in our private hot tub. In the darkness, Arenal sat quiet. I imagined lava rivers streaming from the top and the rumble of boulders crashing down the slopes. For now, Ryan's descriptions of those events would have to suffice. But maybe someday…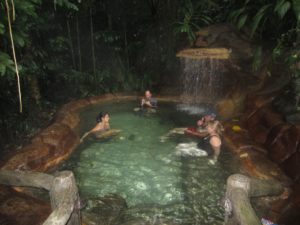 Click here to go to Day 12.
Thanks for reading about my travels. To read more of my adventures, click here to visit my travel page.