In December of 2012, Sandi and I went to Costa Rica. It has taken a few years, but I'm finally taking the time to edit my journal entries, post the blogs, and upload the pictures. Click the pictures to expand them. Click here to jump to the beginning with a link to every day.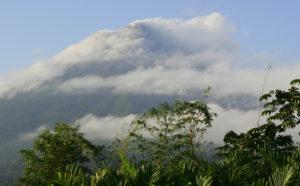 Our final day in Costa Rica. Bummer.
Deyanira suggested we leave early to avoid the roads at night, but the rest of us wanted to spend more time at the resort. We comprised. We'd leave in the late afternoon and be home by supper.
Ry and I ate pastries for breakfast and dangled our feet in the private hot spring on our deck. The volcano was a monster in the sky, a short mile away.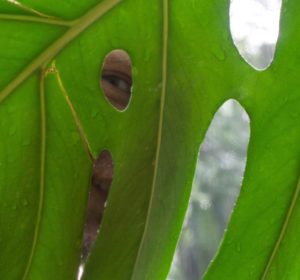 "You should feel lucky," Ry said. "Most of the clouds cleared out for you."
"Yeah, I guess" I said. "You think the rest of them will blow off later this morning?"
Plenty of white wisps hugged the top.
"Some of that up top is smoke from the volcano, not clouds," he said.
I squinted. Then ran in to get my binoculars.
Ry laughed. "What? You don't believe me?"
"No, I want to see for myself."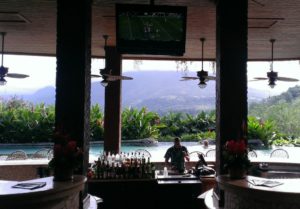 I put the binocs to my eyes and turned the focus knob. "My vision gets worse every year. A few years ago, I could have spotted a tribe gathered up there to make the annual human sacrifice. Not anymore though. I'm getting old." Now, with bionic eyes, smoke clearly seeped from the cone. "That is so cool! But I don't see the ceremony up there."
"Duh. It's Saturday. They only sacrifice on Wednesdays."
We spent the morning hopping from one hot springs to the next. Relaxing. Eating lunch. Watching the Seahawks game. All from the water. I knew we were on vacation, but this seemed extreme. I'd never again be satisfied to scrunch up for a soak in my bucket-sized bathtub at home. I was ruined.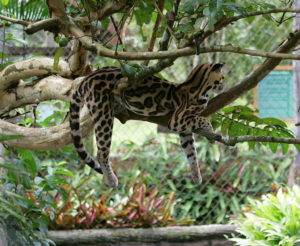 We showered and checked out of our room. Staying the night meant we could spend the rest of the day enjoying the resort—which was more than just hot springs. Down in the valley was a wildlife refuge, climbing wall, whitewater rafting, zip line tours, ATV trails, hanging bridges, and waterfall rappelling. Enough for a whole week of fun, and we had an afternoon. We picked the wildlife park, and I saw the cats I'd hoped to see in the Corcovado. We even got to pet a puma.
Eventually, we loaded up the car and drove off. Earlier than Ry and I wanted, later than Deyanira preferred. Because it was late, she suggested a slightly longer, but safer route. So I followed her directions, rather than the GPS, and we seemed to make good time.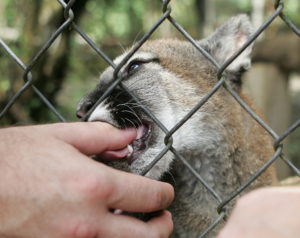 Christmas was just over a week away, and we still needed a few gifts. Sandi and I had looked everywhere for a wall hanging for Mikayla. Ry said he'd help us look.
"Something to do with the Sun," I told him. "Keep your eyes peeled."
The narrow road passed through several small villages. Many of the homes and yards displayed arts and crafts the locals had made to sell to the likes of us. But we didn't have time to stop and browse. Instead, I drove slowly while everyone searched for something with a sunshine theme for Mikayla. When the real sun vanished, I gave up on Mikayla's present and focused on getting home. Another hour and we'd be to Yeimy's house and could pack for our 4am departure to the airport.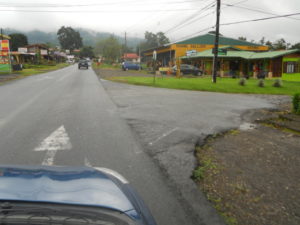 "Stop!" Ry yelled.
I slammed on the brakes and pulled over. "What happened?" I thought maybe Yeimy had fallen out of the car.
"I saw it!"
"Saw what?"
"Mikayla's sunshine!"
I flipped around and stopped in front of a very small home. Don't ask me how, but as we zipped past Ry had seen something inside a house thirty yards away. Hanging on the back wall and clearly visible through the front window were many pieces of art. One of them was a large, golden sun. And he was dead right. It was Mikayla's sunshine.
"We can't bother them," I said. "It's late. They are probably having dinner." It was obviously their home. And their storefront. They sold their creations from their front yard and living room.
"We'll knock," Ry said.
"I don't want to bother them. That's rude."
"War, believe me. They are going to be thrilled to make a sale." He got out of the car. "Come on!"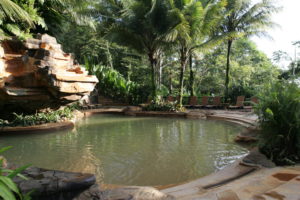 We knocked on their door, and Ry was right. They were happy to see us. We bought Mikayla's present and several other things. As we left, however, mist was floating up the hill and over the road.
We continued driving, but considerably slower. Visibility was lowered, but I could still see twenty feet of road. So we'd get home a bit later, no problem.
"I don't like this fog," Sandi said.
It wasn't what Sandi said, but how she said it. Her words were like water retreating before a Tsunami. I had to act fast. Years ago, Sandi was in a massive white-out snowstorm in Minnesota. She'd kept driving and ended up in a thirty car pileup. Bam. Bam. Bam. One car after the other plowed into the mess. I think she relives it every time the weather gets bad.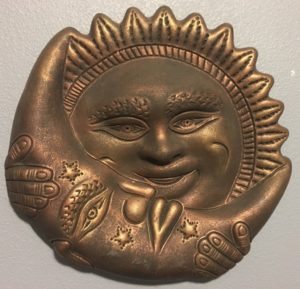 "It's pretty though." I kept my voice at a perfect balance—above neutral but not so Pollyanna Sandi would catch on to my tactic. Like her, it wasn't what I said but how I said it that was important. The last thing we needed was a full-blown Sandi Spookorama to freak everyone out. Especially while I was driving through fog, in a foreign country, on a road I'd never been on. And we had to drive on. We had a flight to catch.
Sandi let loose with one of her famous Marge Simpson groans—a good thing. A groan meant we'd avoided a natural disaster.
Visability dropped to ten feet, and Marge upped the ante on her groan. At five feet, we were way past Marge Simpson.
"Ah geez, Ah geez. Where's da road? It drops off ya' know! We're on da mountain." Sandi's Minnesota accent kicks in strong when she's scared.
I pulled over, got out of the car, and opened the truck. From the back, while I searched through the grocery bag, I said, "Sandi and Ry, switch places."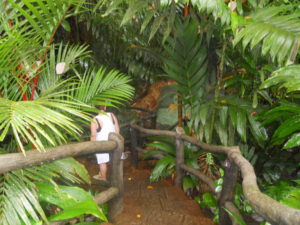 They did. Ry to the front, Sandi to the back.
I found what I was looking for—a bottle of rum—and handed it to Sandi. "Take a chug of this."
Her eyes first seemed to flash with a feisty anger, but then relaxed. I don't know whether it was because she saw the logic in what I was doing or because, being from Minnesota, she couldn't legally turn down an offer of alcohol. Regardless, she took a chug and held it out to me.
"One more," I said. And she did.
I packed it back in the grocery bag. The fog was horrible. Dangerous and stressful. I didn't like driving through it for one second. But I couldn't afford to let that truth show. I had to stay calm. And that meant Sandi needed to get a little tipsy.
We drove on. Within minutes, I couldn't see past the hood of the car and we crawled. Ryan had his window open and was leaning out of the window. Yeimy, behind me, was doing the same. They were my eyes: watching the side of the road and giving me instructions while I watched the GPS—which seemed to give me a pretty good idea as to what the road was doing. This worked for a couple of miles but took over an hour.
"Just don't let me drive off the road," I said, "And we'll be fine."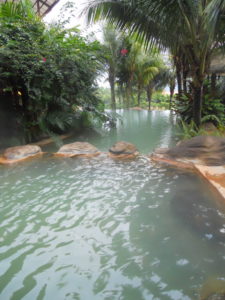 "Little more left. A bit right. Good." Ry said.
Whatever it took, we had to get through the fog so we didn't miss our flight.
"Straight," Ry said. "Now right."
"No left!" Yeimy said.
"Right!" Ry snapped back.
So I stopped. We got out of the car see where the hell we were.
"Wow! A few more inches and we'd be in the ditch!" Sandi laughed. Thank God for the rum.
The front wheels were on the edge of the road. We'd come to a T and were supposed to turn left or right. Supposed to turn right, actually. Behind us, a line of headlights faded into the thick white nothing.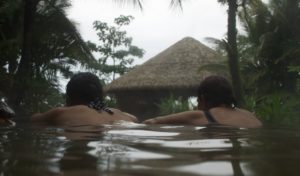 "I'm going to let them pass," I said.
We got in the car, straightened out, and I pulled over so they'd pass. But the car behind pulled over too. They couldn't see the road, so were following us.
"Go tell them to pass us," I told Ry.
He did, and they did. And the next, and next. A long line of cars drove around us. Apparently, I'd been the lead dog and everyone behind had no idea they were following a blind, clueless foreigner. Their tail lights quickly vanished into the mist.
"When the last car passes, I can't lose him," I said. "Our only hope is to follow them outta here."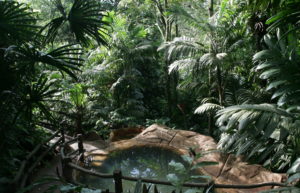 I latched on to the last car, and kept the tail lights centered a short distance ahead. I stared, hypnotized. Like staring into the red eyes of a demon slowly leading me to hell. Compared to driving blind, following a demon to hell was easy. In fact, it surprised me how fast we were driving. But I stayed with them. I was way more scared of losing them than I was of driving a bit too fast.
"I guess if one drives off, we all drive off," Sandi said—and giggled with a snort like she'd made the funniest joke in the world.
It made us all laugh. Despite the fact that we were scared, nervous, and wishing we'd listened to Deyanira and left earlier in the day.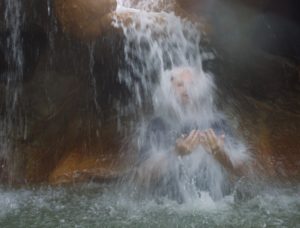 The red eyes led us to safety. The fog lifted, and a weight heavier than my pack in the Corcovado left my shoulders. We arrived after midnight—about six hours past our original goal.
We packed the car for our early morning departure, and said sad goodbyes. We wouldn't wake them when we left at 4am. Our trip was over. Tomorrow, we'd be back home in Seattle. Well, unless we missed our flight. Or crashed into a volcano. Or … I stopped myself. Probably, tomorrow, we'd be back in Seattle.
Thanks for reading about my travels. To read more of my adventures, click here to visit my travel page.