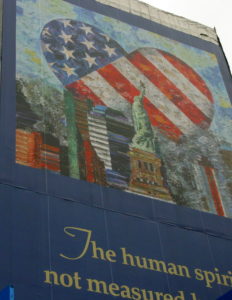 Freedom is our foundation. The USA is "the home of the free and the land of the brave." Free to act, speak, and judge. Free to criticize others for not standing during the anthem. Free to sit during the national anthem.
I stand for our anthem and wish all American's felt our country was worthy of that same honor. Those choosing to sit exercise freedom, and nobody forces their hand. But a truly great country goes beyond a tolerance for the free acts of others—especially ones related to civil liberties. A great country strives to understand. And in a melting pot of cultures, it is the only way we can survive.
As a white male, I am beyond clueless as to how oppression feels. I can only imagine the shackles of racism and misogyny because I have never, nor will ever, experience them. I watch movies, read stories, and sympathize, but I can never really know the fear, harassment, or injustices experienced by those living every day in a nation that promises equality, yet delivers prejudice.
White males who cry oppression, or attempt to silence those pushing for equality, are scared of losing a power that has been unfairly divided for millennia. Perhaps humans needed this to survive and evolve. Whatever the case, it happened. Now it must change. Not only is it unjust, it is not working.
Change is scary—especially for those that must relinquish an imbalance in power and wealth. Fear, however, is no excuse for bigotry. I can imagine slave owners were horrified at losing their estates without cheap labor to sustain them. But when something is wrong, it is wrong. There is no excuse.
The American way—freedom and bravery—will lift us higher. NFL players are exercising freedom and bravely facing potential consequences to their lucrative careers. When I read Michael Bennett's reasons for sitting while those around him honor the US flag, I see a man who loves his country but feels promises made to him by that same country have not been kept. Tell a white male all men and women are created equal and he probably agrees with you. Tell any woman or non-white the same thing, and suddenly the story changes.
Who can blame these men and women for sitting or kneeling during the anthem? They are told to honor a country that has not kept promises. A country that has not honored them.
White men have an opportunity, even duty, to show true American courage by acknowledging the unfairness of the past and relinquishing the privileges these inequalities afforded. If the USA is what we all hope and claim, we must listen to these cries of injustice. We must ask how we can collaborate to make this country one where all of us stand willing, and honorably, together. We are a great nation and have overcome many obstacles—we will conquer this. Until then, maybe we should all be sitting during the national anthem.