Alaska on Motorcycles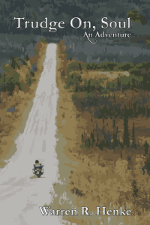 Check out the novel: Trudge On, Soul
The icy wilderness of Alaska is the perfect place to lose yourself. But Warren doesn't want to lose himself. He wants to lose someone else.
The book,
Trudge On, Soul
, is the result of three long years of late nights, critique groups, and editing. If you haven't read the blog,
I'd suggest you stop reading and at least click here to read the preview chapters of the book .
The blog and pictures have spoilers and the book is a much better read. Otherwise, click
here if you want to jump to the start of the blog and shortcuts to each day.
Triumph Motorcycles did an article on my Adventure
here.
My buddy, Mike, and I took our motorcycles and traveled 6,800 miles on a crazy Alaska Adventure. We saw over 30 bears, 10 or so whales, a handful of sea lions, puffins, porpoise, 3 moose, and 3 caribou. We watched (and heard the thunder of) several tons of ice crash into the ocean off a 600 foot high glacier. We stood on ice 4,000 feet thick at 8,000 feet on the tallest mountain in North America. We rode and camped in sun, rain, heavy fog, wind, rain, and more rain. We explored pavement, dirt, rocks, gravel, and mud as slick as ice.