The cost to print photos on your own printer is higher than you probably realize. The money spent on a new printer is peanuts compared to the money that will flow out of your bank account for ink. A set of ink cartridges for an Epson R1900 printer will set you back $125. You'll get about 40 8×10 prints, or $3 each. Add the cost of premium paper (often $1 per sheet) and you are spending what a professional printing service charges (Shutterfly.com charges $4 for an 8×10). When you consider paper jams, clogged ink heads, color tone mismatches, several hundred dollars for a printer, and the hassle of dealing with another computer peripheral… it makes more sense to use Shutterfly.
If you are not technical and not printing several pages of pictures weekly, I suggest you bypass a photo printer. You'll save money, frustration, get better results, and you can stop reading right now and go do something more enjoyable. Did you know a simple cleaning cycle on your printer can drain 1/10th of the ink in your tanks? The truth is, once you add up the costs, photo printing companies are cheaper and easier.
On the other hand, if you are willing to spend a little time and energy doing research and endure a bit of frustration to set up an alternate ink system, you can drive the cost down…waaaay down. By carefully selecting paper and by using third party ink, my 8×10's run about 30 cents each. Ink is the bulk of the savings. Epson and Canon will tell you that only their inks and papers will produce acceptable results but I'll tell you right now that's BS marketing hype. Of course they want you to buy their papers and inks…they are making a killing selling them to you.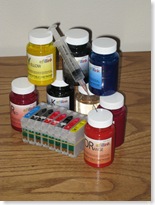 Initially, I rejected the thought of refilling my own ink. The syringes and bottles of ink looked more like a drug lab than a home office. My cousin, Lou, convinced me to begin offering a refill service at the computer store we both were trying to get off the ground. He made it look simple; people brought in empty ink cartridges and we saved them over 80% and still turned a profit. In the end, bottles of ink and syringes became as common as motherboards and hard drives in our back room and nobody ever even accused us of running a drug lab.
Over the past fifteen years I've tried different inks and refill devices on Epson, HP, and Canon printers. I've had good and bad experiences. To increase your chances of a good one, you need to consider three important requirements:
1. Customer support (first and foremost)
2. Reliable hardware (refill kit or inking system)
3. High quality ink
When it comes to using a 3rd party ink you have two options: refill cartridges or a Continuous inking system (CIS). Refilling usually means a syringe is used to put ink into an empty cartridge. A CIS is a device that sits outside your printer and has tubes running from ink tanks into your printer. Each has pros and cons.
I researched the market, combed the newsgroups, and have picked three companies that appear to meet the three requirements. I have seen and tested CIS devices from each of them for the Epson R1900 and will be posting reviews of them in the near future. Based on my early results, each of these companies offers a reliable product with the potential to save an avid printer like myself hundreds of dollars. I will add detailed information as I continue to use their products.
Before you go down this road, there are pitfalls. Using these methods is not as easy as popping in an ink cartridge from Epson or Canon. Initially, give yourself several hours to get set up. Stay organized, read the directions completely, and clear off a good workspace. Take it slow and make sure you contact support if you have questions or comments (you'll save yourself time and headaches). If you run into problems my research has found that you can rely on these companies to take care of you. Then, once you get your system setup, it will run quietly in the background with minimal effort to maintain (other than filling the external tanks or cartridges with ink). My dad has had the same CIS on his Canon printer for nearly four years now and I'd guess he's saved over $5,000 in ink (he prints a lot).
When I use these inks I am completely satisfied. Photos are vibrant and although I haven't tested for longetivity, others have claimed they stand the tests of time. Everything I have printed has held up well but it's tough to do a 20 year test without a time machine. Now, having said that… if I compare side by side to Epson inks, I can see the difference. Epson has slightly better color. Not by a long shot, but it is noticeable when you compare them directly. To me, the minimal increase in color doesn't justify the massive increase in price. And I have three teenagers who love to print and I'd never let them if my printer was stocked with liquid gold from Epson.
Here are the three companies I recommend if you'd like to trek down this path. If one doesn't support your printer, try another.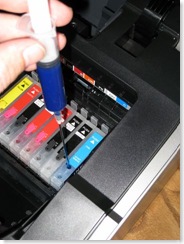 www.efillink.com Ronnie at efillink.com excels at customer service. My experience and the comments on the newsgroups support this claim. He is willing to talk with you on Skype (in fact, he will make sure he is available if you schedule in advance with him and can walk you through your first refill or CIS setup), send you free replacement materials if his products have issues, and responds quick to requests for assistance. If you buy from Ronnie, you can expect follow-up emails asking if everything is running well and making sure that you are satisfied. In addition to a CIS, he sells the only refillable cartridge option for the R1900, which I prefer. Based on my output, I only have to refill every 3 weeks. He uses ink from Image Specialist and is having custom profiles built which may help prints rival those of the Epson ink.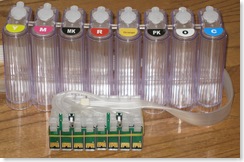 www.inkjetfly.com Leo has also been quick to offer support and answer questions, even before I began testing his ink systems. His "Bigfoot" system has my favorite external tank design (a long and narrow set of tanks that easily sits next to the printer). Initial tests indicate that his ink has slightly more vibrancy than the Image Specialist ink, but not quite as much as the Epson ink. I have heard of another photographer who uses Inkjetfly ink but sticks with the Epson photo black and claims it is almost identical to a full set of Epson inks. I haven't tested this yet.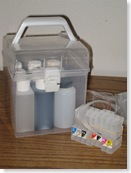 www.inkrepublic.com They seem to be the largest organization of the three, but I could be wrong. They sent me a solid system, included directions, and so far everything has gone smoothly. Comments on newsgroups are generally high when it comes to their products and support. They also use ink from Image Specialist.