(Click the Orca to go to my wildlife photo album)
For three years now we have spent Memorial weekend camping at the San Juan County park on the San Juan Island. These islands are a short ferry ride out of Anacortes, WA and are excellent for whale watching. The first two years, several pods of whales swam right past the beach 2-3 times each day. I started to think that it was normal and expected the same thing this year but it didn't happen. Luckily I had booked us a whale watching trip (we had never done this before) and on our 3 hour boat ride we saw plenty of Orcas and I was able to get pictures that were much better than I had in previous years.
If you want to camp on the islands, you have to make reservations early. Every year I call the day the reservation line opens (usually around St. Patrick's day). This year I had 2 phones on redial and I sat for an hour and a half dialing constantly before I finally got through (and the camp was already half filled for Memorial Weekend). I know one of these years I won't end up so lucky and the family will be disappointed.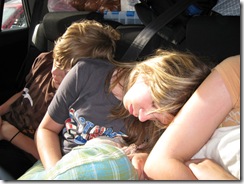 Our trip usually starts early Saturday morning. The wait for the ferry can be long, so we leave at the crack of dawn and catch an early one. The kids have become quite skilled at sleeping in the tight back seat. In the past year alone we have logged over 150 hours of driving together on our trips to Utah, Minnesota, and other smaller trips. We have our moments, all crunched in a tiny space for so long, but the driving is one of the most memorable parts of the trip. In addition to an occasional fight, we laugh, tell stories, they watch movies (while I listen to them), and we listen to audio books. Once on the ferry, the kids usually wake up and we'll play games or harass the other passengers. One year I had the kids go on a scavenger hunt collecting names. They had to go around asking other people their names and cross them off their list in order to win the ultimate prize (candy). They had fun and the other people on the ferry seemed to get a kick out of it too.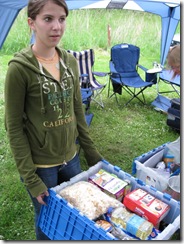 All of the kids are a huge help when we arrive to the campsite. Everyone pitches in to get the tent and canopy set up, arrange chairs, and organize the food. It's not like the old days when in addition to setting up the camp was the job of tending three little kids wanting to play and run around. I miss those cute little kids, their silly jokes, and the endless questions but camping with teenagers does have its benefits. Less work for me, jokes that are really funny, some good football and Frisbee, and even deep conversation around the campfire…intermingled with plenty of silliness from everyone, of course.
This year was especially fun, although I tend to think that every year. I really had a fun time with Sandi and the kids. I consider myself a lucky father to have three teenagers that are a lot of fun to hang out with. Don't get me wrong, we have our moments, but there are tons more good times that hard ones. And this year our camp was packed full of great memories.
After the work is done, it's time to have fun. One good thing about the islands is that even though we have left rain in Seattle, we arrive to sunshine. This year I was extra worried that our trip might be spent in the tent playing games (and I was determined to have fun if it came to that), but it didn't. There was plenty of sun and even a few sunburns (although I didn't have the patience to give Curti a racoon eyes tan as you can see in the picture below).
When it's time to come home, the kids are just as much help packing up the tents, rolling up sleeping bags, and cleaning up the campsite. I have to be honest, there is usually a small amount of complaining but I can understand why…nobody wants to leave. But even though they'd rather stay, everyone helps out and we head out early Monday morning to make sure we don't have to wait six hours for a ferry. We've made the mistake of leaving camp at 11 thinking we'd catch the 2:00 only to find out we were even lucky to get on an evening ferry. So we leave camp by 8:00 am and are able to catch the 11:15 ferry out of Friday Harbor.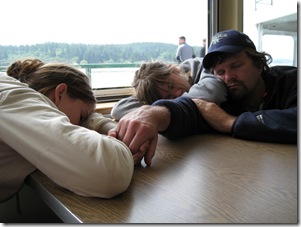 The ferry ride home isn't filled with the energy and enthusiasm as our trip out. This year Sandi and Curti managed to stay awake, but the girls and I crashed for the entire ride. When we got home everyone helped unload the car and put everything away before taking showers and cleaning up. Then Aubree volunteered to make us all a nice dinner, which was fabulous (Italian sausage soup). Aubree scored another point when she picked out a movie for us, Bella, which was a really touching show.
We had a blast. I'm grateful to have such fun kids and a sweet wife. I know it sounds too good to be true for a family camping trip, but what can I say. All the credit goes to my wonderful kids and wife. The only drawback now is that we don't have another family vacation scheduled. I have individual trips with each kid for the next couple of years and I'm not sure when we'll all make it back to Minnesota and Utah. At least we'll do a few camping/backpacking trips over the summer to help fill the gaps.
If you want any information on how to plan a trip to the San Juan Islands, feel free to message me with any questions!