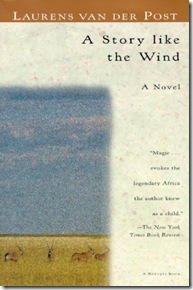 Last year I searched for this book. I didn't know it's name, the story, or the author but I scoured Amazon and my library database for an adventure about the African bush that Curtis and I could read as we prepared for our trip. I never found it, but better late than never…right? A friend of mine suggested I check out the author Laurens van der Post, a South African author fascinated with the Bushmen.
I started reading "A Story Like the Wind" and was hooked me with the tale of a fourteen year old boy growing up in the early 1900's on his family farm in the heart of wild South Africa. The savage unsettled land is filled with wildlife, African folklore, and an earthy spirituality that carried me far away from traffic, work, and paved streets. But I sensed more than just a story and felt that there was something to this author. The spirituality of the African veld, the intimate details of people and animals, and the compassion of his characters suggested to me that Laurens was more than just a South African who, himself, had grown up in the early 1900's in rural South Africa.
The wiki entry for Laurens secured his spot in my eyes as one of my heroes;  author, farmer, war hero, journalist, humanitarian, philosopher, explorer, conservationist, prisoner of war, and one of Carl Jung's closest friends. He fought for equality. He searched for truth. He won the hearts of British Royalty (not that I think that's any more important than the hearts of the rest of us…but it sounds impressive to put on paper). None of this surprised me, his writing voice had already told me as much. After researching his life, it sounds like he struggled in his romantic relationships and may have made several poor choices in that area. I like my heroes to be stalwart, loyal, and dedicated to their partners but it's hard to know the circumstances and details of his life and impossible to judge. His good works are plentiful and I am keeping him on my hero list.
This book fueled my imagination, tapped into my own dreams, and helped stir my sleeping (and often skeptical) spirituality. He has several more books I look forward to reading, including his personal account of the life, beliefs, and methods of a tribe of African Bushmen he was privileged to live among for a while.