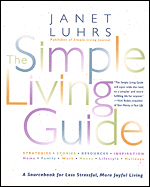 I read this one for the first time years ago. It's one that I have to go back and reread from time to time to help calm me down when I'm feeling flustered because I want more stuff. Although I read the entire book, the first few chapters were my favorite and the ones I revisit from time to time. It helps stop my wallet from hemorrhaging money and puts me in a mindset where I can really look at what I want.
It's so easy for me to try and soothe my frustrations and unhappiness buy buying stuff. I mean, I work hard and I deserve to buy stuff, right? A new Xbox game, a new video card, or a new gadget puts a short term thrill back into my life. If my mind has been purged of the frantic need to purchase (which this book helps to do), it becomes a decision rather than a compulsion. I may or may not still buy the stuff, but at least I'm making a conscious choice.
I've still got a lot to overcome but this book helped a lot. It's about conscious living and making decisions based on the things we really want out of life. Reading it gave me a sense of peace and relaxation when it comes to finances. And that says a lot because normally everyone knows to stay away from me when I'm on the computer doing my finances (I transform into a rabid dog and will bite your head off).