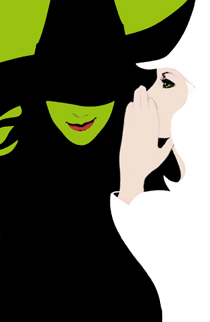 In the summer of 2004, I read a review of the Broadway play "Wicked" and thought it sounded like a cool story. I was excited to see the old story of Oz from the eyes of the Wicked Witch of the West. I've always felt that if I could really see life from even a "bad" persons perspective, I would understand why they made their choices. I may not agree with what they have done, but I would at least understand. I was in Toronto during the last three days of the musical "Wicked" and although I tried, couldn't get tickets. I went four times to the drawing an hour before curtian call for the final 20 tickets available. They were given away lottery style. My name wasn't drawn, darnit. I'm generally a lucky person and I was sure I'd get in…hehe. Wishful thing. So I bought the book and the soundtrack and fell in love with both. My kids and I can now sing along with every song on the CD.
The book and musical are very different. The book a dark tale meant for adults and the musical fairy tale that is fun for the whole family. The story lines are different so you won't ruin one by seeing/reading the other.
PosteNote: We went to the musical in Seattle and it was incredible!  Oh my gosh, if you have a chance make sure you see it! It was fabulous!