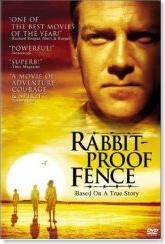 I know that world history is tainted throughout with racism, but I had no clue about what happened in Australia in the 1930's. This is the true story of three girls who were taken from their homes because they were of mixed race and then put into a containment camp. Some of the crazy ideas that mankind has fashioned and executed are downright disturbing. Tearing children away from loving families can be a cheap way way to draw a tear, but that isn't the focus of this show. It tells the inspiring story of Molly, a 14 year old girl, who escapes with her younger sisters and treks 1500 miles through the Australian Outback to get home. She knows the fence runs right to her village, so they follow it across the continent avoiding the police and rangers searching to capture them.
The girls perform superb. The documentary on the DVD about the making of this movie and history behind the story it as intriguing as the movie itself. The young actresses were picked from rural Australia and faced their own personal struggles as the movie was filmed. They are charming girls and if you follow-up the movie with the documentary you be that much more touched.
The images are beautiful, the story sweet, and the characters moving. It's another good movie that inspires me to try and do a little more with my life.