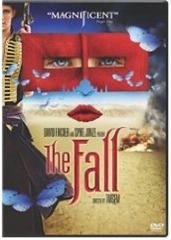 It's not easy for me to convince three teenagers, simultaneously, to sit down and watch a movie as a family. I have to use every ounce of my parental influence to get them to "just try 10 minutes." If after 10 minutes they lose interest, they bail and I don't protest. Based on the trailer, I had a hunch we'd all really like this show. I was so right.
Catinca Untaru, a six year-old girl from Romania, steals the show. Children are, generally, inherently cute but poor directing, filming, or lame attempts to exploit our tender emotions for kids can make me hate a movie. I read that in many scenes of The Fall cameras were hidden to help Cantinca feel spontaneous. Many of the scenes diverted from the script but the filming continued. The result is dialogue that reveals innocent misunderstandings, child-like questions, and some of the sweetest humor I have ever seen. The story is wonderfully creative, bizarre at times, and full of color and dreamlike scenes.
What started as a sweet fairy tale become heavy and an emotional roller coaster. I wish I could cry around my wife and kids, but instead I try and control my breathing, swallow a lot, and inconspicuously dab my eyes. Dark themes are addressed in ways that twisted my stomach and made hiding my emotions nearly impossible.
I picked it up because it reminded me of Pan's Labyrinth, one of my favorites. Children, imagination, and the dark side of humanity always make for interesting combinations. I believe we all have active imaginations at times…when it comes to dealing with some of life's hard realities. But when children experience true horror, the power of stories, magic, and make-believe sometimes seem like the best and only way through them (Life is Beautiful is another example). This movie isn't as dark as Life is Beautiful or Pan's Labyrinth, but it does create a sense of anguish to watch how pain and confusion in adults infects the young and innocent.