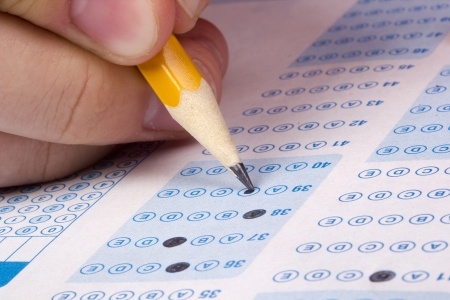 Yesterday Henry was sick. Yesterday was also the midterm exam. And yes, he was really sick. And although this wasn't the first time he'd been home sick on the day of an exam, it was the first time he had missed an exam because he was actually sick. And that pissed him off because unlike the other sick days, yesterday he could have aced the test.
He punched in several numbers into his calculator and scrawled another answer: "hydrophobic: the chemical was less soluble in water than in an organic solvent." He looked at Mr. Jones, everyone called him Doc, sitting like a hunched statue behind his desk, glasses hanging from his nose like a rock climber seconds away from a fall. They were the only two left in the room, maybe even the school. Doc was probably thinking about how much he'd rather be flying down the sunny road in his vintage 68 Mustang.
Henry liked Doc and wanted to be the top student, but he wasn't. He was smart enough for it but just not dedicated enough. Which is exactly why the flu bug so often struck on the day of an exam. It let him procrastinate one extra day, which he hated to do but what could the teachers do about it? Nothing. He'd get an extra study day and the knowledge the deadline was passed finally gave him the motivation to crack open his books. It was stupid. He hated it. But this time had been different. It was a tough chapter and he knew the material and was ready. And now Doc would think he had faked it for an extra study day. It wasn't fair. Or worse, he might think he had hooked up with Sam to get a preview of the exam. But he hadn't.
Doc grunted and said, "I'll be right back," and then vanished into the halls of Jackson High School.
Henry turned back to the exam and a queasy feeling rose from his stomach that had nothing to do with being sick. Behind him on the wall was the answer to every question on the test. Doc always posted the answers after the day of the exam and today would be no different. Henry hadn't seen them, but he knew they were there. Taped to the wall where everyone could look and curse themselves for missing the rogue oxygen atom or forgotten compound acid. And now Henry was alone in the room with them.
Doc was away for at least fifteen minutes, Henry finished the exam with five minutes to spare and was sitting waiting for Doc on his return.
"Done already?" Doc said.
Henry nodded, defeated, stood, and dropped the test on the front desk. Maybe he should have purposely gotten an answer wrong. But he couldn't. He knew every answer fair and square. He'd studied hard and wished he could have taken it with the rest of the class yesterday.
"I'll have it back for you in the morning. Don't feel bad though if you did poorly, the high was only 70%." Doc said with a wink.
Now Henry was the frozen statue, not wanting to leave without offering an explanation. What words could explain and defuse the suspicions that would invade Docs mind once the test was graded? There were none. He nodded and left the room. Tomorrow Doc and the rest of the class would all see him as a cheater.