Several years ago I promised each of of my kids a trip (Aubree chose Italy and Curtis went to Africa). Two weeks, one-on-one with each child exploring a foreign country. It is an idea I developed with our therapist (I think his exact words were "these trips will save you thousands of dollars in therapy down the road"). My wife, Sandi, has been very supportive and patient (her trip is next and looks to be either Germany and Switzerland or Costa Rica). The problem is she only gets 2 weeks of vacation a year, which means giving up an annual trip to see family in Utah or Minnesota. So far she hasn't wanted to do that. In two more years she'll get 3 weeks of vacation and that should do the trick! I plan on following up the trip blogs with a summary of what I learned and the effect these trips had on my relationships with the kids. Mikayla and I had a total blast in Greece (Sept 12th – 27th) and and I will try and post a new entry each day for the next two weeks summarizing our adventures.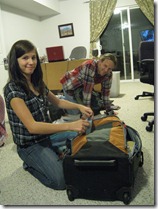 I would do myself a huge favor by not stressing myself out so much as I prepare. Because we do our own thing there is no tour group, no itinerary, and no personal help as we plan and travel. For months I research the how's, what's, and where's. The pressure to plan the ideal trip at the lowest possible price helps drive me in the planning but also causes a fair amount of stress. If there is an upside to the stress, it helps me consider nearly anything that could possibly go wrong. My problem is I can't seem to turn it off. Until I am in the plane and my fate is sealed, I second guess myself and try and figure out what I have forgotten to do. The night before we left I laid in bed thinking, Argh…here I go again. End the end, everything always goes just fine. Even the problems (like when Aubree and I were stranded at the train station and slept on the sidewalk in France) end up as fond memories.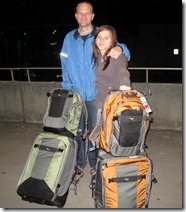 Leaving early for the airport doesn't help either because on top of worrying I forgot something, I'm tired and know I am not thinking straight. It's actually amazing I am ever able to get out the door on these trips. Mikayla and I flew Air Canada to Toronto where customs harassed me because we didn't have a letter from her mother and seemed to question that I was even her father.
I wasn't asked for a letter with the other trips (with Aubree and Curtis). The lady behind the desk never stopped giving me the evil eye. I mean, she just wanted a letter? What does that prove? Anyone can type up a letter and make it look official. She wasn't the only one either. Several people on our trip seemed to have issues with a 40 year old guy traveling with a 14 year old girl.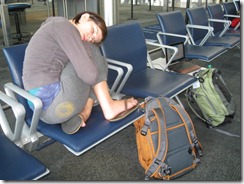 I quickly learned the Greek word for "daughter" and became overly sensitive about it. ("She's my daughter, my daughter and I need a room with two beds, Can you get a salad for my daughter….") Not only that but I found myself resisting hugging her like I normally would. We'll often walk arm in arm around the mall or at a restaurant, but not in Greece. I had to make sure there was no misunderstandings. Kind of lame I worried about it, but I didn't want trouble.
I don't remember much from the ten or so hour plane ride from Toronto to Athens. We were on one of their older planes, which sucked. No personal video displays so I couldn't finish watching The A-Team. Dramamine, dinner, restless and spotty sleeping, breakfast…it felt like a small eternity. Mikayla said she saw a desert outside and we checked the flight path. She was excited to know she'd seen the Sahara desert.
I love leaving a cool drizzly Seattle day and stepping off the plane into warm weather, and Athens didn't disappoint. Most of our trip was in the 80's. Right off the plane it felt perfect.
Our rental car was pretty hammered, dents and scratches all around. I made a walk around video just to be safe. Fast driving, narrow streets, tight corners, and parallel parking into twelve inches of extra space apparently takes it's toll on a car. Turns out that I didn't add to the collection of battle scars, but was glad there were plenty already just in case.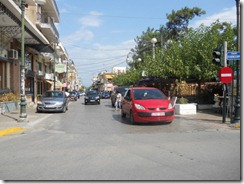 We fired up the GPS, hit the road, and ran into our first obstacle: no Euros for the toll. First we ended up in a restricted zone (not the last time I'd curse the GPS on the trip) and I found myself a bit stressed trying to understand the road signs and figure out where to go. Driving was confusing since I was so nervous about doing something wrong or turning down a one way street. The city was busy and different enough from the US that I felt out of my element. I felt better after we found a gas station ($8 per gallon here, btw), an ATM, and a "Coke Light."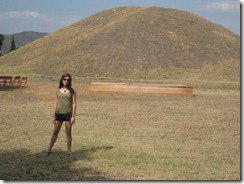 Our first stop was Marathon Hill, a few miles out of Greece. The Battle of Marathon was a critical victory by the Athenians (who were outnumbered 10 to 1) over the Persians in 490 BC. Had they lost this battle, our world would be very different today. Legend has it that after the battle a runner was sent to Athens to tell of the victory. After delivering his message, he collapsed to his death. His run of about 26 miles became honored in the ancient Olympics with the "marathon" run. Many different versions of this legend exist, that one is my favorite and seems to be the most common.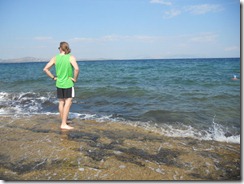 We then drove to the coast and I got my first taste of the narrow streets, tight parking, and windy roads. We walked around the beach and waded in the warm water…which made Mikayla super excited to get to Corfu for beach bumming.
We weaved through several small towns, up and down big hills with nice views, and finally found a cute little shop for lunch. I was so glad to see prices were much more friendly than last year in Italy. The guy, in limited English, asked if Mikayla was my girlfriend. No matter how I explained it, he didn't get it. Daughter. Me, Pappa…she child. Father.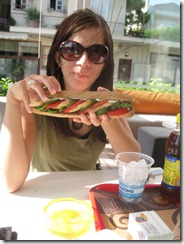 Nothing worked. He must have gone up and looked something up because as we left he came out, pointed to me and said "father," then her, and "daughter." I nodded, "YES!" He got a big smile. Not sure if he was proud to understand or glad that some old geezer wasn't robbing the cradle.
After lunch, most of the drive to Delphi was fairly plain and the GPS reliable. Normal looking roads, trees, hills. I started out driving the speed limit but found that cars were zipping around me like I was in a horse and buggy. After a couple hours I relaxed and altered my driving for the rest of the trip. MIkayla saw for the first time how aggressive I can be on the road when I need to. I don't think she'll call me a grandpa driver anymore. She'll probably use words like "maniac" or "psycho."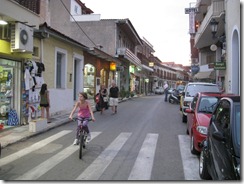 Once the roads started moving more vertical than horizontal, the towns and landscape changed drastically. The villages, draped on the slopes of the mountains, seemed to be right out of a fairytale. Old stone buildings hugged cobblestone roads barely wide enough for one car. Switchbacks had my arms flying right, then left and the car seemed to be pointed towards the sky.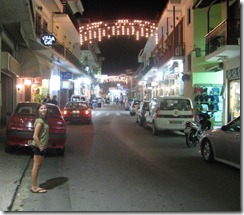 One little town we didn't stop in because it was getting late was Arachova. I'd definitely at least stop there for dinner next time.
Delphi is both an archeological site and a small town (to support tourists to the site).  We had to make a couple loops around the two main streets to find our Hotel. It's a small cute tourist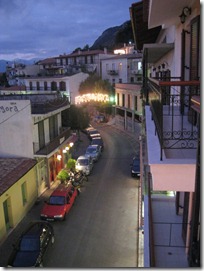 town on the mountain and a short walk from the Oracle (tomorrow's first adventure).
The Hotel I booked on Expedia was not only affordable, it was completely charming. We took the tiny elevator up and found a gorgeous view off our balcony of the street below and the valley beneath us.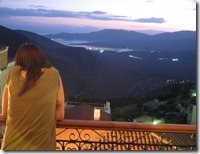 I was exhausted but wanted to stay up as late as possible to adjust to the time zone. We took a stroll through town, looked at the shops, and then spent some time on the internet video conferencing with Sandi, Curtis, and Aubree.
Continue to Day 2…