If you didn't start reading on Day 1, you might want to start from the beginning …
Our vacation has come down to this, one final day. The days have seemed so long and full of activities that at times it felt like this trip would go on forever. Yet now they have slipped past, much faster than I expected. But I think we are both ready to get home. It has been a fast-paced high-activity adventure and I am looking forward to getting home for some relaxation. But before that happens, we have one more fabulous day in Barcelona and we both are geared up to make the most of it.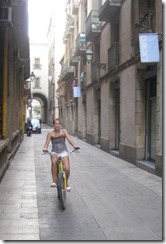 We rode the metro down closer to the waterfront and were cutting through the Gothic section of town towards the beach when we stumbled upon a bicycle rental shop. We rented bikes and I have to tell you, after walking everywhere for ten days, it felt like a Dukati. We zoomed through the alleys, weaved through pedestrians, and in what felt like seconds had already reached the beach area. I felt like the whole world was within my reach on that rickety old bike as we covered in seconds the same ground we'd spent hours pounding on foot. We instantly agreed that renting bikes was one of the best things we'd done (but a big part of the thrill came from the build up of 10 days of hoofing it).
I zigzagged around the trees as we went through an open park area approaching the beach and then we rode to the far end and up to the water. There were naked men, old naked men, all over the place. It reminded me of the time I stumbled upon a gay nude beach in Miami with my kids years ago. DOH! So Aubs and I rode along until the men had Speedos and women also dotted the landscape.
We followed the sidewalk along the beach, tons of people were sunning, jogging, and swimming. An older, mildly chubby lady jogged towards me and her boobs popped clear up out of her bikini with every bounce. Hilarious. Some of the women down on the beach were topless, it's not a big deal in Europe. I've always found it interesting that here in the US we are more tolerant of violence than nudity but that it is reversed in Europe. In the US, it's okay to show someone beat the living hell out of another person but if a nipple happens upon the screen, watch out…it's the end of the world. They are much more strict on televised violence here. I find it disturbing that we are more afraid of our bodies than horrific violence…but I could write pages on that topic.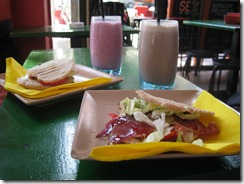 We ended our beach run and turned back up in to town (with the plan that we would return to swim a bit later). We stopped at a very cute cafe and had the best lunch ever. It was sooo good! The smoothies fell way short, they don't have that art down yet, but the jamon serrano (cured pork) and tomato sandwich was heaven!
After we'd cooled off and finished our food, we went straight to the beach to swim.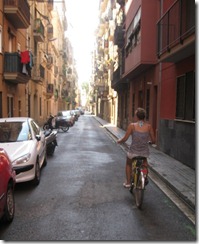 As we neared the beach, I noticed the balconies that adorned the tall, colorful buildings had beach towels hanging over the railings. It had a free, easy-going feeling, very different feel than the old section of town we'd just left. We locked up our bikes and walked across the hot sand to the water. I sat on our towel and kept watch on our backpack while Aubs took the first dip. She swam out, dove down, floated on her back, and spit a mouthful of water in to the air like the stone fountains in Rome. No, she didn't really do that last part…but it makes for a nice visual.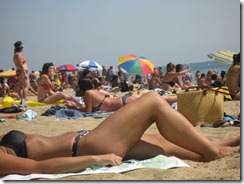 After she finished, I took my turn. The water was perfect. I grew up swimming in the warm waters of Lake Powell and Lake Mead and so most places I swim are too cold for me. This water was the ideal temperature. It let me escape the heat with a refreshing instant cooling over my entire body…but stopped short of feeling too cold. It's an almost impossible combination to find naturally and I could have stayed in it all day. The only thing I would have changed is a nice reef, mask, fins, and a snorkel.
The beach was gorgeous. Soft sand, cool water, sunshine. Don't miss a chance to swim in the Mediterranean and get a tan. It's really an ideal place to relax, unwind, and enjoy a peaceful afternoon. Just don't forget sunblock and cold drinking water. Ideally, add a nice big towel to lay on for each person, a Frisbee, a mask, and a beach umbrella (you can also pay $7.50 per hour to use the umbrellas and recliners that are provided).
After our swim, we left the beach and hit the cobblestone streets again…turning down any alley, road, or pathway that looked interesting. It was awesome covering so much ground and seeing the stone walls fly past on both sides. When we'd had enough, we turned in our bikes and caught a metro back to the hotel to shower.
For our final evening, we went back to Aubree's favorite area, La Rambla. This is a big tourist area full of people, vendors, performers, restaurants, shops…all the things Aubree loves. We found a candy store and Aubs had a heyday picking out an assortment of candy to take home to give Mikayla and Curtis a taste of Barcelona sweets.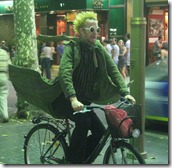 We watched the street performers again. We have seen some pretty interesting attempts at a donation while we've been here. A man sitting on a toilet, Michael Jackson, Jack Sparrow, the monster from Alien, mimes, musicians, clowns…you name it.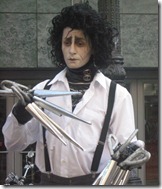 They really go all out with their artistic and creative talents and most would gather fairly large crowds of people watching their entertainment. My favorite was a guy who had made himself up to look like he was riding a bicycle really fast, yet he was totally motionless. Aubree really liked the Edward Scissorhands guy.
Some of the artistic talent is just amazing. We watched a man and woman create beautiful paintings using spray-paint. Spray-paint! Who could have imagined? But considering the fancy graffiti that covered the subways and fences around the city, I should have known somebody would master it and turn it into an advanced art.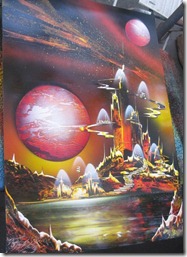 We watched the lady use cans of spray-paint to transform a blank piece of paper into a brilliant colorful image from a futuristic world. I recorded a portion of the process and regret that I stopped the camera partway through. I should have recorded the whole process. She was amazing!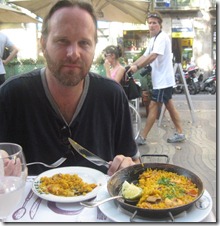 For our final night we enjoyed a traditional dish of paella. I got the seafood..YUM! It was the ideal way to finish off a super fun day. Our table was right out in the street where we could hear the city noises around us (traffic, laughing, people coming and going, music, sirens…) and we sat for quite a while talking and enjoying the evening.  After dinner, I had just enough left so Aubs could get one last Gelato…it took every last cent I had.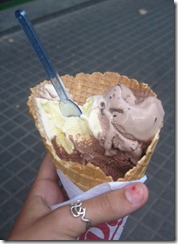 Then we headed back to the hotel, packed up, and hit the sack knowing that tomorrow we had a long day of travel ahead of us.
And just like that, our trip was over. When Sandi and I come to Barcelona, I will make sure to take a day trip down to Sitges, visit the Montserrat mountains, and book a tour through the inside of the La Sagrada Familia cathedral. There are just too many places in the world to see. I don't know how I'm going to get to them all now. I wouldn't have even put Italy and Spain on my list if it wasn't for Aubree because there are too many places I want to see in Africa. I'd even like to get back to Ireland again someday. I'm supposed to be able to visit places, check them off the list, and move on…not absolutely fall in love with them and want to come back again! I have enough places that are calling me back!
Tomorrow we'll travel home. We'll start our day at 5:30am and arrive home at 8am the next day (Barcelona time). It's going to be a long day. I'll let you know how it goes.