Note: I have posted a small selection of the nearly 4,000 pictures we took on the trip. You can see them here. If you didn't start reading on Day 1, you might want to start from the beginning…
It's late, I'm exhausted, and frustrated. The whole drive back today Curtis and I were looking forward to getting online to talk to Sandi and the girls. But we couldn't get online. I tried to send Sandi a text message to let her know we were okay and that didn't go through…so I decided to call her. I thought I had enough for at least 10 minutes of talking but after she answered we barely were able to talk one minute before it cut us off. So I hadn't really told her anything, didn't get to say goodbye, and now I have zero credits on my cell.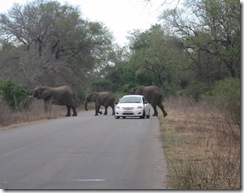 Today was a long day of driving, from Lower Sabie to Joberg. We stopped on the way out of Kruger and watched some monkeys with new babies. They were nursing and we got some very sweet pictures. Some of the little ones wanted to play but their mothers kept hauling them back in close. Another tiny one was trying to learn how to climb a little bush but kept falling over, it was very cute. A few miles down the road we saw a mother lion with two very small babies. It must be that time of year… But she was quite far and so the pictures aren't so great with the lion cubs.

It was pretty driving through Hazyview, that place has grown a ton since I saw it 20 years ago. It was a beautiful drive though; lush green forests, hills, and mountains. We stopped at Mac Mac Falls and there was a mini flea market set up there. We looked through but it was honestly really hard because the people selling the items were so desperate, essentially pleading with us to buy something because they needed money. They kept dropping their prices, saying they'd take anything we would offer…I felt so bad for them.
We bought a bunch of smaller things and I tried to spread it out to as many as I could. Then I just gave all my change away to the rest of them and it was heart breaking to see how happy they were to get what little change I had. I gave one lady the equivalent of 40 cents, the last I had, and you would have thought I'd given her a golden ticket. She was so thankful and happy and it just made me feel worse. I talked to a cute little boy named Timbo (or something close), he must have been about two. I gave him a handful of pennies and he was walking everywhere with them, dropping them, picking them up…so proud of his money. I bought some jewelry for Sandi and the girls from one lady and she thanked us and said she had to leave now that she had money to buy milk for the baby tied to her back. We finally had to leave and I felt bad that I had bought from some of them and left out others. I couldn't look at them as I walked away and then kept thinking I should go into town, withdraw more cash, and come back and give them more. So little went so far with them. I wish I would have been better prepared.
Andre and Orbit, our rangers, stayed with us 24/7. And right after taking us on the wilderness trail, they picked up the group and did it again. Away from their families, working hard…and Bernard was telling me they probably make the equivalent of close to $225 per month. Before we left, as a group we expressed our gratitude to them for being such fun, knowledgeable, and accommodating hosts and then gave them a tip that we all contributed to. Andre was very appreciative but said our words of gratitude were worth more than any amount of money we could leave them.
How can there be such a disparity of wealth? And it's not just in South Africa, it's just as much in the US and across the world. It's just not right. They work hard, they need to survive, and they earn so little…and the fact that they are such good people and I had the opportunity to get to know them only makes it worse. They deserve so much more…and I have so much more than I need.
It took me a while to get my head back into my vacation with Curtis after that experience, and I don't plan on just forgetting it either. I'm thinking maybe in the future I need to make a trip back and spend a lot of time out in those poor areas…doing what I don't know. But I have a lot to learn and I think spending time with them will help me shed some of my selfish thinking.
We eventually reached Graskop and dove to the "Big Swing." Yes we did that! I found this place on the Internet the week before we left and we had decided to do it. Basically, they hook you up to a cable that is suspended halfway across a canyon. Then you stand backwards with your heels teetering over the edge of a 250 foot cliff…and you fall backwards. I don't get scared easy. Rock climbing doesn't scare me. Skydiving doesn't scare me…even roller coasters don't do much for me. I just always feel safe and know the chances of getting hurt doing the things I do are slim. So I didn't even think this was that big of a deal. I mean, they've been doing this for years right, what could go wrong?
The first thing we did was a zip line across the canyon. You run off the platform and jump into air and zip above the waterfall and trees way down below. This wasn't really a big deal, I even carried my camcorder and recorded the whole thing from my perspective. Then they hooked us up (we did a tandem jump) and backed us to the edge of the cliff. Suddenly, I started to rethink the whole thing. We backed up to the edge until our heels hung over and we were on the balls of our feet teetering over the edge of the sheer drop and I thought to myself, I can't do this. I cannot jump backwards over this cliff. No way. They said lean back against the rope and held us in place for a second or two….are you ready…then we were falling. OH MY GOSH it was the scariest thing I've ever done. The cliff was racing past us, my stomach was in my nose, and we just kept falling…and falling. I didn't think we were ever going to stop…we fell for over 200 feet…free falling down the side of a cliff and then the cable grabbed us and we flew across the river and over the trees. We both yelled and cheered, it was incredible. Curtis said he'd felt the same way, like we were never going to stop falling. It was awesome. The hike up afterwards was tiring, in fact I think the rickety wooden ladder/staircase that brought us out of the canyon was probably more dangerous than how we got in to it. But it was awesome, we'd both would do it again, anytime!
We then drove to Pilgrims Rest, a nice little town with a pilgrim theme. We stopped to get gas and I replaced a fuse so the Cig adapter would start working again (cell phone dead, which we use for the GPS). The fuses weren't labeled, so I pulled them one by one to find the blown one…but after it was replaced the car would not start at all. I figured I'd tripped some sort of anti theft device by cutting power, called the rental car company, gave them the info, and they said they'd have somebody call me. I hadn't heard anything for 15 minutes, so I called again. About this time Curtis went across the street to look at a leather shop. They finally called back and said they were going to drive another car up to me from Nelspruit (2 hours away) but the only car they had was a small one. It started thundering and within seconds, marble sized hailstones were bouncing all around and making such a racket on the car I could barely hear on the phone and she couldn't understand what I was saying.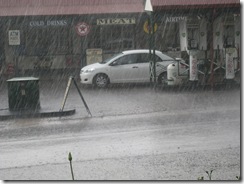 I kept trying to say we didn't need another car, that maybe we could call Toyota and find out how to get around the immobilization device. I called the main number again to try and explain but they all kept to their script, they were bringing me another car. The hail turned to bucketloads of rain and I could see Curtis stuck in the leathershop just looking at me from across the street. I didn't give up and finally talked to somebody who understood what I was saying and said, "no, we need to bring you another car…there is no anti theft device in that car."
Suddenly, a bell went off in my head. I must have put a fuse back wrong…I went into the gas station and borrowed an umbrella and got back under the hood where the fuse box was…it didn't take long to figure out that I had been holding the diagram upside down. The fuse I thought was marked "extra" was actually the fuse for the ignition. I put the real extra fuse in place, got in the car, and it started right up. Oh, and in the meantime the leather shop closed down and the lady walked Curtis over under an umbrella. He told her thanks and she said it was her job to take care of all the customers, whatever they needed.
So, an hour or two killed, now we were in a bit of a hurry. We were both really anxious to get back to Joberg so we could talk to Sandi, Mikayla, and Aubree. I was frustrated with myself but at the same time, relieved that we didn't have to wait two hours for tiny car replacement (I did call and let them know the problem had been resolved…although I left out the details…no need to tell them about the fuss mistake…I left it at a "fuse issue"). I feel bad that first we didn't get to post our blogs and message the family, but that I also got cut off from talking to Sandi and have no way to get a hold of her again. They told me I'd have Internet early in the morning….I suppose all I can do is wait and talk to them then (which will be late Thursday night for them, hopefully they will still be up). All of that calling for the dang rental care used up all of my cell phone credits 🙁