Note: I have posted a small selection of the nearly 4,000 pictures we took on the trip. You can see them here. If you didn't start reading on Day 1, you might want to start from the beginning…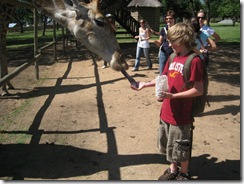 We were up and ready to go early, as usual, but then were turned away for breakfast because we were too early. There was a bowl of peaches and yogurt out ready to go, and I suggested that we grab a bowl of that and take it to our room because we were heading right out. But Gordon said no, that would confuse his employees. He likes to run things strictly by the book here, it's a nice place and he's very helpful and friendly but there isn't much variance from standard procedures.
Gordon got our Internet up and running yesterday, but based on my experience last week and this week, he didn't really understand how important it was to us. It was more like, oh well, it's not working…no big deal. I still recommend you stay here, just tell him well in advance you want an Internet login, and perhaps even remind him the day before and you should be good. And remember that breakfast starts at 8:00 on weekends instead of 7:00.
He also told us we shouldn't go out so early to the Lion Park because a few weeks ago there was a shooting and a man was killed. He suggested we wait until it had been open a bit and was active before going out because it is in a poor area. I googled and found the article. Looks like it was a few months ago. I also googled the ranger that was attacked by a lion a couple weeks ago on the wilderness trek and found it here. I also heard that an Asian couple got out of their cars with the big Lions and were taking pictures standing by them for a good fourteen minutes before they were attacked (and killed). So I figured if Curti and I stopped at thirteen minutes we'd be okay…he didn't think it was a good idea.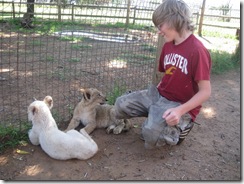 The Lion Park was awesome. We've seen plenty of Lions, but we wanted to go in the pen with the cubs and play with them. I mean, how often do you get to play with Lion Cubs? Fifteen years ago when we came the playpen was much smaller and the Lions in it were a lot bigger. There was no one around, just a sign that said "enter at own risk." It was close to closing time and I really wanted to, but I didn't take the chance. So it was nice to go back and do it this time. One of them kept roaring, it was so cute. He'd open his mouth, roll back his head, open his mouth wide…and a little tiny squeaky roar would come out.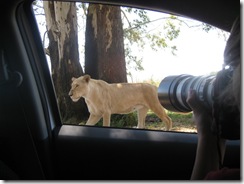 The Lions here didn't look as happy as the ones in Kruger. Their eyes didn't have the same sparkle. They reminded me of myself after spending days on end in my cubicle at work. And I know by going, in a sense I make it worse by supporting it. All of the big lions were surrounded by hundreds of flies, it actually made the pictures pretty sad looking. Or maybe I can say that I help make it better by providing funding for better facilities? I do know it was a lot nicer than the last time I was here. After the cubs, we drove around and took pictures from our car of the bigger lions wandering their fenced in areas.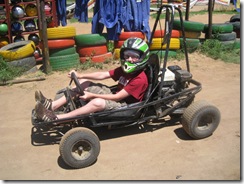 We then hit the road for the Cheetah park up by Pretoria. We were halfway there and realized we had plenty of time, so we stopped at a Go-Cart place to have a bit of fun rather than sit in the heat waiting at the Cheetah Reserve. They were fast little carts and really slid around the corners. Curti especially liked driving right through the mud which dotted his face and body in tiny brown spots. Years ago I went to a water slide park in Warm Baths. I had Aubree on my lap (18 months old), no life jackets, and we sat on a tube and headed down. It was actually really scary, the tube flew off steep drops and caught air. I held on with both hands and balanced Aubs in the middle terrified we'd fall off the tube and she'd get hurt. The bottom pool was huge and swift and in those instant moments I visualized myself frantically searching the deep churning waters for her little body…but luckily we stayed on the tube and ended up safe and sound. In the States, there would be lifeguards, rules, and safeguards in place so you wouldn't get hurt. It seems that here in South Africa the reasonability is on the individual to be safe (like the big Swing). So I told Curti to drive extra careful, these didn't even have seatbelts. It turned out they were fast…and fun. And neither of us even crashed…so that was good.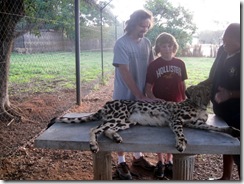 The Cheetah Park was interesting, but it was really long. The last time I came the groups were small and viewing the animals during the tour was fun and exciting. This time they packed us into huge land rover bus-like vehicles that made it impossible to see both sides of the road. I couldn't see half the animals on the tour, which was horribly boring given the tour was three hours long. They provided plenty of information about each of the animals, talking a long time to talk about how they live and their endangered status. But just sitting there in the heat listening to them talk without being able to see half the time wasn't fun. At least at the end we got to pet a purring Cheetah and had our picture taken. That was actually the whole reason I wanted to go. I wasn't able to do it last time because of problems at the reserve, but it worked out this time. When we were walking up to the cheetah, it looked at Curti and jumped to it's feet and bared it's teeth, it was actually pretty scary! The man handling it told us to stop moving and quickly subdued it…and then told us to step forward. We walked around and he was purring like my motorcycle (the cheetah, not the man). We were able to stand there and pet him for several minutes. It was very cool. As we walked away Curti said, "See dad, I told you the Cheetah wanted to eat me."  Haha.
Well, tomorrow we fly out. It has gone so fast. I don't know how we are going to get everything home, I need to find a place to buy a new suitcase I think. We were slightly overweight when we left, now we will be for sure.