If you didn't start reading on Day 1, you might want to start from the beginning.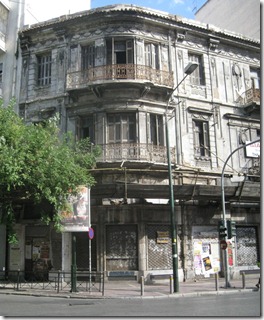 Our hotel has been noisy, every single night. People talking, running up and down the stairs, doors opening and closing…all night long. But when somebody started banging on our door in the middle of the night last night, it was too much. The first time it happened I was groggy and by the time I woke up, they had stopped. I was miffed because it had taken me at least one frustrating hour to fall asleep. I figured some drunk fool had forgotten a room number. I was almost asleep when it happened again. BANG BANG BANG! This pissed me off and I yelled out, "WHAT?!?!" in a very unfriendly tone. It stopped and I heard them knock on a few other doors. I'm not sure what it was about but I wasn't about to open the door in the middle of the night for anyone, especially after our walk through druggieville the day before. That's not a picture of our hotel, by the way. But if it was quieter I might have stayed there even if it did look like a haunted house.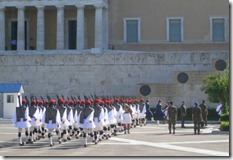 We slept in as long we could and still get breakfast and then caught the metro to Syntagma Square. The 10am Sunday changing of the guard is a big deal with a marching band and a full platoon of Evzones dressed in their traditional kilts, tights, and pom-pommed shoes. These are the elite guards and world famous for not only their attire but for their unique march which involves many slow, high-sweeping choreographed kicks.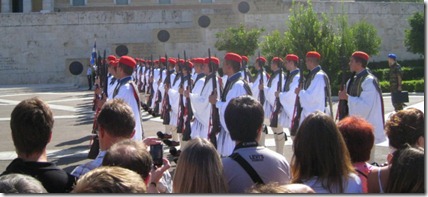 The experience clashed a bit with my own schema about what makes an elite presidential guard. I drum up visions of soldiers in fatigues with M16s resting across their chests or a mysterious looking man in a black suit with a curly cord hanging from his ear. My imagination is even wide enough to consider a hooded ninja or pierced and painted tribal warrior. But tights and pom-poms stretched my mind and I had to remind myself of the respect and reverence these men have and deserve here in Greece. I can, however, understand Mikayla's difficulty at suppressing a giggle or two. Tights and pompoms are not what either of us has been raised to see as fierce. But this is one reason I love to travel: different cultures, ideas, and perspectives.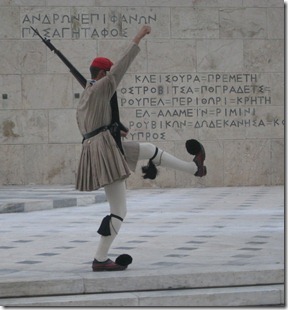 Despite the unusual appearance of their uniforms, I did recognize the stern, stoic, and hardened gaze they each possessed. It was the look of a somber warrior. Their expressions conveyed a fierce attitude filled with pride, determination, and competence. They stood at full attention without so much as a second thought to the gawking foreigners. I'm sure more than a few observers have found the scene unusual but I get the impression that these soldiers have a level of internal dignity and responsibility that, along with respect for their country and its history, easily supersede concerns of what foreigners may or may not think.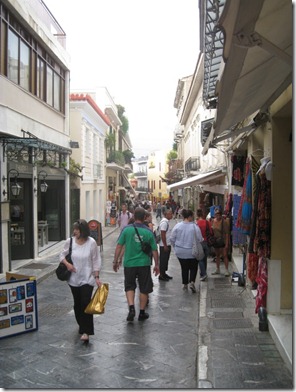 After the changing of the guards and the parade marched off, we hopped on the metro to the Acropolis. North of the Acropolis is the Plaka. Walking these narrow streets is like exploring a labyrinth made of shops, restaurants, and galleries. We've spent hours (and many Euros) each day here meandering for miles (I mean kilometers) through what feels like hundreds of different shops selling just about anything you would want to bring home from Greece; jewelry, sculptures, paintings, leather products, knick knacks, paddy whacks, and dog bones…it's all there.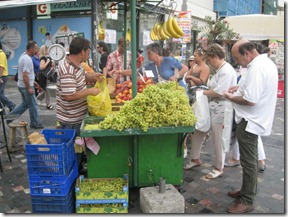 Normally, the only places where I actually enjoy shopping are Costco, Bestbuy, and Fry's. And since most of the things I usually want are too expensive to just go out and buy on a whim, I usually don't even like those places. I just get reminded of all the things I don't have that I wish I did. But I loved the Plaka. The narrow roads were clean, friendly, and just plain fun to walk around. The food was good. The people were friendly. And the shops had a variety of inexpensive/expensive items to cater to the masses. It was fun and interesting and even though we saw some of the same places every day, it never got boring.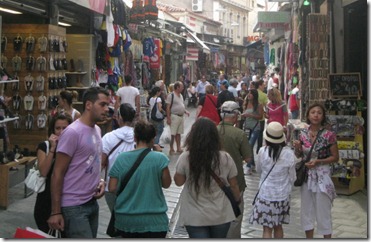 On the north end of the Plaka is where most of the restaurants and the flea market are located. The flea market is where you'll find the "non-touristy" type things. Take an outlet mall in one hand, a swap meet in the other, and smash them together and you have the Athens Flea Market. Plenty of shoes and clothing stores to appeal to all but the extreme posh who only buy Armani and real Gucci bags (those places are a few blocks away). Although most of the Flea Market does resemble the Outswap Mall you created moments ago, if you walk far enough you will find more typical flea market items, such as old War helmets, records, used furniture, and the like.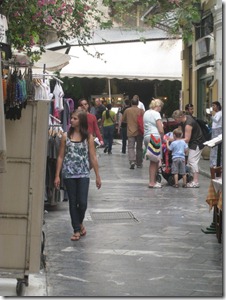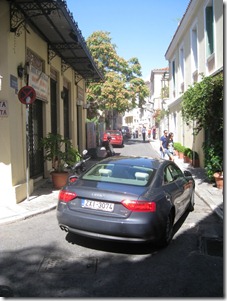 We grabbed some lunch, followed a lot of noise and music to the park where a breast cancer run was in progress—and a bird dropped a messy greeting onto my leg (I'm pretty sure it was on purpose). Then, knowing it was our last time at the Plaka, we said goodbye to our favorite area and journeyed north to the Archeology Museum.
One of the metro lines was down and we ended up spending too much time trying to get to the museum by shuttling around on underground trains. We should have just walked the entire route instead of just half of it (we gave up on the metro at Omonoia square). But, sweaty and a little tired, we finally arrived.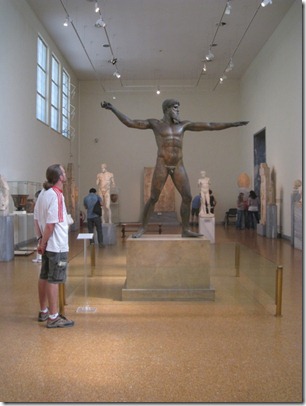 The National Archaeological Museum in Athens is considered to be one of the greatest museums in the world. At least that is what the Wikipedia article says (and I have to agree). The place is full of artwork and pieces of history that have been pivotal in defining many aspects of western culture. My favorite piece was the Artemision Bronze, full figured statue of Poseidon, brother of Zeus. But it depends on who you talk to. Some historians say this was Zeus and rather than a trident in his upraised hands, he originally held a thunderbolt. Most, however, concur that it was meant to be Poseidon. I've mentioned in earlier blogs how fascinating it is to be surrounded by so much history so I won't go into it again here. My one regret is (and it is typical for me in a large museum like this) that I ran out of steam before I get to the end. We took a break in the cafeteria for a snack that helped, but even with that, I couldn't keep up my enthusiasm. We moved pretty fast through the last exhibits so we could get our tired legs back to the hotel.
We hoofed it back to the hotel and, even though we were tired from walking decided to extend the journey a few extra blocks to hit the Spar (a grocery store). Well, that didn't turn out so well. We got there and it was closed (Sunday). We had to settle for an overpriced ice cream bar from a street vendor.
I collapsed on my bed and relaxed for a few minutes with my ice cream, then packed up my stuff to prepare for our 3am departure. Before dusk we went up to the roof and watched the sunset to the sounds of cars accelerating, horns wailing, and the swoosh of the busses braking. As the sky became dark, the lights lit the Parthenon. I wonder if they lit it with fires and candles 2,500 years ago.
I'm packed, ready to go home. All that planning. All that saving. All that stressing….it's all over now. All of it, done. All my trips with the kids, done.
I have gained a deep respect for the Ancient Greeks. I like how they lived and the value they placed on physical, mental, and spiritual growth. They introduced democracy to the world and changed the course of mankind in many ways. I wouldn't have picked Greece but am thankful Mikayla did. So much of the culture and history here blends with how I think and who I am. It has been a wonderful experience, a fun trip, and I hope I make it back someday with Sandi.