Note: I have posted a small selection of the nearly 4,000 pictures we took on the trip. You can see them here. If you didn't start reading on Day 1, you might want to start from the beginning…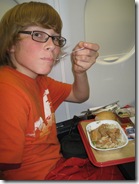 Curti and I are at 40,000 feet over the Atlantic ocean right now, just over an hour way from Washington DC. They almost canceled our flight, it was delayed an hour and for and we heard them say "we'll know if it's going to be canceled in five minutes." Curti's main concern was it would mean he'd have to do another say of Saturday school. I didn't want to be stuck in an airport all night and then get rerouted. Luckily they got the go ahead and we boarded. I just hope the delay doesn't make us miss our DC connection. We have a two hour layover but have to get our luggage, go through customs, and recheck our luggage. Argh.
We were treated to flashing light and chest rattling thunder for our last night, a major lightning storm. In fact, one must have struck close because I the crack almost sounded like a tree shattering and flash hit at the exact instant. (It also knocked the power out.) I love thunder and lightning…something we don't get a whole lot of in the northwest.
For our last day, we went to the African Market at Rosebank Mall and spent way more money than I intended…mainly buying presents for everyone. I can't even remember everything we bought…I'm actually looking forward to getting home and finding out what is in my carry-on. They weren't as pushy here at this market, which is really good. When we bought the stuff out by Mac Mac falls they really played on our emotions. It's hard to know how sincere they are being and how much of it is an act. They were basically begging for us to buy their goods, telling us they don't have food and need our business. And the line the lady gave me about "now she can buy milk for the baby," …I just don't know what to think. I know they are dirt poor and desperate. I just don't like how they leverage my emotions, and I'm a succor for it. Even while we were there Curti said, "Dad, you are too nice, you just have to tell them 'no.' He's right, it was really hard for me. I can't blame them for being desperate nor myself for feeling torn as to how to help them. At least this market was relaxed, prices were a bit higher…but not much. And most of them didn't resort to begging for our business.
It's interesting that nobody in the really poor area, the squatter camp, we visited begged us for anything. They have about as little as you can possibly have without having absolutely nothing and didn't asked for anything…except for one very drunk man, and the gal giving us the tour told us to ignore him and hurried us past. Even she didn't ask for anything…and she spent a good hour with us, showed us her home, school, and community. When she finished, she said "thank-you for visiting us here, please tell people about us, maybe somebody can help change it." I had to stop her as she left because I wanted to pay something her for taking us around.
We then went to Yannie's for the braai and had a wonderful time visiting with our friends we met on the Sweni trail. We met their kids, they fed us an excellent South African meal, we visited, and Curti played with their young kids. They commented several times on how wonderful Curtis was and especially how well he got along with their children. I told them Curtis has been great with kids and, in fact, often complained that people only asked his sisters to babysit for them. He'd taken the babysitting class and was all geared up to earn some money tending kids as his older sister had but everyone assumes only girls want to tend…or that boys can't tend. They said it's really too bad we lived so far away because they need babysitting often and would love to have him tend for them.
I'm really thankful Curtis had a chance to get to know some people while we were here. He can understand now how I love South Africa for so many different reasons, one being the kind and genuine people that I have found here. The sad part in making friends with people like them is that we live so far away (like Herby Krause, Shawn Madden, the Petzers, Harry Gorman, the Morgan family, and a few others that I met in years past….time passes much too quickly, I lose contact, and then I can't find them.
It was a great trip, we had so many amazing experiences. It seems like we were able to experience a little of everything, see all the animals we wanted, and met some really neat people. It's sad that it's over, after nearly a year of planning and years of thinking about it…it's over. It leaves me with a slight sense of loss but at the same time, there are so many memories that instantly warm my heart that I think I'm even going to have a smile on my face for a long time. Thanks to Sandi for supporting this choice, thanks to my girls for encouraging us, thanks to Curti for going with me and being an ideal photo partner, and thanks to the wonderful South Africans who made this trip an incredible experience. I'll get some of our high quality pictures posted in the very near future…and maybe even some video!