If you didn't start reading on Day 1, you might want to start from the beginning…
We both woke up at 3am and couldn't sleep. I told her about a dream I had about a 2,000 year old love tragedy between a slave and the daughter of a wealthy aristocrat that is resolved by flashbacks that result in a modern romance. She said I should write it. Maybe some day…
We got some early morning time on the Internet, Sandi helped me with the lost luggage and made some calls while I sent useless emails. The official word just that "it's lost." US Air has no clue, hopefully I don't have to write a song about it.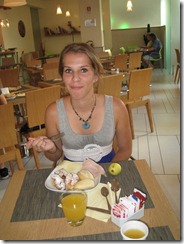 The hotel is nice. It only cost about $75 a night and with breakfast, was a great deal. Once we figured out how to use the metro (the station was only about 4 blocks away), we could get anywhere easily. Our room has AC, thank goodness, so that gives us an escape from the heat. The breakfast is really good, plenty of food. We gorged on it to take advantage of the free food. Chocolate croissants, ham, eggs, fruit, yogurt, cereal…it was great.
The staff helped us get oriented and explained how to use the metro. It was easy once we had the quick rundown. You can buy a one or three day pass from the machines inside (they take cash and have an English option) and then ride it all you want. We could have saved a lot of walking yesterday had we understood it better…but better late then never. I filled my daypack with water, jerky, trail mix, guidebooks, the camera, and the camcorder and we we hit the streets early before it was too hot to be miserable.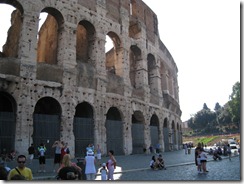 We took the metro to the Colosseum. We stepped out of the station and there it was, right across the street. Amazing. A place I have heard about all my life, seen in movies…almost 2,000 years old. I felt like a kid, excited and awed. I didn't expect it would have such an impact on me but I have to say, it took my breath away. I must have more passion for history than I have ever realized.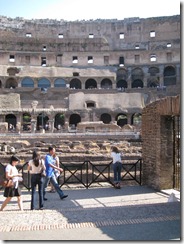 Aubree had a Rick Steve's Guide to Rome that somebody had lent her. It was a few years old but became our best friend. It was great to read about all the places we visited. Instead of just seeing all the amazing sites we were able to tap into the history and background. I wish we would have had books for the rest of our trip. For a tour guide, I liked it a lot better than the Lonely Planet Guidebook I had with me.
We climbed up into the Colosseum and looked down into the arena and imagined the crocodiles, elephants, lions, and all manner of beasts battling men who were fighting for their freedom. I can't imagine going to an event where people were killed. Where animals were cut to pieces. Watching a man fight a lion to the death? And I thought reality TV was bad!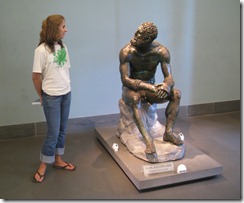 It was getting hot when we left, so we got back on the metro and went to the National Museum to escape the heat. It was pretty cool seeing statutes and busts that I'd seen in history books and in the media all my life. Old Roman coins made of brass and the size of my fist made me glad all I had to carry around was my Visa card.
After, back on the hot streets, Aubree couldn't take it anymore and bought a sun dress. She changed in McDonalds and looked so comfortable I decided to get one too…but they didn't have my size so I was stuck in levis.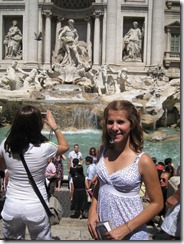 After that we walked to the Pantheon but it was closed. We saw the Trevi Fountain, bought some souvenirs from the street market, and sweat miserably in the same levis and clothes I had been wearing since leaving Seattle, almost 3 days ago. Rick Steves said they didn't wear shorts in Europe…but I'm telling you they do. If you go in August, definitely pack shorts.
We went back to the hotel and Aubs took a nap. I tried to wake her up a couple hours later to head out for the evening but she was a corpse. Just when I was about to give up, she mumbled an okay and stumbled to the bathroom. We were both jet lagged bad…but it was early (5pm or so) and I figured we should stay awake until at least 9:00. I got directions to a nice section of town for evening activities and we hopped on a bus. It was the right bus but we went wrong way, which we didn't realize for at least a half hour. Once I got suspicious I asked around and using hand gestures and basic English realized we were way out of town. We got off and caught the opposite bus but just got off at the hotel. We were tired and I figured that was enough for the night.
A bit of time on the computers…and we crashed for the night. Good news though, we should have our luggage tomorrow! The airport called and will bring it by tonight! Woohoo! Clean underwear! A clean shirt! My dandruff shampoo!