Note: I have posted a small selection of the nearly 4,000 pictures we took on the trip. You can see them here. If you didn't start reading on Day 1, you might want to start from the beginning…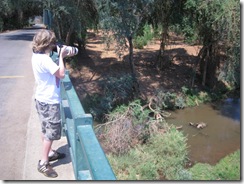 We went spotlighting last night, which was pretty cool. Saw a porcupine, bush babies, bush buck, duikers, kudu, several civits, and even an ardvaark (very rare to see in Kruger). We also heard an elephant trumpet but couldn't see it in the darkness.
We got a late start this morning, slept in….argh! I didn't make it through the night again, woke up at 2 and laid awake ready to go until about 4:30, then I crashed hard. At 7:30 I heard noises outside and it felt like the middle of the night. Somehow I rolled out of bed and Curtis seemed to be in the same mode. He did not want to wake up either. Dang 9 hour time difference! Maybe tonight I'll make it until 4am.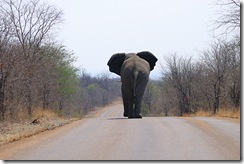 We headed north to the very top of the park, somewhere I have never been. We followed an elephant moving parallel with the road at a pretty quick pace for a while. Then she cut into the road and walked right in front of us for a half mile. She kept looking back and swinging her trunk at us so we gave her lots of space.
We drove north to the Zimbabwe/South Africa Border and followed a dirt road along a river to the Mozambique border. There were plenty of Impala, Kudu, monkeys, and baboons. We watched a huge crocodile chase several small ones from a dead impala that I wonder if it had recently killed. Just a stones throw from that same place, about four hippos were swimming in the water…snorting up mist and making grunting sounds. It was pretty cool.
We went back south and the elephant show kicked off. The first herd we saw was exciting. Curtis had spotted two 30 yards into the bush and we had stopped to watch when another popped into view…and another. Pretty soon there were ten or so with several little ones walking in the middle. They walked down the road and crossed. We'd seen a water hole back there so we turned around to see if that's where they were heading. We watched them drink, spray, then throw dirt on themselves for about an hour.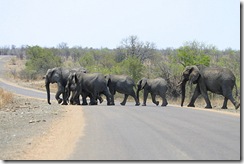 Several hours later we were watching a lone elephant and several clouds rolled in and softened the light…which always makes me excited because of the better pictures. There was plenty of green around him so despite Curti's concern, I started shooting. He doesn't like it when those big things are just a few steps away and looking right at us…I guess I can't blame him. Everything was going fine, car was in first gear, foot on the gas just in case…and all of the sudden, thunder! Dust and trumpeting filled the air as 10-15 more elephants came charging from the side and splashed in as they made a a huge racket. It scared us both but once we realized we were safe and they were just playing…we both just sat in awe. It was pretty awesome to watch and hear it all! They slowly walked up the stream on the road to our right which dropped into a ravine and although we couldn't see them, we were able to listen a while longer.
From that point for about four hours we hit a horrible lull. Nothing except hot dry bush…we drove for hours in the heat and dust. We never stopped looking though, but afternoons like that are draining. But that's part of the experience. We arrived at Mopani and saw a couple of Buffalo on the way in. We are excited to see more tomorrow.