If you didn't start reading on Day 1, you might want to start from the beginning…
We still aren't used to the time difference. We were awake in the night for several hours again but then fell back asleep and were dog-tired when it was time to get up. It was tough to get rolling but it helped that our luggage was downstairs waiting! So with clean clothes and another yummy breakfast we hit the streets at about 7:30 for another day of walking, sweating, and exploring.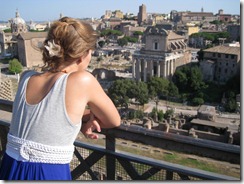 We took the metro back to the Colosseum to explore the Roman Forum and Palatine Hill. We spent the morning walking though what is left of the ancient Roman Empire who ruled the earth for 1,000 years. We walked down the street where the war parties would return to parade through the town to the cheers of the Roman citizens with their slaves, stolen gold, and captured exotic beasts (probably on the short list for the Colosseum).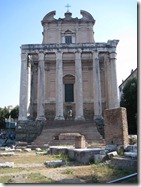 We saw the temples where they honored and worshipped many gods, the senate house where the ruled  and passed laws, and the place where Julius Caesar's body was burned after his murder. We walked through the ruins of the castle where the leaders all the way back to Rome's first Emperor Augustus lived in luxury. We saw what is left of Circus Maximus, where over a quarter of a million people at a time (the ones who couldn't get into the Colosseum) gathered to watch chariot races 240 days of the year.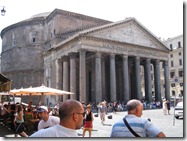 By the time we finished Ancient Rome, it was really hot. We walked through the city, stopping for another round of $4.50 diet cokes (and jerky), and then to the Pantheon hoping for a tour. No such luck. It was Sunday and a service was in progress…but at least we could look inside through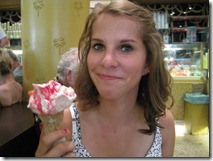 the open doors.
So we went a couple blocks north to the Gelato place Rick Steve's said was the best in Rome and enjoyed three scoops of yum.
We were both tired, it had been a good day of hard work and exploring (and of course, heavy sweating). We walked close to 6 miles through the city to the regular sound of church bells still had to get back to the hotel, find dinner, and settle in for the evening.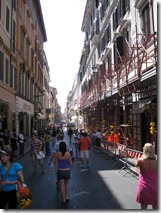 We reached the Hotel and were shocked to see it wasn't even 1:00 yet (neither of us had watches and we weren't using our cell phones…so we never really knew what time it was). I am usually pretty good at estimating time, this blew me away. We still had a half of a day! We took a siesta and when I woke up I went down and got online determined to plan out the rest of our trip. Not knowing where we would be going or sleeping tomorrow (or the rest of the week) was starting to stress me out.
Honestly, I should have planned it all last spring. Prices were lower and availability was tons better…but we just couldn't decide what we wanted to do. Well, waiting didn't make that part any easier…being in Rome hadn't magically given me the answers. It would have been tons easier on my faster home computer, dual screen monitors, and printer. It too took several hours and wasted an afternoon to research train schedules, find hotels, and make decisions…but at least I got most of it all figured out. I didn't book a room for our last few nights in Barcelona because I couldn't confirm the train schedules (something that would come back to haunt me in a few days), but at least having the next 5 days scheduled was a huge relief. I printed out all our reservations and maps to get us from each train station to our hotel. The plan was 2 nights in Pisa, 1 night in Venice, 1 in Torino (Turin), then to Barcelona on a night train (hopefully).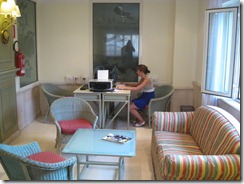 Aubs woke up and spent some time on the computer while I showered and put on some non-sweaty clothes and we took an evening stroll for dinner. I started feeling lousy and didn't eat but Aubs got a Panini (she said it wasn't so great and hers were better).
I think I suffered from a bit of heat exhaustion. I felt miserable by the time we got back to the Hotel. Slightly nauseous, headache, and cycling through chills and feeling hot. I laid in bed wondering how I was going to make it through the day tomorrow…an early morning of lots of walking to and exploring the Vatican and then our journey to Pisa. Somewhat stressed, I fell asleep while Aubs stayed up several hours chatting online with her friends.