If you didn't start reading on Day 1, you might want to start from the beginning…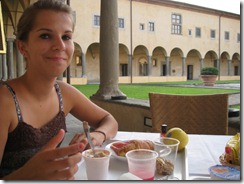 I always look for a hotels with a free breakfast. Most of the time they don't cost more and it saves money on food. Eat a good breakfast, snack throughout the day (jerky and trail mix from Costco works good), and you can get away with only buying one meal a day (or less). Normally it works out pretty good…but not at the Monastery.
We ate our breakfast in the peaceful courtyard but then as we were heading out were informed our room had been charged $24 ($12 each). Apparently the Expedia line that said "all our guests enjoy a free complimentary breakfast" didn't apply to us. I pleaded my case and lost. We had a "no breakfast room," although nothing specified that on my reservation. I asked for a full detailed receipt knowing this fight was not over. If you tell me I'm getting a free breakfast, one way or another I'm getting a free breakfast. (After I returned home I took up the fight with Expedia and was first told they would not issue a refund but after requesting to speak to a manager, my request was granted.)
But even with the eventual refund, there were still indirect costs. We delayed our departure until after 7:00 when breakfast was served and because of that, missed the Regional train that would would have been free on our prepaid rail pass. Instead we had to buy reservations on another line which cost $30. I didn't plan that well and beat myself up about it for a good 15 minutes on the train to the Cinque Terre region.
In preparing for our trip, today's adventure is what I was most excited to see. Five small towns carved into a mountain that plunges into the Mediterranean. The whole area protected as a national park each town connected by a hiking trail along the rocky coast.
So after I stopped stressing about the breakfast costs, I enjoyed the train ride out of the flat brown world into lush green mountains. It was a pretty ride, we passed several large cathedrals or castles built high up on the tops of the hills and saw quaint looking beach towns along the ocean.
Speaking of trains, the European Rail system is well designed and you can get anywhere. We bought a 3 country 5 day pass (many varieties are available but must be purchased before you travel to Europe), which meant we got unlimited travel in Italy, France, and
Spain for any 5 days we chose. Some of the trains require a reservation, which you pay extra for, but the Regional ones do not. With the pass, you have paid for your ticket but not for a reservation if it is required. My guess is that it's a way for the nicer rail lines to participate in the program and receive a bit more compensation because their services are better. They are nicer and you are guaranteed a seat (we rode on a few "free" ones when there was standing room only). But it cost us an additional $15 per segment to travel on the non-Regional lines.
In our case, I'm not sure the rail pass saved us money. The trains in Italy are really cheap to buy directly from the automated machines, especially if you stick to the regional line. That isn't the case in other countries and I think the rail pass makes total sense if you have several long trips you are going to take through multiple European countries.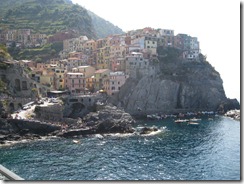 We arrived in Le Spezia and then hopped on a regional train to the first little town, Riomaggiore. Each of the towns was similar; bright colored buildings hugging the mountain, narrow cobblestone streets weaving through tourist shops and restaurants, and tiny alleys (maybe 4 feet wide) that twisted, climbed, and carved through the buildings up the mountainside. The little towns were full of the free vibrant life of vacationers (and the prices that accompany it). Most of the towns started up high on the mountain and ended at the ocean where people were diving from the rocks and swimming in the clear teal water. I had tried to get a room in one of the towns but waited too long to book and then nothing was available. When I go back with Sandi, I won't make that same mistake.
The first hike (from Riomaggiore to Manarola) is not to be missed. It's short, easy, and drop dead gorgeous. It follows the cliff a good 30 or 40 feet above the ocean and there are frequent places where a steep stairway down will take you to a place where you can swim or lay out on the rocks. There are tunnels with windows at several points built right into the cliff. At points you can look North and see each of the next 4 towns waiting along the coastline. This section is often referred to as Lovers Lane and people cement their love by locking a padlock to the fence or guard rails along the route.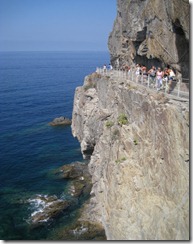 Poor Aubs had to make the walk with her old man while she daydreamed about her boyfriend six thousand miles away…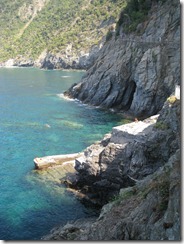 The second hike was a little longer (to Corniglia) but at least it was level. By now the sun was doing it's job and trying to slowly kills us…and succeeding. So we took a break and I shed my shirt, shoes, and backpack and dove from the black rocks into the clear water. The word refreshing falls way short of describing how wonderful it felt to cool my overheated body. I swam, dove to the bottom, and while floating on my back decided I was enjoying one of the best moments of my life (not counting sentimental moments like birth of children, family, wedding, etc.).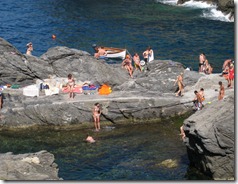 Aubs was good enough to stay on land reading and keep our stuff secure while I had all the fun. Actually, she was hot, tired, and not having nearly as fun as I was. But she knew I was excited about this part of the trip and did a decent job of pushing forward so I could see it all.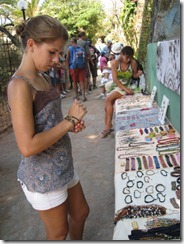 Just before Corniglia we found a lady selling jewelry and this rekindled the passion in Aubs that had been burned away by the sun. We bought several presents and Aubs got a couple nice pieces for herself. I need to remember that shopping is always fun for her, no matter how tired, hot, or miserable she is.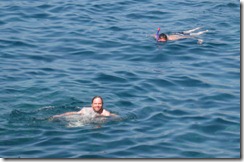 The Rick Steve's Guide said the next hike was a rough one, so rather than kill ourselves in the heat we took the train to Vernazza. We walked through town, saw the crowded beach, and then hiked up to start on the trail to Monterosso. According to the Guide, this one had lots of waterfalls and swimming holes, perfect! I filled up an extra water bottle (we had bought and drank a cold bottle at the end of the last hike) and climbed through the back alleys and stairs to the trailhead. Just before we left town, there was a sign warning that the trail was long, strenuous, and shouldn't be attempted mid-day. Not only was it mid-day, it was a really hot mid-day. But we could swim, right? Take it slow, enjoy it…
Aubs didn't share my enthusiasm and at first, flat out refused. I pushed back but didn't think think I'd could change her mind even if there was a mall waiting at the end. I gave up and started back down to town. Then she stopped me and said, fine, lets just do it.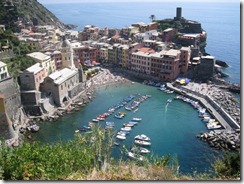 The sign was right and Rick Steve's was wrong. There were no waterfalls. No swimming. The majority of the hike was stairs way up into the wine country, then back down, then back up again. It was brutal, exhausting, grueling, and torturous (although there views were incredible). My shirt was soaked, wring it out and watch it drip with sweat soaking.  I could hear my heart pounding in my head. My skin felt like it was on fire and my legs burned from the endless steps. I would round a corner hoping to see level ground only to see more steps up the mountain. Far below the cliffs was the ocean. It was tempting to just run and jump and hope for the best.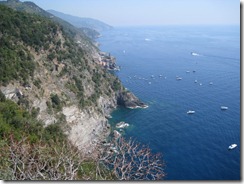 Aubree, a little mad that we were doing it in the first place, had hiked on ahead and I didn't see her until almost the end. I tried to catch up with her cause I had all the water and figured she must be dead thirsty, but I couldn't do it. As I peaked the summit, I was probably taking one step every ten seconds because I was so exhausted.
The way down was just as hard, mainly because by now my legs were a a bit wobbly and the stairs dropped steep and narrow. Just as I neared the bottom I heard a yell from behind me, "Dad!" Apparently, I had been ahead of Aubree and moving fast trying to catch her…staying ahead instead of catching up. I was too speedy and she couldn't catch me! And she was exhausted, nearly crawling on the ground for lack of water. Okay, that's not true. I wish I was in that good of shape. The truth is she'd taken some wrong turns and done some extra hiking on side trails and had to back track, that's how I got ahead. And even with the extra hiking she was in better shape than me. But she did want water and I gladly shared.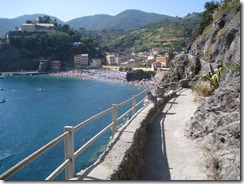 She ran off ahead again and said she'd meet me in the ocean. When I rounded that last turn and saw the beach I felt like I was seeing the pearly gates of heaven. Aubree wasn't in the water yet, her swimming suit was in the backpack…which, by the way, I hauled over that mountain thank-you-very-much. She took her suit and went to find a restroom and I bee-lined for the water before my skin burst into flames. I carefully stepped through the bikinis and topless women sprawled all over the beach…gotta love European beaches.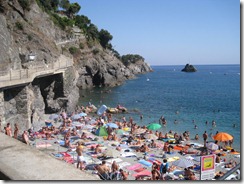 But it wasn't even a distraction, I was too hot. I dropped my pack, shoes, shirt, and socks into the sand near the water and stepped in. Steam came up and the water sizzled around me like when a hot iron is dunked into a pot. At least I think it did. It felt sooooo good. I had to sit backwards, looking at the beach (to watch my backpack of course….geez!) and with the water up to my neck I felt my body temperature plunging. It was heaven.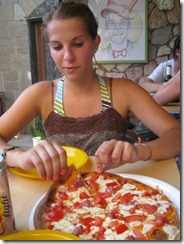 Aubs never found a restroom so didn't get to swim, but we had a nice dinner at a Pizzeria and took the trains back to Pisa. From the train station we walked the long way home so she could pop online real quick.
Back at the hotel I peeled off my shoes and caressed my aching feet. My entire little toe was covered with a massive blister. I took a picture, but don't worry, I won't gross you out by posting it. I wouldn't be surprised if we walked 15 miles today.