If you didn't start reading on Day 1, you might want to start from the beginning …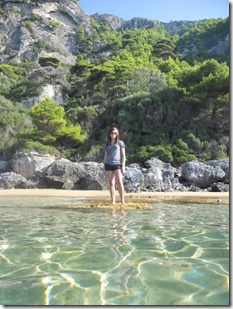 Last night Mikayla commented that she missed playing the piano and I suggested she go play the one in the lounge. The thought must have worked her over during the night because after breakfast she took a break and made that old out of tune monster sound really good. I sat in a nice comfy chair looking out at scenery that never gets boring, and she played some of my favorites. Several peeked in to see who was playing and one lady even clapped and yelled "Bravo!"
We left bright and early to explore the south end of Corfu. Our first stop was a beach that I had heard could be one of the best in the world, Myrtiotissa. It was actually pretty tricky to find. I felt like I was driving on a neglected, deserted road to an abandoned farm rather to a world class beach. Finally the road doubled back and dropped almost straight down to the ocean below and I could see I was in the right place.
The beach is nestled at the base of a cliff. Parking is limited and tricky, especially if you try and park on the steep hill down. I realized later that most people park up top and walk down the hill (later when we drove out, I understood why). There are three parts to the beach. All had warm, crystal clear water that sparkled like diamonds and plenty of sunshine. The south area seemed the most crowded and we skipped it. The middle was a pebble beach and a great place to snorkel. The north (after a drive under the cliff and up the dirt road) was my favorite.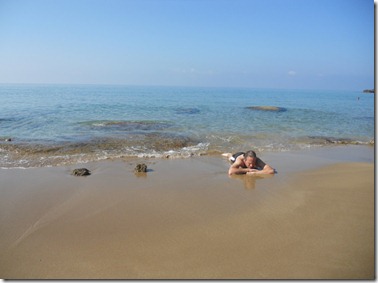 Sand as soft as silk covered the beach and extended a hundred yards out into the water. It was soft yet firm enough not to crawl into my backpack and every orifice it could find. I hate intrusive sand. This sand was well behaved and the water was warm, sparkly, and calm. The waves lapped against my feet like a puppy licking my toes (corny, yes, but they were the perfect little waves and who can't help but smile at the thought of a puppy).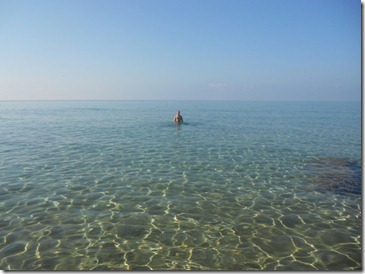 I loved this beach. And I think we visited on an ideal day too, it wasn't very crowded and the weather was perfect. There were a few nekid people strolling about, so if that bothers you I suppose you'd want to pass. But then, if that bothers you perhaps European beaches aren't your thing as you'll see a lot more skin at any European beach than in the USA. But even then you'll get even more than usual in hidden, secluded, paradisiacal coves like this one. We stayed for several hours and then had to force ourselves to leave so we could see the rest of the island.
On our drive up the steep hill I had to slow down for a couple that was walking down. When I stepped back on the gas, our economy car tried really hard, but it did not budge. When the engine killed on us, I pulled the brake and felt a bit of panic wash over me. We were halfway up, pointed at the sky, and the steepest part was still ahead of us. The reason most people parked up top wasn't because of the limited parking below…DOH!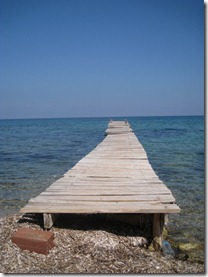 I started the engine, gunned it, and filled the air with the smell of a burning clutch. With our engine screaming (and everyone watching nervously) we somehow made it to the top and I sighed a massive heave of relief. I didn't want to spend the rest of the day trying to figure out how to get the car out of the canyon.
We took a long drive south, over a few mountains, around more tight roads, and ended up having lunch at a cute place on the beach (which also ended up being one of the most expensive). Mikayla ordered her standard Greek salad and I tried the octopus. What we both ended up absolutely loving was Saganaki (fried cheese). Normally it is not made with feta, but I do think he told us this was feta. Whatever it was, wow! It was excellent and although we tried it again later on the trip, it never was quite as good as this one. I gotta learn how to make it.
Yesterday I convinced Mikayla to Scuba Dive with me. Our lunch, however, took way too long to make and serve. Normally, this would have been fine, a lazy afternoon on the waterfront, but our dive was scheduled for 3:30 and the GPS had us arriving at 4:10. Our drive back to the hotel was crazy fast and even with a stop for petrol, I managed shave a half an hour off the ETA. We were a few minutes late but in the end, it didn't matter. They were were flexible with the time.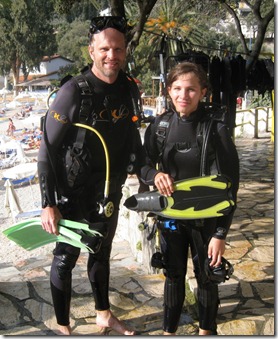 I've always wanted to scuba dive. In fact last Spring I suggested to Mikayla we take a class and get certified before our trip but she wasn't so keen on the idea. I didn't think we could at all without being certified, but it just so happened that the Achilleon Diving Center (the underwater shots are from their website) was located just outside the hotel on the north beach. They they have a beginning course where an instructor takes you out in the ocean for 40 minutes to a max depth of 30 feet. Mikayla was a little apprehensive when I suggested it but finally decided to give it a go and we signed up for two dives each.
Angeliki gave us a thirty minute orientation on land, loaded us up with gear, and sent us down to the beach to meet our divemaster (I was a bit nervous and can't remember if it was Dimitrios or Markos). It was just Mikayla and I in the group, which was nice. We spent a few minutes practicing with the gear and then went underwater. It all seemed to happen so fast. Just like that we were underwater breathing from the tanks, unable to communicate audibly, and moving in slow motion.
The fish seemed to follow us everywhere, constantly swimming around us. That was cool. Our divemaster showed us a huge conch that was alive and deep in the water, that was cool. We saw a jellyfish, that was cool. Beyond those three cool things, however, this first dive was not exactly a pleasant experience. I often found myself feeling on the edge of panic. I never actually felt panicked, I kept myself calm. In addition the lack of verbal communication and having air pumped into my lungs through tubes in my mouth added to the new experience and found myself in a completely unknown environment on multiple levels. I focused on staying calm, reassured myself that we were safe, and just kept swimming.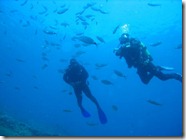 Since I was feeling quite uneasy, I had an extra concern for Mikayla. I kept looking back at her and she'd give the thumbs up, everything okay. It was cool seeing tanks on her back, mask on her face, bubbles regularly escaping from the regulator in her mouth…she was doing at fourteen what I had dreamed of doing my entire life. It thrilled me that even though she had been nervous about it, she'd agreed to it.
I spent most of those 40 minutes just wanting it to end, wondering when we would be finished. I remember thinking, "I'm glad I tried it before shelling out the money to take a course. I hate scuba diving." When we walked out of the water, I felt strangely relaxed and tired. I think I had been breathing too fast for most of the dive. We unloaded our gear and went up to our room.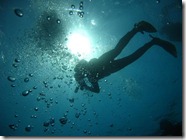 We weren't eager for that second dive. Mikayla, however, had a better excuse than me. She had a cavity and after the dive, it was really hurting her. I decided I needed to do the second one. It was a new experience and I knew that most of what I experienced was because it was all unknown. To quit now wouldn't be fair to myself and I really would never have a fair opinion on scuba diving. I remembered right after I bought my road bike I hated it. The first ride felt awkward compared to a mountain bike and I thought I'd made a big mistake. The second ride was better, third even more so, and by the fourth I loved it. So I decided I would go through with the second dive (scheduled for the next day) although I was nervous and not looking forward to it.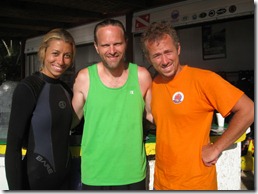 The diving center and everyone working there were super friendly, helpful, and really went out of their way to make sure we had an enjoyable experience. They do recognize that that first dive is somewhat disorientating, which may be part of the reason they offer a healthy discount to throw in a second dive. As you will see tomorrow, the second dive was a much better experience.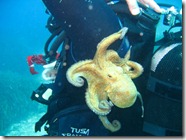 Mikayla was miserable because of her tooth and didn't want to take the drive north to see the sunset, so I went on my own and left her relaxing in the room. The quick drive wasn't so quick. It ended up taking over an hour to wind up the mountain and back down again. I rounded the final bend to my destination just as the final fiery red sliver of sun dropped below the horizon. All that and I missed it.
But in the process, I drove through some super neat little towns. Agios Stefanos on the coast looked like a real fun place. I was somewhat frustrated at first at the thought that I had wasted two-plus hours and gas money on a failed attempted to see the sunset. But then I thought, geez, how often do I get to spin through roads like this? Even with all the driving in the past few days it was still plenty fun. It was similar (yet way more fun) than spending two hours playing a video game (something I enjoy doing every once in a while). So I stopped feeling like I'd blown the evening and enjoyed the drive back over the mountain in the dark, which was another new experience.