If you didn't start reading on Day 1, you might want to start from the beginning …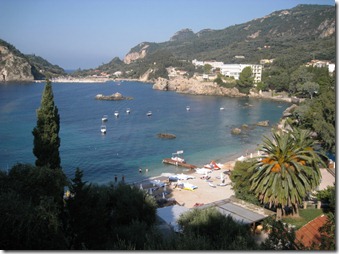 Today was a long, exhausting day of travel. It started with a sad goodbye to the bay that had been home for four days. Of course, we couldn't go anywhere until after Mikayla had her morning coffee. Rather than rush us by trying to convince her to skip her morning ritual, I finally just accepted the fact that she doesn't fully wake up until she gets her dose of caffeine. Once that happens, her eyes light up and she is non-stop chatter (which is fun).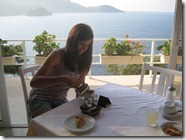 If Jack Bauer ever needed to interrogate her, all he'd need to do is give her coffee.
Getting on the ferry was much easier now that we knew how it worked. Our boat launched and as the old city rolled past, it had a different feel than several says ago when we sailed in. Rather than a mysterious collection of buildings packed together like sardines, I remembered the quiet alleys, laundry strung across the windows, and the scooters that putt through the narrow roads. I wished we had gone back for another day of walking through the quaint little city.


I spent the majority of the journey sitting topside next to the rail where the sunshine and gentle breeze provided the perfect climate to enjoy the slow moving mountains on the mainland.
As we neared Igoumenitsa, a man sitting near us overheard us talking and asked if we were American. Steffanos, it turns out, lives up the road from us in Vancouver, Canada.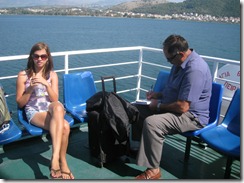 He is a retired engineer who currently sails the world in a ship he built himself and takes doctors all over the world as part of the Doctors Without Borders program. Mikayla and I  enjoyed chatting and hearing about his tales from around the world. Traveling the world would be insanely amazing; writing, taking pictures, meeting people, experiencing new cultures. Maybe someday I can find a way to do it more than just a couple weeks every year.
After our ship docked we had lunch with Steffanos in a little cafe, and then exchanged contact information and parted ways. I realized that traveling through Italy last year with Aubree on the trains had been a better opportunity to meet and visit with people, which I really like. The rental car approach let us do a lot more exploring but the drawback was that little four door economy car kept us a bit secluded from the rest of the world.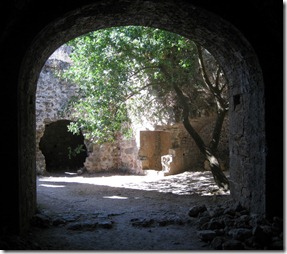 I had pegged out a few spots to visit on our drive to Olympia. The first was a castle near the town of Aghia. It took a lot longer than I expected to find and I made one last attempt before giving up. In movies, the massive castles appear to have corridors and dungeons that go on forever. The majority of castles I have visited are quite small. Tiny rooms, dungeons that are little more than a deep hole meant for one unlucky person at a time, and internal courtyards that are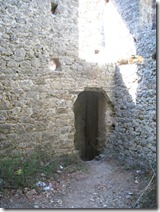 barely large enough for a tree and a few bushes. Perhaps when Sandi and I go to Germany I'll see some of the big ones. I'm not disappointed by the small castles, it's just that Hollywood has tainted me and I needed to adjust my imagery a bit.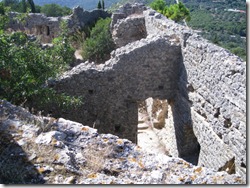 This castle was fairly well preserved (3 levels, walls 80% or so intact) and excellent fuel for my imagination. I tried to picture who lived in the small rooms and what personal possessions I would have seen there 500 years ago. What did the kids do for fun, was there time for fun? We walked through the big archway into the largest room that was dark and dusty. Irish castles used wooden floors which opened up the lower rooms; this one was completely made of stone which required giant rock columns to support the heavy upper levels. The design cuts out a decent chunk of real estate making it feel even smaller.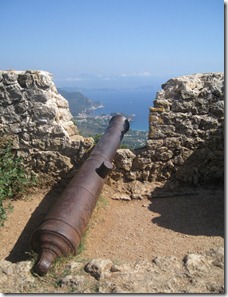 We finished off the tour by heading up the stairs and through the dark hallways on the middle level, then to the upper level/roof where the canons and other defensive measures were located.
Finding and exploring the castle took a lot longer than I expected. According to our GPS we were looking at a 9pm arrival in Olympia. We didn't have a room booked and the thought of shopping around late in a foreign country for a place to sleep didn't appeal to me. I don't worry so much about finding a place to sleep as I do finding an affordable place to sleep. We decided to skip the other sites and drive straight through.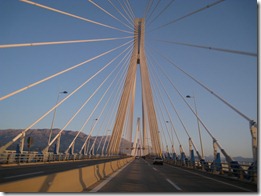 The bridge connecting the Peloponnese is huge…and expensive. The toll was over $15. We stopped and asked for directions because I knew the tendency of my GPS to send us on the scenic route. We were directed to a new highway. It was a nice break from the slower winding roads, but ended too soon and sent us back to twisting.
We arrived in Olympia late and, using Rick Steve's Guidebook, drove right to a decent hotel that had reasonable rates and wireless Internet. That was a relief. It was also right in the little town of Olympia and to our surprise, the main street was filled with open shops and meandering tourists.
We settled in and were tired, it was nearly 10pm. But before hitting the sack we decided to walk through Olympia which really paid off. The night air was warm, the artsy stores and gallery's were chock-full of interesting items, and the people nice and friendly. We were too tired to do any shopping but knew there was several shops we wanted to revisit in the morning.
Continue to Day 8…