If you didn't start reading on Day 1, you might want to start from the beginning…
When our night sleeping in the brick oven was over and the sun came up, it cooled off a little. What is the science behind that? Today was supposed to be our day to sleep in because our train didn't leave until noon, but it was just too hot. Taking a nice cool shower sounded too good so we got up earlier than planned and were able to spend more time walking through Venice.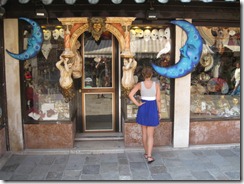 We hit the shops again. I told Aubs I wanted to find a nice mask and we went to the shop we liked most. Their masks were beautiful and they were one of the only shops that didn't have a "Thou shalt not touch" sign posted. They'd let us try them on and take pictures…so I wanted to give them our business. I found a gorgeous golden one that I think Sandi will like and will look great somewhere on the wall at home. I just needed to get it home in once piece.
We picked up some food at the grocery store, breakfast and then lunch on the train. We had a fairly long journey today through Verona, Milan, and onto Torino. Torino (Turin) is famous for the shroud of Turin, 2006 Winter Olympics, and most important…where solid chocolate was invented 300 years ago. Aubree happens to be a big fan of chocolate and there are several chocolate factories and chocolate museums offering more chocolate and chocolate history than even the biggest chocolate fan can handle (for all you women out there, this sentence uses the word chocolate 8 times…it's actually dripping with dark delicious chocolate from Italy for your pleasure and enjoyment).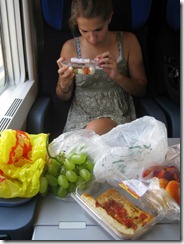 So yes, Torino is the Mecca of the Chocoholic.
Once our train was underway I asked the couple across the isle to take a picture of us, we needed at least one together. They spoke English and we started up a conversation that lasted several hours until we arrived in Milan and had to change trains. They had grown up in Iran and moved to Canada four years ago to attend University. It was fascinating to talk to them and their stories reminded me of Persepolis. They described how strict the government is and how most people they know live a double life. In public they pretend to adhere to the strict religious doctrine (so they won't get arrested), but behind closed doors their families and friends laughed, partied, listened to music, and broke rules that would have gotten them arrested.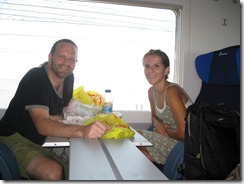 It was humbling to hear first hand about growing up during the fierce wars with Iraq, the recent election, and current political unrest. They talked about how once you get arrested you can count on being raped in prison and that it was one of the worst things going on right now in the country. They have endured much and although they left Iran, still worry about friends and family living there. He also said the current government doesn't seem to want educated people in the country. If you are educated, they make it really easy to leave. I suppose an uneducated population is much easier to control.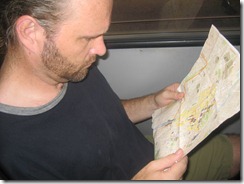 As we arrived in Torino and I checked our maps and I realized my Google map was wrong. I I had no clue where our hotel was located. We also didn't have plans finalized for tomorrow. Ideally I had wanted to book a night train to Barcelona, which would give us tomorrow to explore Torino. So our priorities were to book our train, find our hotel, and then book a hotel in Barcelona (in that order).
It sounded easy, but it wasn't. While we waited in a long line to book our tickets, I tried to ask for some help with our hotel but unlike the other places we had visited, it was apparent not many people here spoke English. The man that finally helped us spoke decent English but we had to speak slow and I wasn't sure everything was being communicated correctly. He said it was very far, told us to take bus 1 and get off by the hospital. He also pointed out the general direction.
When we finally worked our way to the front of the line we ran into the same thing, very little English and more bad news. All the trains were full and we could not get a booking to Barcelona. He printed out a schedule for us that required us to start early in the morning and take regional trains to Nice where we would try again to book to Barcelona.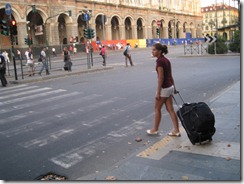 Somewhat discouraged, we walked out of the station and dragged our luggage to the street. I saw no buses, no signs. But even if there was, I wasn't sure how we'd know where to get off. And I didn't know how to pay for the ride. So we just started walking in the direction he'd indicated and looked for an Internet Cafe. If we could just find that, I could get on Google and figure it out.
After several blocks, we found one. We went inside and I asked if they spoke English…no answer. I pointed to a computer and said "Internet?" They shook their head, No. This went on for several minutes. For whatever reason we could not use their computers. I took out my Expedia printout of the hotel and pointed to the address. A nice guy tried to help us but without a common language between us, it didn't work. He grabbed another guy who dragged us out the door and to the corner. He spoke a bit of English and pointed, "Bus 18. One Eight…One eight…Eighteen." He must have said "One Eight" twenty times, trying to make sure we understood. We thanked him and started in a new direction looking for a new bus.
Up until now I had only been frustrated. But I started to feel nervous; a strange town, nobody able to help us, our hotel far away and no real idea on how to get there…and on top of that, it seemed like people were watching us. It was common to see people dragging luggage through town in the other places. But now our wheelied and backpacking friends were nowhere to be seen. It was just us and the locals watching us.
I felt desperate and started asking friendly looking people if they spoke English. No luck. I started asking unfriendly people…still no luck. I went into a pharmacy and asked around and finally found a guy who spoke a little English. He wasn't sure where our hotel was but took my paper and asked around. He came back and pointed down the road, "very far." It seems that's was the help I was going to get.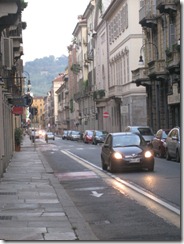 As we were walking I thought, "wow, this is exactly what I was afraid of…being lost in a strange town where nobody speaks English…I'm right in the middle of one of my big fears." I actually thought that was pretty cool and it made me smile because knew somehow we'd get through it. I didn't know how, but I knew we would. But it was still stressful walking further away from the one thing I did know (the train station) and deeper into the abyss. And worse, I was dragging my 17 year old daughter through it too.
Then I saw the answer. A taxi. Normally I don't spend money on cabs, I'd rather walk if it's close enough or take public transportation. The driver didn't speak English but I held up the address and asked, "how much." That didn't work so I did the universal sign of money by rubbing my fingers together. He got it, "Ten," he said.
The ordeal was over. He drove us to the Hotel and we checked in. Aubs flicked on the TV and watched Two and A Half Men in Italian while I went down and talked to Franco, the front desk guy. He spoke decent English and in 20 minutes the feeling of being in a strange city was gone. He ran me through the buses, how to use them, gave me a map, and even sold me some bus passes. We talked sports (he knew a ton about American Football and Basketball) and had a fun chat. Now this strange town had a friend too!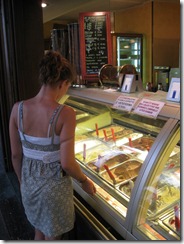 Aubs and I headed out for the evening. It was too late to try and visit a castle or chocolate factory, but we hoped on a bus and went north. We drove through the same roads that had tormented us earlier and it amazed me that twenty minutes with Franco had completely changed my perception and attitude. We walked around, confident now, looking at all the old buildings and had Gelato (which Aubree said was the best in all Italy so far). Then back to the hotel.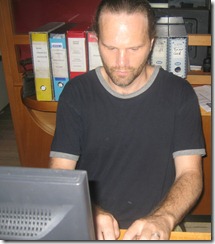 Franco let me spend a few minutes on the computer to let Sandi know we'd made it safe while he took care of some other business. While I was sitting there behind the front desk, a few people came by to drop off their keys and I smiled, said thanks, and and put them in the box. I got a few strange looks, something like 'Why is an American guy working in Torino?' My 3 years of working at hotels during college paid off.
Tomorrow will be an interesting day. We'll try and get to Barcelona. We have no hotel lined up and aren't even sure if we can make it there. And to make it worse, we have to leave early and so won't get to spend any time in Torino. We'll even miss the free hotel breakfast because it doesn't start until 7am. But, I'm glad I could push my comfort zone out a bit, walking around lost in a strange town where I don't speak the language was a good experience and I wouldn't trade it.