Check out the novel: Trudge On, Soul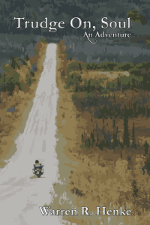 The icy wilderness of Alaska is the perfect place to lose yourself. But Warren doesn't want to lose himself. He wants to lose someone else.
The book,
Trudge On, Soul
, is the result of three long years of late nights, critique groups, and editing. If you haven't read the blog,
I'd suggest you stop reading and at least click here to read the preview chapters of the book.
The blog and pictures have spoilers and the book is a much better read. Think of the website as a documentary, and the book as an engaging movie. Triumph Motorcycles did an article on my Adventure
here.
A Photo Album of the trip is available
here.
Click
here
if you want to jump to the start of the blog with an index of each day.
The Adventure Continues...
This is part of a series of posts regarding my motorcycle trip to Alaska. The story starts here.
For those of you interested in how I prepped my bike and the gear I chose, I'll list and review everything. For the rest of you, this entry does not cover anything regarding the trip and can be skipped without missing any of the exciting action.
Continue to Day 1: The Alaska Ferry
This section will cover my Packing List with a basic Gear review and a list of all my Bike Modifications (farkles in motorcycle lingo). I had seven core areas for storing 200 pounds of total gear and will review everything based on where it was packed.
Make sure your passport is current and take vehicle and health insurance with you. I heard about Progressive's trip interruption coverage and added it to my motorcycle policy a couple months before we left. You also have to add roadside assistance to get it, for a total cost of $25 (or thereabouts). It turned out to be well worth it as we ended up using it at one point on our trip.
There is a quick summary of the items (without the comments or reviews) at the bottom of the post.
The dry bag sits right behind me on the seat and rests on the panniers. I put all the gear in it I need to make camp. This makes it a bit easier to set up/tear down camp as I can grab this bag and get started. I can also use it to put in my riding gear to keep it dry and safe as needed. As a bonus, it made a nice backrest while riding. Inside the dry bag, you will find: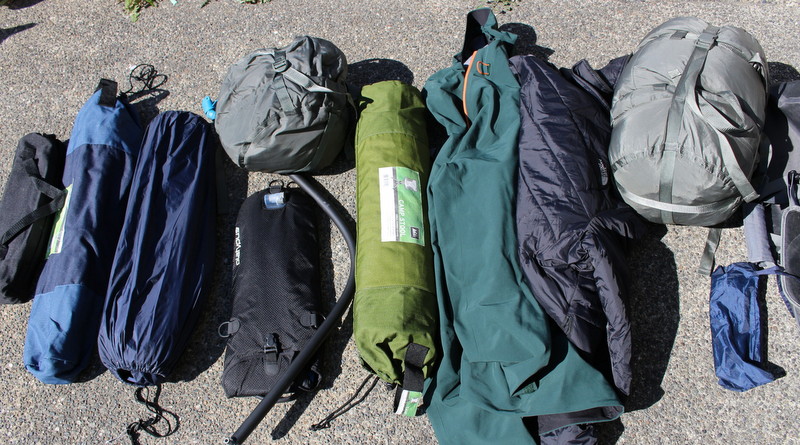 Tent (with footprint)
My tent (Kelty Teton 2) was awesome. It held up to pounding rain and thrashing wind on the back of the ferry. Normally I don't use a footprint, but was super glad I had one for this trip. Mike had a one man tent, I had a small two-man. I preferred the two, more room to move around and change clothes, plus a bit of space for gear. Mike said if he did it again, he would have brought a two too (or maybe he said tutu, I'm not sure…wish I had a picture of Mike in a tutu to post here).
Raincoat and down jacket
A day or two before I left, Curtis took me in and hooked me up with a very nice Gortex jacket and down liner from North Face (where he works). So glad I didn't take my 10 year old coat (which I had tested out the night before in the shower where it failed miserably, prompting the trip to North Face). This set kept me warm and dry and were especially insanely beneficial on the ferry.
I get cold in Washington. Alaska is even colder and I didn't take any chances. This setup isn't as compact as some, but it is extremely modular and affordable. I kept all 3 layers assembled but on warm nights I slept comfortably in the top layer (with only the summer bag above me). In Denali, I bundled up in the middle of all 3 bags and secured the neck strap and it was nice and toasty (despite the freezing temperatures). I even slept out under the stars one night in it and the bivy kept me dry in the rain. This setup is really cool. I love it.
Like I said, I do not like to be cold. On the coldest nights, I wore the level 1 (silk) and grid fleece level 2 (including the balaclava). They are warm and comfortable. On nights I I didn't wear the thermals, I stuffed them in spare bag that came with the sleeping bag and used it as a pillow. I only used these for sleeping and had LD Riding underwear for the daytime (detailed below). Having two separate sets lets one set dry out from body moisture, and dry underwear is critical. I have also used these in the past when I get sick and fluctuate from cold chills to feeling overheated. They work great because the wicking silk layer does a great job to absorb body sweat.
A pad isn't just for comfort, it also keeps you warm. For me, the comfort is an added benefit. I alo found out it will also absorb all the water that leaks out of your water bladder when you roll on to it in the night (keeping it off your bag and other stuff).
Chair
I had a small, simple fold up chair from REI that costed about $7. Mike had a fancy REI chair that was way more comfortable and I wanted his every time I sat down on mine. My plan was to steal it from him before the trip was over, but he watched it like a hawk. I think he was suspicious of me.
I bought this for Costa Rica and it is excellent. Holds plenty of water, the hose detaches, and it easily attaches to a water purifier so you can easily pump it full of clean water. Just take the hose off in your tent, or make sure you don't put it next to your sleeping bag where you can roll on it. But if you do, the Thermarest can absorb at least a liter.
I didn't use this once. It was a good idea and would have really come in handy had our campsites not had picnic tables, but all of them did. It is small, light, and would be a nice cooking surface for more remote camping.
The trekkers aren't metal like a lot of adventure luggage, they just have an aluminum coating to give them that appearance. Givi announced the metal Outback line after I had purchased the Trekkers or I might have gone with them. The Trekkers are moderately priced and have several features I really like. They are super easy to take on and off and you can carry them like a suitcase. They are airtight/waterproof which also means food inside them shouldn't attract bears. They have two opening options, like a suitcase where the top swings open or like a side bag where only the top corner opens. You can also swap them around. On one occasion I was able to take off the two big cases and put the 33 (my tools) on as the topcase for off-roading and leave the rest back at camp, a sweet option. They are mounted using a Givi rack which is nice because it too comes off quick and easy although I was worried the rack wasn't strong enough for my overloaded bags. In the end, it held up fine. I still wonder though if the SW Motech option would have been a better route. It seems a bit more solid.
Here is the breakdown of how each case was packed.
52 Top Case with Rack (clothes):
I bought more clothes than I needed. In the end, I wore the same pair of pants (REI hiking pants) without needing to wash them once. I had my riding gear on outside of them and LD riding underwear, so they didn't get dirty at all. Beyond that, 2 T-shirts and 3 sets of socks/underwear would have been just fine. I use packing cubes to keep organized, they are awesome.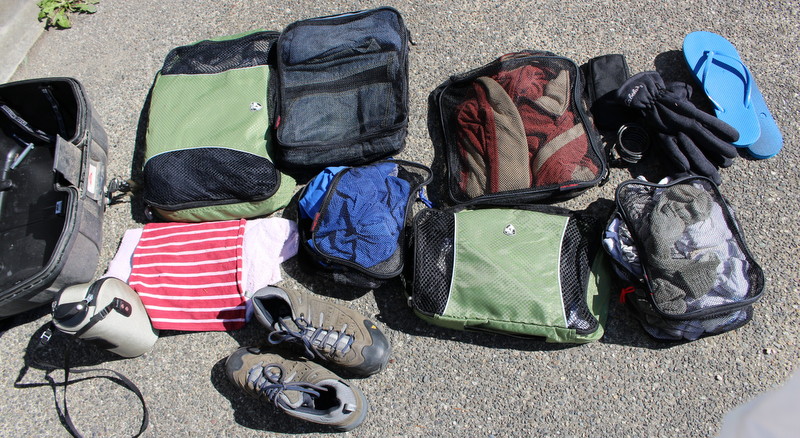 Packing Cube: Pants/Swimming Suit
It got really hot the week before I left and my riding suit is miserable in 75 degree plus weather so I bought a set of vented armored riding jeans. I didn't use them once. No, I lie. I wore them to dinner one night we went out because I had to at least wear them at least once. They were bulky, heavy, and a completely unnecessary. Ideally, I would have worn a pair of quick drying hiking pants, packed one extra pair, and a swimming suit. Nothing more in this cube.
Packing Cube: Shirts
I took a tank top (useless cause of mosquitoes), a fleece long sleeve shirt (useless cause I wore my jacket when it was chilly), and 3 Tshirts. The shirt on my back and two packed would have sufficed.
Packing Cube: Underwear/Socks
I packed 5 of each. Three would have been fine.
Packing Cube: Dirty Laundry
No, I didn't pack dirty laundry, but a laundry bag is handy. Turns out, washing clothes wasn't a big issue. My riding gear got the worst of the dust but also got constantly soaked/cleaned in rain. During the day, my LD Underwear (more info below) soaked up body sweat and I aired them out every night and, as advertised, they are excellent at controlling body odor. In between those two layers my clothes fared rather well.
Flip Flops
These are great for using public showers or for a quick change out of riding boots in the campground. Turns out, I didn't need them. Didn't shower very often, and it was too cold and there were too many mosquitoes to be useful at campsites.
I would never do a trip north without these. The only drawback were that my gloves were not waterproof as advertised. When I asked Gerbings about this, they said to waterproof them you have to spray them with another product. That seems hokey to me. My hands pruned severely which caused a few blisters and cracked skin. At least my hands weren't wet and cold, the gloves and my heated grips kept me warm. I also wish the heated soles were warmer. They help, but where the rest of my body was always nice and warm, my feet were often on the chilly side.
A set of Extra Keys for Mike's bike (and he kept my extra set)
Mikes idea, and a very good one.
Beanie and Gloves
I kept these were I could get to them fast. In camp, they were sometimes the first thing I dug out when I climbed off the bike.
Hiking Shoes
I love my hiking shoes. Low cut (high tops are too big), GORE tex/waterproof, and solid. If they weren't so expensive I'd wear them all the time.
Canon 100-400 IS Lens
I only dug this one out for a few special photos. It's big, heavy, and I only used it a couple of times. Not sure if I'd take it again. I did get a few great bear shots and a caribou, but I don't think it was worth taking. I downgraded all my gear for the trip which was a good move (more on that in the camera section).
Towell
I don't like the lightweight backpacker towels. I took one of our old bath towels that was old and worn, about half the thickness of a new ones. This worked out perfect.
Baseball Cap
Handy for hiding helmet hair. On clear days I just tucked this under my bungee net.
Tarp, water Bottles (Bungeed on the Top Rack)
I took a tarp that I could pull off quickly to throw over our bikes if we needed a dry area to escape bad weather pull out camp gear in a dry spot. I only used it once, the last night when I didn't set up my tent and slept on the ground. I still would take it next time. I also bought a couple of plastic water bottles and used a bungee net to keep them on the topbox where I could easily get to them.
42 Liter Left Pannier (food/camping gear):
Unless otherwise noted, everything on this list was essential. Mike and I both brought stoves, cooking kits, and water purifiers. We could have just taken one set between us.

This kit is frickin awesome!
Spare Headlamp and batteries
Camping Shovel/Axe
My backpacking shovel/axe/hammer combo is a useless piece of crap. I should have thrown it away years ago. Maybe there is a better one out there.
This is an awesome monopod and you can use it to get great GoPro footage. My brother, Ryan, chases animals and sea-life all over Costa Rica with one of these and gets some awesome footage. Unfortunately, a bolt was lost somewhere and the head wouldn't stay mounted and I couldn't use it on the trip. Otherwise I would have had Mike chase some bears around with it for some excellent footage. When I got home I emailed them and within two minutes they replied and will be sending me out a replacement screw.
Mini Tripod
Always good to have a tripod. Unless you never use it like me.
Several Plastic Bags/Ziplock bags
Bear Bag
Our panniers were air tight and we didn't need the bear bag to hang food from the trees. The bag was a good place to stash all my smaller camping gear though so it didn't get tossed around in the pannier.
Mosquito Net (face)
DEET worked fine. Didn't need this. I sounded like a good idea when I packed it.
Pump Style Water Purifier
Costco Trail Mix, Dried Fruit, Jerky, and Protein Bars
These were heavy to start out with, but we ate all of it. Not sure if it was the best solution or not.
Backpacker Meals
These are the better solution to the Costco Bags for meals, much lighter and more variety.
Instant Potatoes, Mac 'n Cheese, Instant Soup Mix
Instant potatoes are cheap, easy to make, and are pretty good when mixed with a can of salmon, tuna, or chicken. A real winner.
Fire Starter sticks and Waterproof matches
Backpacker Hammock
Didn't use once, never enough time for lounging around. And when there was, it was raining.
Spare DEET
I didn't need spare 2 spare containers of DEET. The rain and cold cut back on the mosquitoes and one vial was plenty.
Misc Kitchen: Silverware, Coconut Oil, Tin Foil, washcloth, Rope/Nylon cord
33 Liter Right Pannier (tools, misc):
This was heavily packed. I took more tools than I needed for my bike, but I wanted to be able to help out others along the way. As it turns out, I could have left almost all of this stuff home. When we did break down, we were able to use the garage and tools at the Red Eagle Lodge to get back on the road. Tools are something you don't want to have to use but yet, you gotta take.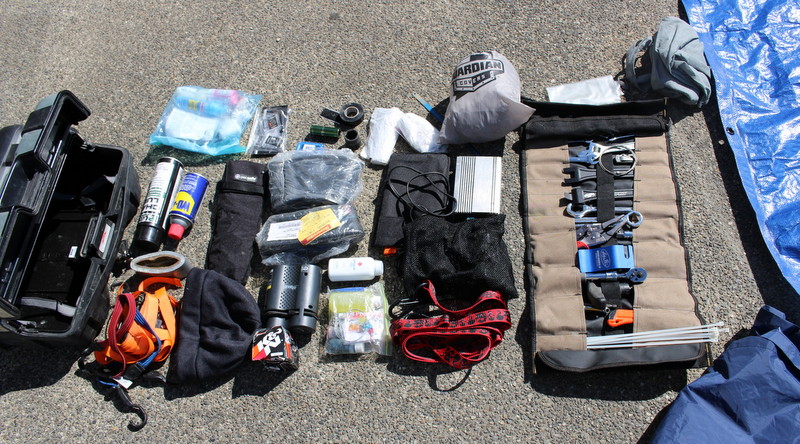 Tool Kit
I have a roll type case with various wrenches, ratchets, Tire Spoon, Motion Pro bead breaker and bead buddy, knife, drivers, zip ties, Duct tape, black tape, etc.
Putting new tires on my bike before we left convinced me to use tire lube rather than WD40. My bead would not set with WD40. And having to break my bead by using my truck and hydraulic jack convinced me to get the Motion Pro Bead Breaker (but didn't use it).
Since I didn't have room to lock my gear in my cases,I used the 80 liter version to secure my riding gear and boots while on the ferry. Probably unnecessary and it was the only time I used it. I stuffed everything into a bag and secured it with the PacSafe device. It was nice to know my stuff couldn't walk away while this was in place. I also used a small cable lock to secure my helmet to my bike.
First Aid Kit/Medicine
Basic first aid items and general medicine (aspirin, cold med, pepto, visine, etc).
I was mixed on this when I started, but it was nice. Although not totally waterproof, it help keep stuff on my bike dry at night. And it also added a small level of security. The jury is still out on whether I'd take it again or not.
GoPro Lens Repair Kit
I didn't need this, Mike could have used one (mine wouldn't fit his GoPro).
Spare Tubes (front and rear)
These are bulky and heavy, but I decided rather essential (even with a patch kit). Could have gone without them, or at least only the back (and used it in the front in a pinch). I'm glad they weren't needed.
Spare Clutch and Brake levers
Not sure I'd buy these again, they weren't cheap. Glad I didn't need to use them but since I have them, I'd take them again next time.
Travel Solar Panel
Didn't use this once. It seemed like a good idea to charge up my power brick, phone, or laptop, or even motorcycle battery out in the sticks. Not sure if I'd take it again or not. It's not heavy at least.
I had a small bag with all the camera and netbook charging equipment along with a portable surge protector (which awesome and has 2 USB ports). The bag is bulky and a pain to sort through, but I gotta charge my stuff. Wish I didn't have to take it all, but it is a necessary evil.
DC/AC Converter
I didn't use this once. I would have only needed it to charge my Netbook or my power brick. I'd probably take it again, not sure.
Chain Lube
I took a large can. Next time I'll take a smaller one.
WD40
I took a mid sized can. Next time I'll take an even smaller one.
Didn't have to use this but I'd take it again. I've used it to pump up car tires before. If I had to change a tire I'd need this to get the bead to set. An option would be C02 cartridges.
Spare Oil Filter
Didn't use, had the dealership do an oil change in Anchorage and they had them in stock.
Rain Poncho
I didn't wear the rain poncho, but it turned out to be a great way to project my camera gear that was lashed down to my dry bag.
I love this tank bag. Expandable, waterproof (it kept everything dry even in pouring rain), media charge slot, Map pouch, and quick access side panels. For the first part of the trip, I'd take the bag completely off the bike to gas up. I saw Mike flipped his up and over and finally decided to try it myself. Tons easier! My only complaint is that the bag sits forward enough that is it really hard to reach my kids to turn on/off the bike. There might be a way to adjust it and had I tested it before leaving, I could have made things easier for myself.
Spare Sena Headset
Mike and I used the headsets all the time. We each had two of them and would charge one in the tank bag while using the other. It worked like a charm. Full review below.
Didn't use it once but I would take it again next time. I had read you can't take bear spray into Canada and was worried they would confiscate it. Mace and pepper spray will be confiscated but if your bear spray is clearly marked that it is for protection from wildlife, they are supposed to let you take it in. I didn't have any problems, and we crossed back and forth into Canada five or more times. They asked if I had pepper spray, I said I had bear spray, and all was good.
USB Charging Cables
I have two leads from my battery into the tankbag to charge USB devices and my power brick. This allowed me to charge my cell phone, Sena Headsets, and Gopro Batteries while riding. Even in the pouring rain, this setup worked like a charm.
We didn't use this as much as I thought we would during the trip, but it was still helpful. Kinda bulky for a motorcycle, but great at home planning for the adventure. They also have great resources on their website.
Netbook
I didn't use this much. I used my cell for Skype and internet and the Netbook's only function ended up being to store Gopro videos. I hate my netbook because it is so slow. I wanted to smash it every time I used it. Next time I would take a Surface or more micro sized memory cards and left this at home. I can use my phone for all Internet and Skype. I should have reformatted it and reinstalled Windows before I left, that would have helped a lot.
This thing is awesome. It let me charge/power devices at night in the tent and sometimes during the day while riding (when the 2 lines from the bike were both in use). I highly recommend one of these! The only drawback is you have to plug it in to charge it (not USB). In a pinch, I can charge it with my solar panels and DC/AC converter.
DEET Insect Repellent
This was a great size, light and easy to use yet good field of vision/magnification.
Glasses/Sunglasses Case (with spare)
IBuprofen/Excedrin/Cough Drops
Headlamp
Lighter
Journal/Pens
Essential. I write every day.
Camera and GPS Manuals
My cameras were relatively new and I hadn't used the GPS for a while. I printed out the manuals to look over on the ferry, which I did. My plan was to toss them afterwards but I kept them for the whole trip. I should have tossed them.
Passport
Don't forget it. Especially if you drive into Hyder. You'll be stuck there forever!
Sony Pocket Reader
There was never time to read, didn't use this once. I tried to once but we just had to much adventuring to do.
Riding Gear
A good friend told me this underwear was the only way to go. Reviews supported it and after wearing them for three weeks I agree with all of them. This stuff keeps you warm when it is cold, cool when it is hot, and wicks away moisture. It airs out quickly and manages odor like a champ. I wore the full sleeved versions (bottom and top) and the tailed helmet liner every single day and it wasn't washed a single time. Yes, for three weeks. Scary, I know. I aired them out every night and it worked out pretty good. Maybe some of the people we encountered would disagree, I'm not sure.
Triumph Pants and Jacket
I wore my Triumph Jacket and Pants for most of the trip. They survived heavy rain, wind, and vented nice in the rare sunshine. I even wore them at times when not riding, like when we toured the Fjord. They are warm, offer great protection, and the pockets keep my phone and wallet dry and safe. They don't fare well when the temp gets in the 80's, but short of that, I love this suit. It wasn't cheap and, funny enough, is the first thing I worry about whenever I start gaining a few pounds.
These are the most awesome boots ever. It is a shame they don't make them anymore. Keeps your lower leg and foot safe and dry. Plus they look badass. Sorry for the language, but that is the only word that works. I hope I can clean mine up, they will never be the same after Alaska.
Gloves
I had two sets of gloves. A light pair of Triumph adventure gloves and my Gerbings heated gloves (see above for more details on the Gerbings). I wish I would have known to waterproof the Gerbings before I left.
I initially loved the Pinlock system. It never fogged up. Now, however, it doesn't seem to work as well as it originally did. It seemed to deteriorate fast. I've emailed Pinlock several times asking them about this but have not yet heard a reply. Love the helmet, although I wish it had a cooler design on it. But I shop for deals which means I can't be too picky.
The Sena headset is easy to use and lets you connect up to 4 riders. It will also let you connect to your phone and other Bluetooth devices. Mike and I used them constantly. We just wished we could share/listen to music while riding for 10 hours a day. Wouldn't you know it, 3 days after we got home Sena sent out an update. Now you can share music too. D'oh! We each had two headsets so we could swap/charge them as needed.
I wore this camera around my neck the entire trip. It let me snap quick pictures and I could drop it and buzz off when needed. LIke if a bear decided to charge me. I liked a lot of things about this camera, but towards the end of the trip it took about 10 seconds to reset between pictures. This was extremely frustrating and I missed a lot of great shots because of it. I don't know what caused this.
Gerbings Heated Gear
(See description above, worn as needed.)
I have typically used an arsenal of high end Canon cameras. After my 14 mile hike into the Corcovado rain forest last year hauling my backpacking gear and 25 pounds of camera equipment (only to have my 400 lens fail once I got there), I decided to make a change. My Pro lenses are being sold off, along with my 1D and other gear. In it's place I went with the new ultra lite and portable Canon SL1. I am very happy with my current setup.
The LowPro flipside sport camera bag is perfect. I used a net style bungee to secure it to the top of my dry bag and it was easy to get to when I needed it. It does have a waterproof cover, but during the downpours I wrapped the entire pack in my rain poncho to be safe. When wearing the pack I like the feature that lets you flip it around and open it from the back, not only does it make accessing lenses easy, it gives you a place to set things while you are switching around. It also has a pocket ideal for a 1 Liter Platypus hydration system.
Canon Rebel SL1
EF-S 55-250 IS II Lens
EF-S 18-55 IS STM Lens
Various Gopro Mounts
3 Spare GoPro Batteries
2 Spare Nikon Batteries
2 Spare Canon Batteries
Canon Camcorder
Lens Cleaning Supplies
2 Spare 32GB Micro SD Cards
2 Spare 32GB SD Cards
In addition to all the gear above, my phone is a HTC 8X (Windows OS). I love this phone. I can't believe they don't make it anymore. I think that covers anything. Any suggestions or comments for future trips would be greatly appreciated!
Bike Modifications

For the trip, I had to make several changes to my bike. I didn't feel it was ready for the Denali Highway or our other off road plans. I absolutely love my 2011 Tiger 800XC. On the road, I can corner tight and fast. It is way more fun than any Cruiser I have ever owned and nearly as sporty as my Ninja that I sold to Curtis. Off Road, it doesn't match up to my CRF250R, but it handles forest roads and even moderate jeep roads like a champ. Even though it is marketed as being ready for off-road, to make sure it was ready for Alaska, I added the following:
Triumph Engine Bars
Engine bars are a must. There weren't alternatives out there when I got mine or I may have gone with Altrider or Touratech.
Triumph Touring Windshield
I'm not so happy with this windshield. When I bought it nothing else was available, now there are better options from 3rd party manufacturers.
Triumph Center Stand
A must have. Makes it easier to work on the bike, service the chain, and change flat tires.
Arrow Exhaust
If I could do this over, I'm not I'd do the arrow slip on again. Can't decide. Makes it louder and tougher sounding and I like how I can easily remove the baffle when I want more of a thumping bass sound from the engine, but not completely sold on the performance difference.
Anakee 3 Tires
For our 80% road, 20% offroad these tires were perfect. They would not have been the tire to use if we had gone all the way up to Prudhoe bay or taken the Dempster highway. In gravel, they do the job. In the two miles of slick mud we hit on top of the world highway, they were downright scary. To find out if we dumped our bikes, slid off the mountain, or worse, you will have to read the blog!
I don't know how critical this is. Could have done without it.
I don't know if this saved my headlights or not. It looks cool and makes me feel tough, if nothing else. Anything to stroke my frail ego is a good thing.
They look horrible now after the trip. Rusted, covered in tar or something, I don't know what happened to them. I have to assume they kept all that crap off my pipes though.
The XC comes with a plastic protector. Did I need the aluminum? Maybe. Who knows.
If you knock out your sensor guard your bike won't start unless you jump the wires. This seemed like a good precaution to take.
For long rides, I won't leave home without my Air Hawk. My only complaint is the connector latches are not sewed on very solid and the strap to hold it down is thin. It's about to break, but so far it is hanging in there. A cheaper option than a custom seat but more of a hassle.
Making the custom mount was a lot of work. Having the extra gas was important though, even though I never used it. I would make sure to have extra gas if I did it again. Mike had an easier method, a small 1 gallon can lashed to his passenger peg. I'd prob go that route next time and do a tool tube where my Rotopax is now mounted.
A must. In soft mud and gravel this thing will keep your bike upright.
Highway Pegs using this technique
So glad I had these. I was able to rest my legs on them, stretched out. It really helped with the long days and my sore back.
Essential. The XC has a little plastic skid plate that will work if you are the kind of guy that buys a jeep, washes it everyday, and never drives it on any type of dirt. Otherwise, if I can't convince you then the sound of rocks constantly banging against your engine will. And I think Altrider makes the best one out there for the Tiger.
Love my Garmin. It sometimes locks up and bogs down, but for the most part, it has served me well for the last two years. I have road maps, Topo maps, and thousands of campground locations saved to it. It got stolen at one point and I got really depressed. If you want the story, stay tuned for the Denali Highway blog. It might involve a fist fight with a local gang or a showdown between Mike and I. Stay tuned.
PDM60 Fuse Control Unit
Borderline on this. It is a great idea, a fuse box without fuses that resets itself as needed. I had electrical problems on my trip that I think are related to the battery. I still think this is great but need to finish some testing before giving my final opinion.
Because I know what a pain it is to sort out packing lists, here is the list plain and simple for anyone that wants to copy and paste (with a few things I don't recommend taken out).
Checklist
Givi 80 Liter Roll Bag (Camp Setup items)
Tent (with footprint)
Raincoat and down jacket
Sleeping bag, Military 5 piece sleeping system.
Thermals, Gen III Military Underwear
Thermarest Pad
Chair
Platypus 3 Liter Bladder with Insulated liner
GSI Micro Table
52 Top Case with Rack (clothes)
Packing Cube: Pants/Swimming Suit
Packing Cube: Shirts
Packing Cube: Underwear/Socks
Packing Cube: Dirty Laundry
Gerbings Heated Gear (gloves, heated insoles, pant liner, jacket liner)
A set of Extra Keys for Mike's bike (and he kept my extra set)
Beanie and Gloves
Hiking Shoes
Canon 100-400 IS Lens
Towell
Baseball Cap
Tarp, water Bottles (Bungeed on the Top Rack)
42 Liter Left Pannier (food/camping gear):
Backpacker Stove
MSR Stove Fuel Container
MSR Pinnacle Backpacker Cooking Kit
Spare Headlamp and batteries
Camping Shovel/Axe
QuikPod
Mini Tripod
Several Plastic Bags/Ziplock bags
Bear Bag
Pump Style Water Purifier
Costco Trail Mix, Dried Fruit, Jerky, and Protein Bars
Backpacker Meals
Instant Potatoes, Mac 'n Cheese, Instant Soup Mix
Fire Starter sticks and Waterproof matches
Spare DEET
Misc Kitchen: Silverware, Coconut Oil, Tin Foil, washcloth, Rope/Nylon cord
33 Liter Right Pannier (tools, misc)
Tool Kit, roll type case with various wrenches, ratchets, Tire Spoon, Motion Pro bead breaker and bead buddy, knife, drivers, zip ties, Duct tape, black tape, etc.
Baby Powder (for tires), Grease, Patch Kit, Tire Lube, Stop Leak, JB Weld
Motorcycle Tow Strap
First Aid Kit/Medicine
Basic first aid items and general medicine (aspirin, cold med, pepto, visine, etc).
Motorcycle Travel Cover
GoPro Lens Repair Kit
Spare Tubes (front and rear)
Spare Clutch and Brake levers
Travel Solar Panel
Charging Devices and travel Surge Protector
DC/AC Converter
Chain Lube
WD40
Portable Air Compressor
Spare Oil Filter
Rain Poncho
Givi Xtream Xs306 Tank Bag (misc):
Spare Sena Headset
Bear Spray
USB Charging Cables
Latest Milepost Magazine
Netbook
Power Brick
Leatherman
DEET Insect Repellent
Binoculars
Glasses/Sunglasses Case (with spare)
IBuprofen/Excedrin/Cough Drops
Headlamp
Lighter
Journal/Pens
Camera and GPS Manuals
Passport
Riding Gear
LD Riding Underwear
Triumph Pants and Jacket
Alpinestar Durbin Boots
Gloves, 2 sets
Shoei Hornet DS Helmet with Pinlock Visor
Sena Headset
Nikon Waterproof AW110 Point and Shoot Camera
Gerbings Heated Gear
Camera Bag
Canon Rebel SL1
EF-S 55-250 IS II Lens
EF-S 18-55 IS STM Lens
Various Gopro Mounts
3 Spare GoPro Batteries
2 Spare Nikon Batteries
2 Spare Canon Batteries
Canon Camcorder
Rokinon Fisheye Lens
Lens Cleaning Supplies
|2 Spare 32GB Micro SD Cards
2 Spare 32GB SD Cards
HTC 8X Cell Phone(Windows OS)
Bike Mods
Triumph Engine Bars
Triumph Touring Windshield
Triumph Center Stand
Arrow Exhaust
Anakee 3 Tires
Headlight Guard
Altrider Header Guard
Altrider Aluminum Radiator Guard
Kickstand Sensor Guard
Air Hawk Seat cushion
Rotopax Gas can with Custom Mount
Altrider Kickstand Footprint
Highway Pegs using this technique
Altrider Skid Plate
Garmin Montana 600 GPS mounted above Console
PDM60 Fuse Control Unit
Continue to Day 1: The Alaska Ferry
Thanks for reading about my travels. To read more of my adventures, click here to visit my travel page.