Check out the novel: Trudge On, Soul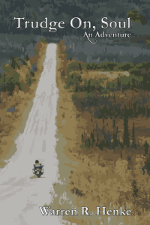 The icy wilderness of Alaska is the perfect place to lose yourself. But Warren doesn't want to lose himself. He wants to lose someone else.
The book,
Trudge On, Soul
, is the result of three long years of late nights, critique groups, and editing. If you haven't read the blog,
I'd suggest you stop reading and at least click here to read the preview chapters of the book.
The blog and pictures have spoilers and the book is a much better read. Think of the website as a documentary, and the book as an engaging movie. Triumph Motorcycles did an article on my Adventure
here.
A Photo Album of the trip is available
here.
Click
here
if you want to jump to the start of the blog with an index of each day.
The Adventure Continues...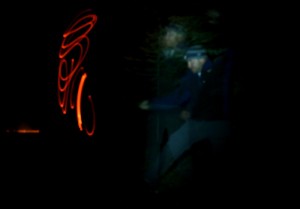 Mike must have appeased the gods with his fire dance last night. We woke up to sunshine and clear skies. From what I've heard, weather brings out a monster in the McCArthy road that eats motorcycles for breakfast. Having the Mother Nature on our side was a huge relief because 120 miles of expert-level mud and ruts on our heavy bikes would have been exhausting. We still would done it, but heading out dry and warm was a good feeling.
Our short ride to Chitina followed a river that wound its way through a moderate canyon; a very scenic drive. I read that the area was brimming with wildlife especially at one specific bridge many bears routinely pass underneath. We watched like hawks and saw plenty of evidence of wildlife, yet once again we came up empty. No problem, once we passed Chitina we would be in rural National Park land all day long. No hunting, beautiful country, and prime wildlife land. Animals galore! My camera was almost as excited as I was.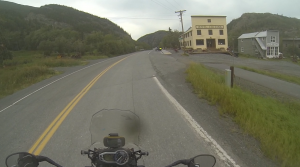 I blinked and almost missed Chitina. It's a small town without a gas station and barely a service or two (probably not worth driving out of your way just to see but a nice bonus if you are already driving out to the Kennecott mines). I thought we were passing through the outskirts of town and before I knew it, we had passed it. A handful of buildings and then you are welcomed onto the road to McCarthy by riding a narrow path that has been cut from the rock.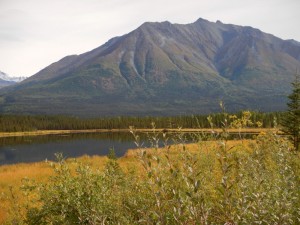 The entire drive to Kennecott is spectacular. Mountains, meadows, lakes, ponds, streams, and forests. And I saw hordes of bear, moose, and caribou frolicking (and lumbering) as if in a bizarre psychedelic dream. Yes, I said dream. A daydream. Because the only place I saw any wildlife today was in my crazy imagination as I pictured the beasts hiding behind trees, rocks, and thick brush as we drove past. Seriously! How can we drive hours through pristine forest and not see one single wildlife? Again! The only thing I can come up with is that it is because I was riding a Tiger. A monstrous tiger running through the forest, growling and tearing up the dirt, would probably cause even the largest lumbering bear to duck behind a tree until the commotion had passed.
So yes, the only other creatures we saw all day long looked a lot like us. All humans. At least I think they were. But although I wish we would have seen wildlife today, the day was still amazing. There is not a single boring stretch of road. Eye candy through and through. The first part of the road had some pretty heavy gravel which felt more like driving a boat than a motorcycle. Luckily it didn't last long because it would have made for a real long day. Most of the road was hard packed dirt and we made excellent time. A few ruts and potholes, but all in all, the road was in better condition than the Denali Highway.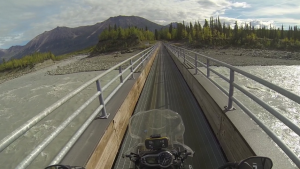 Before we reached McCarthy, we drove past a large parking lot. If you come in a car, this is where your road ends. You can't drive into McCarthy. Your options are to hike it, bike it, or visit the tourist center and pay for a shuttle. Too many cars clog up the town and the river helps enforce their policy of no cars because the footbridge is much too narrow for even the smartest of cars. But it is plenty wide for our adventure bikes. One guy I had talked to told us some people might give us the stink eye if we rode across on our motorcycles, but that it was fine and people did it all the time. I had also read in a magazine that we could ride across, so we didn't hesitate. Once it was clear of pedestrians, we zipped across.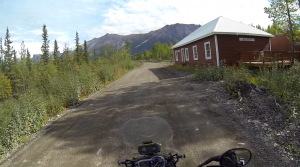 Once across, I completely missed the town of McCarthy. Not even a handful of buildings and we were already out of town. There must be more buildings on the side roads because there wasn't much at all on the main road through. We weren't completely sure where to go and just followed what looked to be the most important road. I watched my gas level and knew I couldn't afford to go in the wrong direction too long (and I wished I had stopped and asked questions back at the parking lot). But then we caught up to a shuttle which made me feel like we were heading in the right direction. Several miles later we ended up in the right place, the Kennecott mines.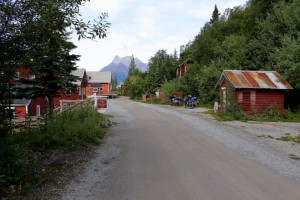 In the early 1900's, a couple prospectors headed for a green hillside to feed their horses. But instead of grass, they found green rock which turned out to be an entire mountain of copper ore. Throw in some silver and gold and you have a boom town. Ten years later, train tracks allowed megaloads of copper to be hauled down the mountain to Valdez. Thirty years later (late 1930's), the town dried up and was desolate except for three people who watched over the place. An order to level every building in town was issued but, fortunately, was not finished.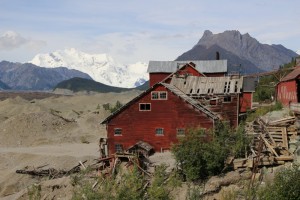 Then in the 80's, public interest in ghost towns revived Kennecott. The old abandoned buildings, equipment, and mines became a National Historic Landmark in 1986 and has been under a restoration process since.
We drove through town, a quaint little stretch of bright red buildings. The town is set on the hillside overlooking a huge glacier carved canyon. Buildings range from tiny cabins to the massive power and processing plants, some of which are open to the public but most of which look like they'd collapse if you look at them too hard.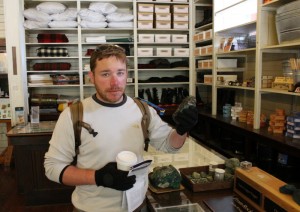 The museum was interesting, packed with old artifacts and a trading post stocked with items nearly 100 years old. Looking at the old pictures and the landscape around us got my imagination away from my hallucinogenic wildlife and onto what it must have been like to live and mine here back in the early 1900's. I would have been like Sam McGee from Tennessee. The cold would have done me in.
I wanted to buy some copper jewelry for Sandi and the kids but there wasn't much selection in their little shops. I couldn't find items that matched personalities and left empty handed. I was also disappointed that the copper wasn't from the mine, it was hauled in from other places. It seems like that would be a huge draw, authentic copper jewelry made from the mountain you are standing on!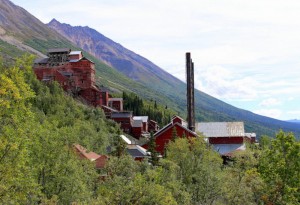 We only spent a few hours walking through the town, reading about the buildings, and chatting with some of the locals. But with hiking, backpacking, and ice climbing to keep us busy, we could have easily spent several days here. There are day hikes up to the abandoned mines that sounded pretty sweet, but in the end we decided to move on. We had considered camping in the backpacker area just past town. We had been told we could ride right to it but when we started up the trail a ranger rebuked us. Later we heard another group of bikers had been way up the trail and also kicked out by the rangers. I think at some point it must have been okay but they are cracking down on it now.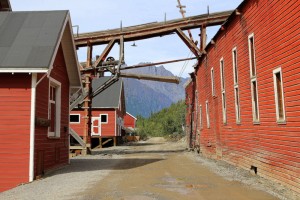 We considered doing it anyways and buckling down for a full scale war against the rangers. But in the end we realized we had no weapons other than one can of bear spray and a screwdriver. At the very least, they each had a can of bear spray and an unlimited number of old rusty screwdrivers. We surrendered before the battle even started. So we loaded up on jerky and trailmix for the ride out and decided to make for Chistochina. We both wanted to stay at the Red Eagle Lodge again and figured the time of day was just about right to make it by dusk.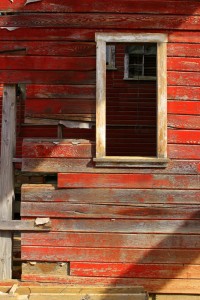 I had been told about an old handcart road that parallels the main road into Kennecott. I asked around to find out if we could ride it out and was told that "it's a pretty rough and in heavy bear country" (said like that was supposed to be a negative thing). Now I really wanted to ride it! But after getting more information it sounded like it could be a blast on a CRF250 but not so much on an overloaded 800XC. So we took the main road out.
On the ride back, we came across a pile of fresh bear skat smack dab in the middle of the road. Our Denali guide had told us this time of year it looks like berry pie filling. I thought he was making a joke, but he was dead on. It looks exactly like a fresh berry pie! I'm pretty sure, however, it doesn't taste quite the same (my curiosity wasn't strong enough to verify this theory).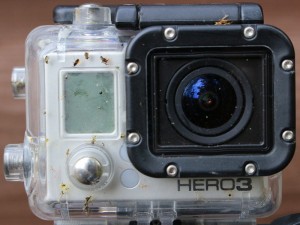 When we left the dirt road and started on the pavement my back started complaining. I tried to ride through it but when it threatened to pick me up and slam me face first onto the road, I had to stop. We had ridden for a hard six hours and although it hangs in there when it needs to perform, once things ease up, it gives me hell if I don't stop and take care of it. We stopped and I popped some ibuprofen and rolled around on some rocks to work out the knot. That helped to take the edge off.
Here is a video with some clips of the ride, all at high speed. I tried to keep the lens free of mosquitoes but it wasn't easy.
We made it to the gas station and filled up. When paying for it, the lady said "why are your gas tanks so big? Most motorcycles don't need near as much gas as yours do." We weren't quite sure how to take that. Okay, so we have huge tanks. Was it a euphemism?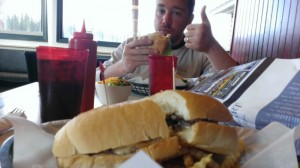 I told Mike I had to have a hamburger, fries, or something greasy for dinner. No backpacker meal tonight. After a week of instant mashed potatoes and backpacker meals I was ready for something unhealthy. He didn't push back and then had to listen to me rattle on about all the junk I was going to eat once we reached Glenallen. I had told my girls at some point on the trip I was going to get a Philly Cheese-steak (something I haven't had for a couple years) and as it turned out, tonight was the night. It was deeeeelicous!
We ended up talking with a family sitting near us and mentioned that tomorrow we'd be riding the Top of the World Highway. At this, the mother squealed (yes, squealed) in excitement and said, "that is my favorite place in the whole world, you will love it!" I was already excited for the ride but her enthusiasm jacked me up to a new level. I didn't quite squeal back, but seeing her response really got both Mike and I stoked up for it.
Although we didn't even cover 300 miles today, we rode for over 8 long hours. Just before bed, I wrote the following in my journal:
Tonight we are back in the Red Lion Lodge in Chistochina. We were almost giddy when we got here, like coming home. Taking a shower was awesome (after five days without). And real beds tonight! Plus we didn't have to set up camp and don't have to strike in the morning, such a good feeling! It was really cool talking to Richard again (owner of this lodge). We all chatted like old friends.
Click here to continue to Day 15.
Thanks for reading about my travels. To read more of my adventures, click here to visit my travel page.