Check out the novel: Trudge On, Soul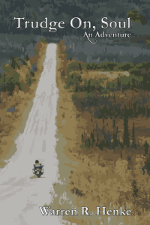 The icy wilderness of Alaska is the perfect place to lose yourself. But Warren doesn't want to lose himself. He wants to lose someone else.
The book,
Trudge On, Soul
, is the result of three long years of late nights, critique groups, and editing. If you haven't read the blog,
I'd suggest you stop reading and at least click here to read the preview chapters of the book.
The blog and pictures have spoilers and the book is a much better read. Think of the website as a documentary, and the book as an engaging movie. Triumph Motorcycles did an article on my Adventure
here.
A Photo Album of the trip is available
here.
Click
here
if you want to jump to the start of the blog with an index of each day.
The Adventure Continues...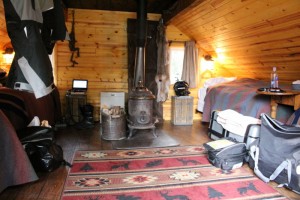 A comfy bed held me hostage until after 8:00 am. Sleeping in, getting out of bed in a warm cabin, and being able to take a shower felt great. I realized I had picked the wrong side of the cabin. I was tucked under a sloping roof but Mike had a couple feet of extra headroom. So if you stay in the Hunters Lodge at the Red Eagle, shoot for the left side.
We showered and sat down to a nice breakfast with the Dennis family. We chatted about Alaska, our trip, and they gave us some great advice. Judy had a top three must do list for all visitors: A fjord tour in the Kenai, the Kennecott copper mines, and Denali. When they explained why, we were 100% on board. Denali was already on the list, Kennecott was a maybe, but we hadn't even considered the fjord tour. We decided to do all three.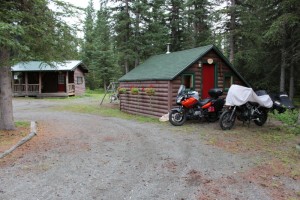 Richard then went on to tell us about something he said was one of the coolest things he's ever done in his life. An airplane trip up McKinley with a glacier landing. We had talked about maybe doing something like this, but after his pitch, it also became part of our agenda.
I managed to completely ignore my disabled motorcycle in the garage all morning. When I ran out of excuses to avoid dealing with it, I found myself discouraged and tired. I wanted to just go back to bed and sleep. I didn't really know how to deal with it. All I knew was the cable was severed. I had some bicycle cables I could try, others had suggested I swap the throttle cables, but honestly, I didn't know what to do. It felt like an expensive mess and we would be stuck in Chistochina for a week (that's how often Fedex makes deliveries here). But I knew I couldn't collapse, even for a few hours. I had to deal with it, one blind step at a time.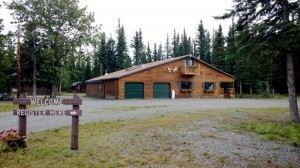 Mike was able to use his cell thanks to wifi calling, and I used it to make several calls. I also reviewed emails and forums (AVDrider and Tiger800.Co.uk) that had come in from the night before and found a lot of ideas and help there. We decided to have The Motorcycle Shop have the parts overnighted. Even though my Tiger was out of warranty, they said they would try and get Triumph to honor a goodwill warranty so it wouldn't cost me anything. That was a relief. But in order to get to Anchorage, we decided the best option was to swap the throttle cables.
There are two throttle cables running from the grip down to the engine, one to open the throttle and one to close it. It is possible to ride on one cable, the pull cable (which is the one that busted). All we had to do was pull out the broken cable and move the other one into place, drive to Anchorage in the morning, and the Motorcycle Shop would install the new cables. A good plan and sounds simple. The only problem was I didn't know how to do it. Even a simple problem can feel monstrous when I'm treading on new ground.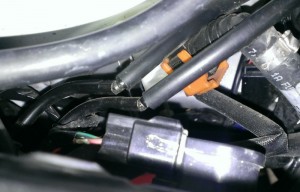 The problem, it turned out, was because the hard sheath coming from the engine angled down slightly where it joined the softer sheath. This eventually wore through and the rough edges rubbed on the cable until it snapped. The dealer who sold me the bike said all their Tigers on the showroom floor were like this. So why did mine snap?
When I was a teenager and my car had problems, my dad told me how to change an alternator and a fuel pump (which I did). Although I didn't realize it at the time, it was an awesome thing for my father to do. He'd explain what was wrong, show me what needed done, and make me do it. I've tried to do the same with my kids, even my daughters (my youngest daughter will be changing a fuel pump on a 93 Honda Accord this weekend and, recently, my oldest daughter changed her front brake pads and rear brake shoes).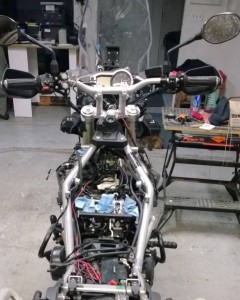 I also used to change my own oil and spark plugs back when I was a struggling college student but my mechanical experience was limited to the basics. Plus it had been years since I had done my own work on vehicles…up until last February. We bought dirt bikes that needed work. I downloaded manuals, watched youtube videos, and had some help from my buddy, Jason. Among other things, our work included rebuilding a Honda CRF230 engine (top and bottom) and replaced the valves in a CRF250r. Getting those three bikes running was an awesome education and a fun experience I shared with my son and friend. But even with that knowledge and confidence, working on my Tiger seemed daunting. I wasn't sure how to proceed, but I took a blind step forward. We started taking apart my Tiger.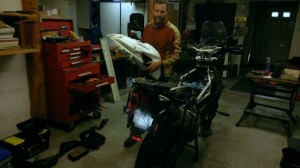 As often happens with tasks I dread and procrastinate, this turned out to be much easier and more enjoyable than expected. Now it doesn't always happen like this, believe me, I've stepped into a few unexpected hornet nests a time or two. But not this time. Mike and I hung out in the garage, tore down the bike, laughed and joked, and swapped the cables. All that was missing was some Iron Maiden and a football game on the tv. We reassembled, I took it for a spin around the yard and we were all set for a departure in the morning. And all in about four hours. Not bad for a couple of rookies.
That night, I wrote the following in my journal:
I wish I could pull out that filter in my head takes a task and turns it into a stressful nightmare. I can warp a simple task into a difficult, expensive, and impossible project. Once that happens, thinking about it makes me want to just sleep. And why wouldn't it? I might as well sleep instead of working on an impossible project. Why do I do that? Cause I don't know what I'm doing and want to do things right. I'm scared to step into the unknown. Especially when it means I might break something and create even more work and expense for myself. That and sometimes I just don't want to do #$*%. But once I get going, I almost always enjoy a good challenge. It's a fear to take that first step into the unknown and a dread of doing something I think will be miserable. Both based on lies that I tell myself. And I KNOW THIS. I've been here before but I keep doing it. Why!?!?

I just have to remember, it is a tradeoff. My strength is also my weakness. I am a planner, I think things through. And I prefer it that way. But the thinking and planning involves looking at worst case scenarios and that derails me. I get negative. I just have to remember not to let that get the best of me. On projects I actually start, I like my success rate as a neurotic planner/worrier. I generally get projects done more efficiently, for less money, and do a good job at them. I don't want to change that but I need to remember balance. I have to force myself, at some point, to just dive in. Into the cold, deep water. With crocodiles. There I go again.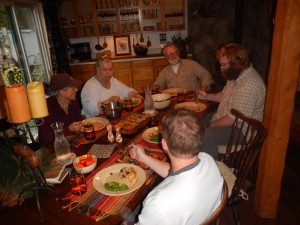 There was, however, one hitch to it all. My throttle was reversed. To accelerate, instead of twisting towards me, I had to twist away from me. It's almost like if somebody switched the brake and gas pedal of your car and said, there you go. Now go drive down the steep twisty mountain! Another thing to worry about. Tomorrow I would have to ride ultra cautious, constantly reminding myself, "Slow is back, fast is forward." I started burning that mantra into my head.
Richard and Judy invited us to a delicious dinner and we chatted and laughed like old friends. Mike and I really enjoyed staying at the Red Eagle Lodge. We decided that if it was possible, we'd stop by again on the way home. He said it was like going to Grandma and Grandpa's house and I had to agree. Although they weren't nearly old enough to be my Grandma or Grandpa, it was clean, cozy, full of warm goodies, and a fun place to hang out. So in that sense, yes, the reference was perfect.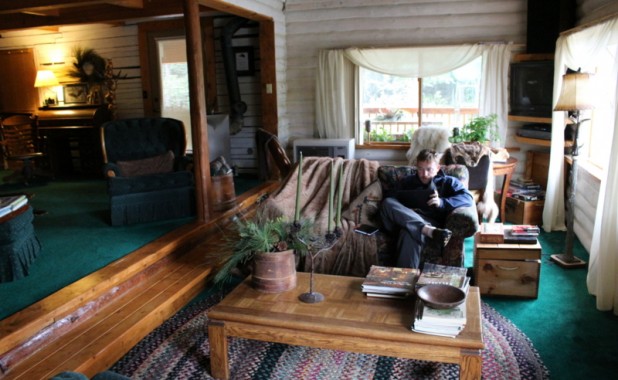 Their house is what I have referred to as the lodge. Inside, their living room is always open for kicking back and relaxing and breakfast is in their dining room. Guests stay in one of the cabins that surround the property, each with it's own theme. The Hunters cabin was perfect for us, 4 beds, a wood stove, and decorated like you would expect if you were on a manly motorcycle trip to Alaska. I had a relaxed and enjoyable evening. Besides a little dinking around, I explored the property, charged up all my batteries, and copied pictures and videos to free up some memory cards.
We heard many good stories. One of my favorites was about a guy riding his bicycle along the Denali Highway that was chased by a pack of wolves. He kept them back with bear spray. He'd spray, they'd back of, he'd peddle like hell, and then they'd show up again (rinse and repeat). Eventually a motorhome came around the corner and he flagged them down, jumped off his bike, and took refuge with them while the wolves attacked his bike. I looked up the story later. The details were slightly different than what I've recounted but the real version is actually even better! It is well worth a read!
They say mosquitoes are the state bird of Alaska. So since everything is bigger in Alaska, I figure the smaller bugs I saw were actually germs. Thanks to those germs, Mike came down with the same cold I'd dealt with on the ferry, hawking mucus night and day, feeling stuffed, and groggy. I honestly don't know if the similarities stop there or not, he never confessed to anything more. But speaking of that, he did have a question for me regarding an earlier blog. "So, those two pairs of underwear you blogged about, were they in the washing machine when we did our laundry on the ferry?" Uh…yeah. Sorry, Mike!
Click here to continue to Day 8
Thanks for reading about my travels. To read more of my adventures, click here to visit my travel page.